Halloween Party Food: 17 Spooky Recipes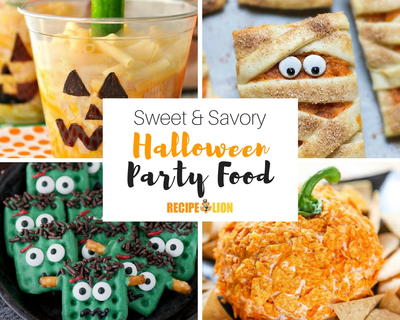 If you're planning a Halloween party, then you'll definitely need some amazing Halloween-themed party appetizers and fun food ideas to wow all of the ghouls and guests that come over. This collection of Halloween party food is sure to wow a crowd because these recipes aren't typical of anything you'd normally eat during the year. Whether you're preparing Easy Jack-O-Lantern Mac & Cheese Cups for the kids or more elegant Cranberry Bacon Jam Crostinis for the adults, these recipes are super simple to make and are great starters for guests of all ages.

Take a peek below at some of these great Halloween and fall-themed appetizers, including a few sweet treats as well! Pick your favorites for a spread that will shock your guests in the best way possible.

And don't miss the delicious Halloween Rice Krispies Treats Ideas from our Blogger of the Week - Susan Santoro!
Table of Contents
Your Recently Viewed Recipes