Stonyfield Oikos, Activia and Low-fat Yogurt Review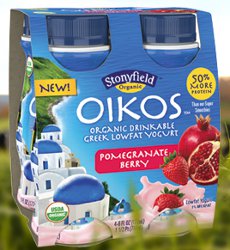 "The Stonyfield drinkable Oikos yogurt is my new obsession! This Greek version of this drinkable yogurt is a bit more tangy then the standard yogurts but just as tasty. I also think they are a bit thicker and more filling than others I've tried. I absolutely love the honey vanilla flavor; it's sweet but not too sweet, the vanilla and honey combo is matched so perfectly together. I can't decide if I like the honey vanilla or the pomegranate berry flavor better, both are delicious and so easy to drink. When you're on the go and you don't have time to even stop and eat a normal yogurt, these drinkable Oikos yogurts really hit the spot."


"Chocolate + Oikos = Bliss! Seriously, what's not to love here? I already knew that Stonyfield's Oikos line of organic Greek yogurt was really good, so I felt compelled to try their frozen yogurt too. Let me just say, it does not disappoint! It's every bit as creamy and rich as their refrigerated yogurt, only BETTER. It's chocolate, for starters, so that in and of itself is delightful. The texture and flavor of this organic dream is above and beyond what I've come to expect from frozen yogurt, by far. And even though it's healthy for you with all of its probiotics and stuff, it tastes really good and decadent…it's like ice cream without the guilt! Definitely a winner."
"Oikos 0% Greek Yogurt, Super Fruits Flavor - I'm a huge fan of protein rich Greek yogurt, and this did not disappoint me at all. It has the heftiness I expect from good Greek yogurt, with the silky creaminess of the yogurt I grew up eating. The sweet Super Fruits combo at the bottom added some great sweetness to the mix, making it a perfect afternoon snack. This Greek yogurt is perfect for those who don't think they like Greek yogurt."


"If you are a lover of figs, yogurt, or both, then you are going to love the Honey Fig Organic Greek Yogurt from Stonyfield's Oikos line. The container says smooth and creamy, and they are so right! You don't even need to stir this flavorful blend to enjoy its creamy goodness. With just a touch of honey for sweetness, the tartness of the yogurt and the flavor of the figs come through quite nicely. Great addition to the Stonyfield/Oikos arsenal of yogurts!"
"Now this is a yogurt that I (and everyone else) can get behind. I simply could not believe that this has no fat in it, because it tastes so darn creamy. The peach flavor was wonderful, permeating throughout but not overwhelming the yogurt flavor. I'm glad this is only 100 calories, because I wolfed down my container. This tasty yogurt is certified organic too, a big plus in my book. Just thinking about this makes me want to grab another cup, as this was some of the best fat free yogurt I have ever had."

"This drinkable yogurt from Stonyfield is the perfect little bottle of liquid goodness. As someone who is always rushing out the door in the morning, I can definitely appreciate its portability. I can easily see myself sipping this on my way out the door. Unlike some other drinkable yogurts, this a consistently smooth consistency, meaning I can consume it without worry that I can't drink every last drop. The pomegranate berry flavor is super sweet, providing some extra brightness to your morning. If you like sweetness, and you're looking for an on-the-go breakfast option, then this drinkable yogurt is for you."

"I'm already a big fan of Stonyfield yogurt, so it wasn't a huge surprise how delicious its Organic Drinkable Greek Yogurt was. I found the Pomegranate Berry flavor fully satisfying - the intense tang of the pomegranate left my tongue tingling. Besides the obvious advantage of portability, it was nice to be able to enjoy Stonyfield yogurt without a spoon! It's less to carry with the same fresh taste - what more could you ask for?"
"I'm used to very sweet drinkable yogurt, so the Stonyfield Organic Oikos drinkable Greek lowfat yogurt was a refreshing change. As with Greek yogurt, this drinkable variety has a tang to it and even the honey vanilla flavor isn't too sweet. At 160 calories and 9 grams of protein, this is a great quick snack."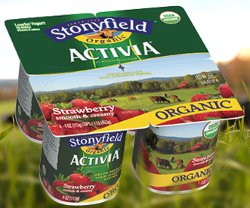 "Stonyfield Activia, Vanilla - I'm always seeking to add more gut-boosting probiotics, and this yogurt may be one of the tastiest ways for me to do just that. It has that classic sweet and creamy vanilla flavor I love in my yogurt, just combined with all the digestive benefits of super tart yogurt. There's nothing about this vanilla yogurt, and I will soon be adding more this to my daily eating routine.
If you're a fan of that classic vanilla yogurt flavor and consistency, then you will love this."
"I tried Stonyfield's Activia organic yogurt in the strawberry smooth and creamy flavor. It certainly is creamy and refreshing without being too sweet, yet the yogurt has a natural strawberry flavor. It's a delicious treat for the morning or a snack and it tastes fantastic! What added bonuses that it's also organic and has healthy active bacteria for digestion. It's the perfect yogurt choice!"
Your Recently Viewed Recipes
Join our community of 5 million cooks!
Get free recipes, exclusive partner offers, and more.
Thank You for Signing Up!
There was an issue signing you up. Please check your email address, and try again.