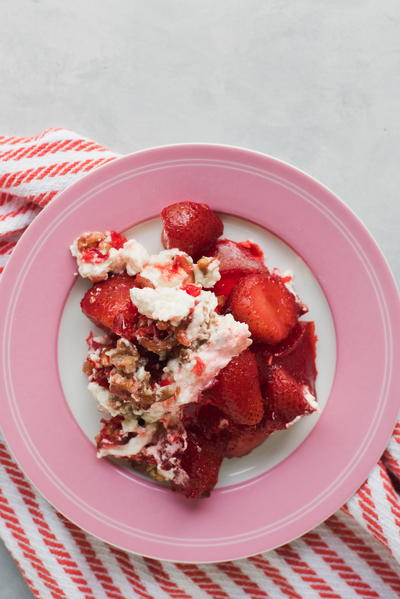 Strawberry Pretzel Salad
Perfect for a family party or a potluck dinner, recipes with jello are always crowd-pleasers.  Strawberry Pretzel Salad is layered with strawberry Jell-O, cream cheese and a crunchy, yet salty pretzel bottom.  Altogether, it is a mouthful of joy and is great during the hot summer months. Creamy desserts with fruit Jell-O can't be beaten, and this twist on an old-fashioned Jell-O mold is perfect for summer picnics and outdoor parties.

Ingredients
1

/

2

cup butter or margarine, melted
1

1

/

4

cup sugar
2 cups pretzels broken into small pieces
1 (8-ounce) package of cream cheese
1 cup whipping cream, whipped and sweetened (or 8-ounces Cool Whip)
1 cup boiling water
1 (6-ounce) large package raspberry Jell-O
1 (10-ounce) package frozen strawberries and juice (defrost 2 hours prior to use)
Strawberry Pretzel Salad
This recipe really takes us back to family potlucks in the summer. One editor's aunt used to make a version every year, and it was always hard to wait until the desserts came out because everyone knew that this treat was in the lineup. There's something about the sweet and salty crust and the creamy, fruit-filled topping that just make it irresistible. Enjoy!
Instructions
Preheat oven to 350 degrees F.

Mix together butter, 1/4 cup of sugar, and pretzels and press into an 8x8-inch pan. Bake for 10 minutes.

Mix cream cheese, whipped cream and 1 cup sugar at room temperature. Spread over cooled crust.

Mix boiling water, Jell-O, and strawberries. Pour on top of cream cheese mixture and refrigerate until firm. Cut into squares and serve. 
Note:
Drained and crushed pineapples can be added to the Jell-O mixture if desired. (about 5 oz.) 
Your Recently Viewed Recipes