Rubbermaid LunchBlox Kits

"These containers are just what I needed to get motivated to pack my lunch for work. Because these containers are so handy and specifically designed for lunch-type items like sandwiches and salads, now I'm actually excited to pack my lunch in the mornings! I love that you can stack the mini containers on top of the larger ones. I used the main container in the sandwich kit to store my turkey sandwich with cheese and lettuce, and then sliced up some tomatoes and tucked them in the smaller container so they wouldn't leave the bread all soggy. I snapped the smaller container onto the sandwich container and plopped the whole thing in my work bag. When I got to work and was ready to enjoy my lunch, I just took the tomatoes out of their separate container and put them on the sandwich. It was so easy and convenient, I can't believe I ever packed my lunch any other way! I also love how there's a cooler pack that you can just snap onto the bottom of your lunch so it stays cool. In the 100+ degree Chicago weather, this is so necessary!"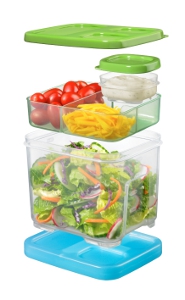 "If you're like me and have always been too lazy to pack your lunch, or never could figure out the best way to transport it from home to the office, these LunchBlox containers are a wonderful solution! There are different containers for different kinds of lunches, so if you have leftovers from dinner the night before, the "entree" kit is great because it gives you multiple and various sized containers that all stack together so you can bring your extra rice, chicken, veggies and whatever else, all in their own separate compartments. If you're trying to eat healthy and want to pack a salad for lunch, the salad kit is great because you can use the different sized containers to store various vegetables, toppings and salad dressing and then mix it all together when you're ready to eat!"
"Packing lunch doesn't get any more convenient or easier than with Rubbermaid LunchBlox kits. Perfect if you like to keep you ingredients separate and fresh, these containers allow you to separate your sides from you main dishes and any additional toppings. The nicest thing about them is that they not only stack together to make a small box, but they also come with little freezer pads to keep everything cool. Perfect for a picnic or just everyday use, these handy containers have made my lunch preparation much easier."
Your Recently Viewed Recipes
Join our community of 5 million cooks!
Get free recipes, exclusive partner offers, and more.
Thank You for Signing Up!
There was an issue signing you up. Please check your email address, and try again.