Glass Dharma Glass Straw Review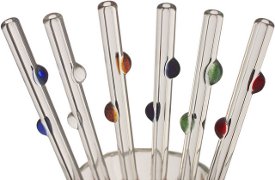 Glass Dharma Glass Straws
Gifted By: Glass Dharma
glassdharma.com
Reviewed by Rachel Bernstein, Editor of RecipeLion.com
"If you've ever given a thought to how many plastic straws are wasted every single day, you're going to want to check out the reusable glass straws from Glass Dharma. At first it may strike you as a bit crazy to drink out of a straw made of glass, but once you really think about it, it makes so much more sense than buying package after package of disposable straws and tossing them in the trash after a single use. I love that with Glass Dharma I can feel good about doing my part to help the Earth, all while sipping in style with these elegant straws!"
"To be honest, I never gave too much consideration to my drinking utensils before. I never even knew regular old plastic straws could come in a classy glass version. But now that I've discovered the high quality glass straws from Glass Dharma, I'm hooked! Goodbye plastic, hello glass! I love Glass Dharma's mission to help the planet one straw at a time and I'll gladly sip my beverages from a lovely glass straw if it helps out the Earth."
"The glass straws from Glass Dharma are too cool! Not only are they sturdy and easy to sip out of, they're also pretty and a great decoration for your cup! Some come with cute and colorful decorative dots near the top of the straw while others come pre-bent if you like drinking out of traditional "bendy" straws. How neat!"
"I used my Glass Dharma glass straw to have a smoothie for breakfast and let me tell you, it made my morning routine a bit more fun... I loved sipping out of the cool glass straw, watching my pink strawberry smoothie come up through the clear glass. I also enjoyed how easy to clean the straw was. For a reusable straw that's a key point and the Glass Dharma straw passed the test with flying colors. Great product all around!"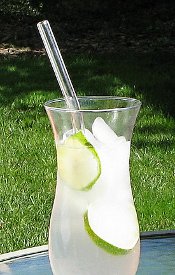 "As someone who likes to keep green as much as possible, this glass dharma straw is the perfect alternative. I make fitness smoothies at least 3 times a week, and drinking it with this glass straw rather than using the throwaway kind just makes more sense! It's a great product that will help make your life a little less wasteful."
"It's nice to finally have a straw that can handle the thickness of my protein shakes. My health is incredibly important to me. I start off the day with a long run followed by a whey protein shake to get all the nutrients I need. The problem with whey protein is that it makes the shake a little thicker than your average shake, which makes it nearly impossible to sip it through a regular straw. And if I add a banana for an extra source of potassium, game over. This is a problem, because I take my shakes on-the-go and drink them in the car. Thanks to Glass Dharma all of my sipping problems were solved. Glass Dharma has different circumferences for their straws, so I could finally enjoy my power shake and sip with ease. The larger circumferences allow for thicker drinks to pass through the straw easily. It's exactly what I needed. If you drink a lot of smoothies or shakes, you have to invest in a straw from Glass Dharma. Maintain your core and start sipping."
This giveaway has ended.
Your Recently Viewed Recipes
Join our community of 5 million cooks!
Get free recipes, exclusive partner offers, and more.
Thank You for Signing Up!
There was an issue signing you up. Please check your email address, and try again.