Smart Chicken Review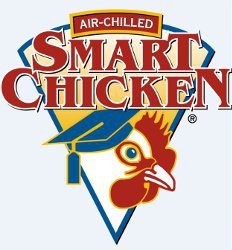 "My family loves to use our slow cooker, we find it's a great way to prepare chicken. The Smart Chicken Organic Whole Chicken turned out to be one of the moistest, most tender birds we've cooked this way! It was plump and juicy, they way a good chicken should be, and quite flavorful. We used only simple seasonings – just salt, pepper, and some thyme and oregano – and it was quite good. The chicken was so fall-off-the-bone tender, my little ones didn't even get to eat the drumsticks…just loved picking up the meat with their fingers. Glad I can get this product locally – it's a keeper in my book!"
"As someone who enjoys eating a lot of chicken, I've become very selective with the type of chicken I cook with. These days, Smart Chicken is often my go-to choice. Not only is their chicken free from antibiotics and added hormones, but it tastes great in a variety of dishes. Whether you're hoping to fix up some cheesy Chicken Enchiladas or make some crispy Chicken Parmesan (like I did last night), every meal you prepare is guaranteed to be absolutely delicious!"
"I've been cooking with Smart Chicken for a while now, from the moment I was introduced to it I was hooked. I've never had chicken come out so perfectly juicy and tender every time I make it. Whether it's the whole chicken, chicken breasts or chicken sausages, I get the best flavor and perfect tenderness every time, no fail.
There really is something to be said to the pure air chill technology production method they've pioneered, it really makes all the difference. In a time when the safety and health of our food production processes has been questioned or gone under the microscope a bit, it makes me happy to know I'm eating a product that is completely free of antibiotics, animal by-products and hormones."


"I baked the Smart Chicken chicken legs with some very basic spices & a bit of hot sauce. The meat was delicious and I liked that it was firmer than my usual (non-organic) chicken. A major plus, since it wasn't chewy or dry - just pleasantly firm and moist. I would assume that's because of how the chickens were raised/fed - it was easy to taste the difference, and I can't always say that about organic products. I also thought the skin was a happy-medium between thin & thick...tastes lovely on baked legs, just a little crispy with baked-in juices. Overall, because of this experience, I would definitely buy organic chicken from Smart Chicken again! It was great to experiment with."
"I had the pleasure of cooking with the Smart Chicken chicken thighs. I seasoned it, then grilled it on a pan on the stove and added it to my fettuccini alfredo with broccoli. The chicken was chewy in a really good way. The outside was crunchy and grilled while the inside was soft, juicy and tender. This has to be one of the juicest pieces of chicken I've ever eaten and I cooked it the same way I cook all my chicken. Would definitely buy and make this again."
"I recently made a Smart Chicken whole organic chicken using their Roasted Lemon Chicken recipe, it was so easy and came out fantastic! It's amazing how delicious this bird ended up with so few ingredients. There's something perfect about a really good roasted chicken, the juicy and tender flavor can't be beat. I made this dish for a group of friends coming over that evening and they were blown away, many had never tried the Smart Chicken brand before or had ever eaten organic chicken.
The consensus was that it really made a difference and was like dining out at a really expensive restaurant (always good to hear as the one who's doing the cooking!) One of my guests noted that they didn't even need a knife, the chicken was so tender it was easily cut with a fork. So overall I'll definitely be cooking with this chicken again, pure perfection."

To see an easy tutorial and get the recipe for this Roasted Lemon Chicken mentioned above, check out this article on How to Roast a Chicken: Organic Lemon Chicken.

Your Recently Viewed Recipes
Join our community of 5 million cooks!
Get free recipes, exclusive partner offers, and more.
Thank You for Signing Up!
There was an issue signing you up. Please check your email address, and try again.