How to Drain Ground Beef
These are the easiest ways to drain grease from ground beef.
Draining ground beef is an important step in a lot of recipes.

By getting rid of the excess fat after cooking, you ensure that your finished meal has the best texture and flavor (plus it's a little healthier).

However, this step can be a pain. You might not know a good way to drain the meat without getting grease in the drain (which you don't want). Or maybe you have a method that you like, but you're wondering if there's a better way. We understand!

That's why we've compiled some of our favorite ways to drain ground beef, complete with tips for getting rid of the leftover grease. Did you know that you can actually reuse it, if you want? Read on to learn more!
The Best Ways to Drain Grease from Ground Beef
Place a large collander in a large pot and set both in the sink. Dump your cooked ground beef into the collander.

Allow all of the grease to drain into the pan below. It's important to never pour grease down the drain, because it will clog your pipes. Once the meat is drained, you can return it to the pan and continue with your recipe. Let the grease cool and then discard in the trash.
 
Use a turkey baster to siphon the grease out of the pan.

Try not to pull the grease into the rubber bulb, as it could get hot to the touch.
 
Use paper towels to soak up the grease in the pan.

The best way to do this is to move all of the cooked ground beef to one side of the pan and then gently tilt the pan so that the grease collects on the other side. Then you can get to work with your paper towels. Let them cool on a plate and then discard in the trash.
What to do with ground beef grease after cooking?
As I mentioned above: never pour it down the drain. Even if you've diluted it with hot water or soap, it can still clog your pipes (and it causes problems with city sewers). The best thing to do is to let it cool and then throw it away in the trash. Here are a few convenient ways to do that:
Pour the grease into an old vegetable or soup can. You can store it in the freezer and then discard on trash day.
Let the grease harden in a bowl (lined with foil, if you like). When it's solidified, toss or scrape into the trash.
Mop up the cooled grease with paper towels. Then throw the paper towels in the trash.
You can also reuse ground beef grease for cooking later! Use it like you would other oils or butter for things like caramelizing onions or roasting vegetables. Simply pour the grease into a glass or metal container, let it cool, and then store in the fridge for up to a week. You can scoop out as much as you need for your recipe and discard any leftovers at the end of the week.
Loving this? Check out this Baked Spaghetti Squash!
Note: This recipe is from RecipeLion Cooking Club. Non-members can access 3 free recipes every month. Subscribe to the RecipeLion Cooking Club for unlimited access to their entire recipe archive, featuring hundreds of exclusive recipes!
 
Try some of our favorite ground beef recipes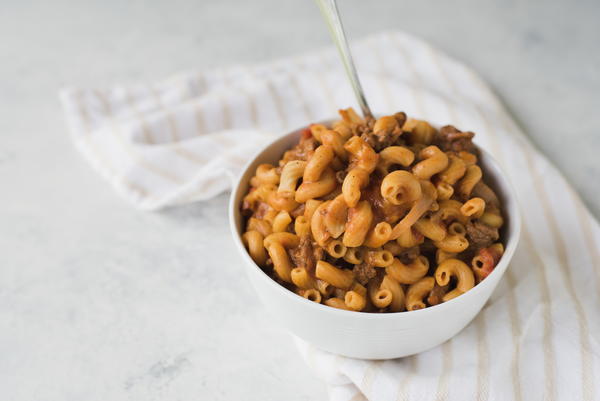 Your Recently Viewed Recipes
Join our community of 5 million cooks!
Get free recipes, exclusive partner offers, and more.
Thank You for Signing Up!
There was an issue signing you up. Please check your email address, and try again.