How to Stretch Pasta Sauce
Learn what to add to spaghetti sauce (and Alfredo sauce) to make more. Everyone will love these ideas!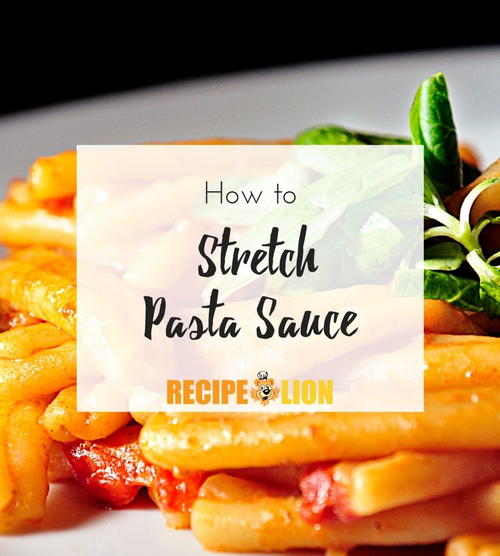 Like most packaged goods, jarred pasta sauce is crazy convenient... until it doesn't quite fit your needs.

For many families, a jar of pasta sauce doesn't make quite enough sauce to cover a pound of pasta. This is especially true if your family loves sauce!

Unexpected guests can also make you suddenly wish that you had a little more food to go around. Pasta is a great meal for a crowd, but making enough for a few extra hungry people can become a challenge.

However, there's no need to worry! There are lots of smart (and delicious) ways to make your pasta sauce go further. Check out some of our top ideas on how to stretch pasta sauce below, including ideas for different types of sauce.

After all, if you're trying to stretch Alfredo sauce, adding a can of tomatoes is probably not the way to go. Or is it? If anyone has tried that, please comment below and let us know if it was good!
How to Stretch Jarred Spaghetti Sauce
What can I add to spaghetti sauce to make more? The name of the game here is adding delicious ingredients from your fridge and pantry.

Some of these items you can probably guess (we spilled the beans on the canned tomatoes idea above), but a few are totally novel. Many more will spark your creativity, and hopefully you will feel inspired to make a new and delicious pasta sauce recipe that's all yours. Let's get started with our easiest ideas, for those of you who are in a hurry (i.e. for those of you who are hangry).

How to Stretch Pasta Sauce The Easy Way

Add a can of crushed tomatoes. Plain tomatoes, tomatoes seasoned with garlic or Italian herbs, and tomato sauce all work well here. We don't recommend using tomatoes with Mexican-style herbs and spices, but to each their own! If you just add tomato sauce to spaghetti sauce, you may need to incorporate some extra herbs and spices. Because tomato sauce on its own is bland, you will probably want some extra seasoning.

Add pasta water and tomato paste. Who doesn't have an extra can of tomato paste hiding in the back of your cupboard? This flavorful tomato concentrate will balance out the pasta water, which adds volume. If the sauce tastes a little bland (too much tomato flavor) once you are done, add some dried herbs or spices. This is one of our favorite tips for how to stretch pasta sauce.

Add Italian sausage, chicken, turkey, or ground beef. Be sure to cook all of these types of meat thoroughly before adding to your sauce. Unless you are using the sausage, you will probably need to add some seasoning as well. Try some salt and an Italian herb blend. Fresh garlic or basil would also be delicious!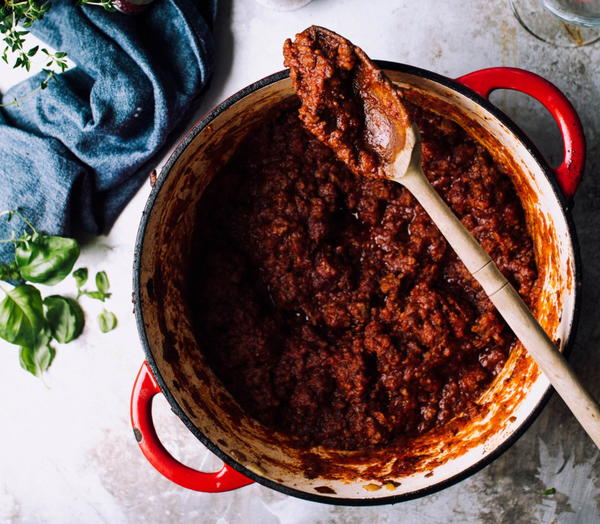 More Great Ideas for Stretching Pasta Sauce
Rinse your pasta jar out with a little water or wine (red or white) in order to get ALL of the sauce out of the jar. If you're using wine, be sure to simmer the pasta sauce for a bit before eating to let the alcohol cook out.

Roast veggies from the fridge, even if they are past their prime (but not too far gone). Bell peppers, carrots, squash, asparagus, tomatoes, broccoli, and cauliflower are all great vegetables to add to spaghetti. Toss them into the sauce after it is heated.

Sautee onions, garlic, or mushrooms with some olive oil. Add the jarred sauce to the sauteed veggies and heat through. I do this all the time when I make spaghetti. It's so good!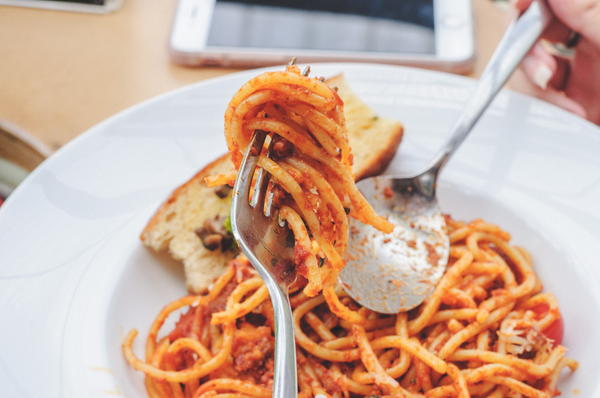 How to Stretch Alfredo Sauce
Stretching jarred Alfredo sauce is a little more of a challenge in terms of cooking. Like spaghetti sauce, you can add all kinds of delicious proteins and vegetables to make more of a meal. Unlike spaghetti sauce, actually making more of the sauce isn't as easy as adding a can of crushed tomatoes. However, we have some solutions! Here are a few smart ideas that we think you and your family will love.

Add a little half and half or cream to warm Alfredo sauce. You can also use half and half or water to swirl in the jar so that you know you got all of the sauce out.

Roast some veggies! Asparagus, mushrooms, broccoli, and onions are all delicious with Alfredo sauce. Roast them in the oven until they are charred and fork tender, then stir them into the warm pasta sauce.

Grill some chicken or shrimp and add to the warm Alfredo sauce.

Make a bechamel sauce. Combine 1 oz. butter and 1 oz. flour in a sauce pan. Cook and stir the mixture for about 5 minutes, until the flour is cooked. Slowly add 1 cup of milk, whisking constantly to avoid lumps. Cook over low heat until the mixture is thickened. Add  your jar of Alredo sauce along with some salt, pepper, and a little Parmesan cheese in order to stretch your Alfredo sauce!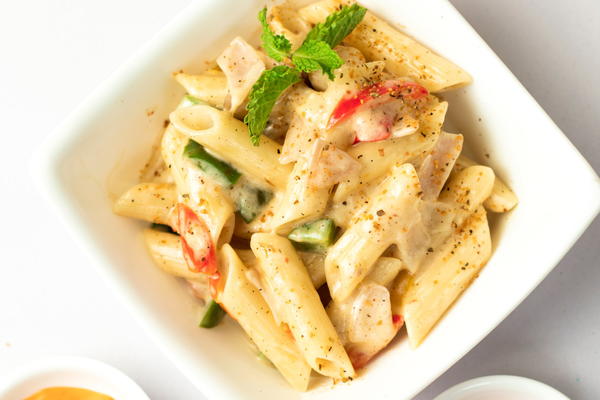 Our Editor's Favorite Spaghetti Sauce Recipe
When my partner and I make our weekly dinner menu, spaghetti is often a go-to recipe. This is especially true if rent is due that week or if it's a busy week and we need something super simple (yet still delicious!).

Whenever we make spaghetti sauce, we use a jarred pasta sauce. Arrabbiata is a current favorite, because it's a little bit spicy and so flavorful, but we've gone through many other phases as well (tomato and basil, I'm looking at you!).

To make the sauce, we saute sliced onion, green peppers, mushrooms, and fresh minced garlic in olive oil until everything is mostly cooked and smelling amazing. Then we add our jarred pasta sauce and let simmer until everything is warmed through. Or until the pasta is finished cooking (why is it so easy to forget to start the pasta?). Serve with your favorite pasta and lots of buttery garlic bread! Yum!

Ingredients
-2 tablespoons olive oil
-1/2 a large white onion, sliced
-1/2 a large bell pepper, core and seeds removed and sliced
-4 oz. baby bella mushrooms, sliced
-2 cloves of garlic, minced
-1 jar of your favorite spaghetti sauce
-pasta and garlic bread

Instructions
1. Cook your pasta according to package directions.

2. While pasta is cooking, heat olive oil in a large saute pan. Add veggies and cook for about 5 minutes, stirring occasionally. The garlic should be fragrant, and the onions and peppers should be soft.

3. Add the entire jar of pasta sauce to the sautee pan. Stir everything together.

4. Bring pasta sauce to a simmer and then cook for a few minutes, stirring occasionally, until everything is hot all the way through.

5. Serve with pasta and garlic bread. Enjoy!
What are your favorite tips for improving jarred pasta sauce? Let us know in the comments below!
Your Recently Viewed Recipes
Join our community of 5 million cooks!
Get free recipes, exclusive partner offers, and more.
Thank You for Signing Up!
There was an issue signing you up. Please check your email address, and try again.