How to Cook Steak in the Oven
This juicy oven steak recipe is perfect all year round.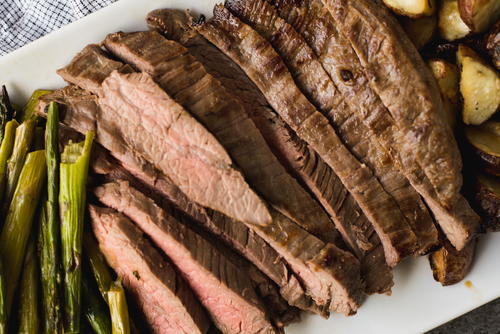 When many people think of a well cooked steak, they think of grilling season. They picture a group of friends and family gathered around the grill in the back yard, perhaps with a picnic table or a cooler of drinks in the background.

However, you'll notice that there's no such scene in the premium steakhouses around the country. Somehow they manage to cook delicious steaks all year long (because, of course, grilling out isn't so fun if there's a foot of snow on the ground) without a grill. How is it done?

It's simple. Good steakhouses know how to cook a perfect steak in the oven. No grill required.
You might be wondering where all of the flavor comes from, if you aren't searing your steak on the grill. Cooking a steak in the oven solves this problem by first searing the meat in a skillet on the stovetop. By searing the steak at high heat, you create that brown, crispy crust that is so full of flavor.

If you're into science, this is the step that creats the Maillard reaction. The Maillard reaction is the chemical reaction that transforms the surface of your steak (or other foods, like roasted vegetables) into browned, crispy perfection when it's cooked. In order for it to happen when you're cooking foods quickly, you need to heat the food to a very high temperature and make sure there's not a lot of water around. That's why patting your steak dry and dropping it into a screaming hot skillet is the perfect method.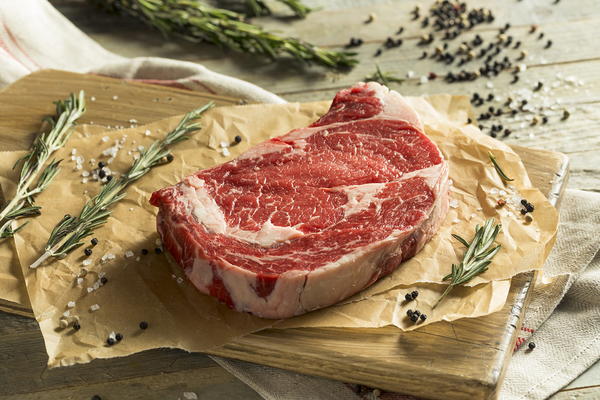 Now, you're probably wondering where the oven comes in. The oven is the perfect place to finish cooking your pan seared steak, because it will help keep you from overcooking it. You've probably guessed that you can't just leave your steak in a super hot skillet for a half an hour... unless you prefer your steak to taste like a hockey puck!

After you've gotten your steak nice and crisp on the outside, it's time to transfer it to the oven. You'll set your oven at a fairly low temperature, and this will help the steak finish cooking to just the right temperature. You can leave it in the oven for only a few minutes, or you can leave it in longer if you prefer your steak to be more well done.

Here's a handy chart on the different internal temperatures required for the doneness of each steak.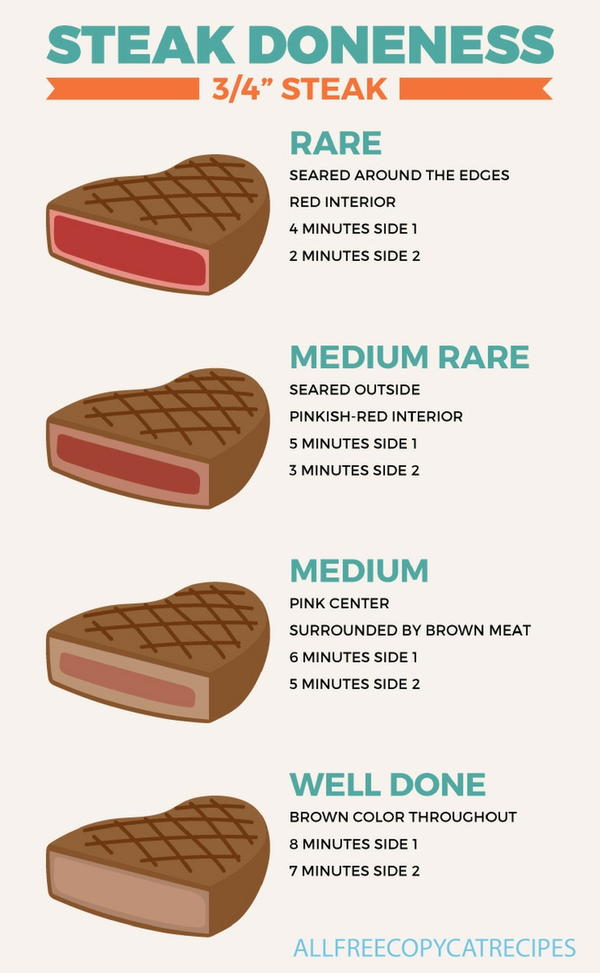 Once you've cooked your steak to a few degrees below the desired doneness, you will want to let it rest. This is an important step. If you cut into a steak while it is still hot, then some of the juices will leak out onto the plate (instead of staying in your steak). It won't be quite as juicy, which is definitely not what you want!

Let the steak rest for 5-10 minutes, and then serve. One pound of steak will serve two people, and it can be stretched to serve more if you have some other side dishes to go with it. Now, without further ado, check out our easy method for how to cook steak in the oven. It's so simple, and we promise that you won't miss the grilling experience at all!
How to Cook Steak in the Oven
This simple recipe for cooking pan seared steak in the oven proves that you don't need to fire up the grill to have a perfect steak. Enjoy!

Ingredients

1 thick cut steak - about 1.5" thick and a little over 1 pound works best. Ribeye, New York strip, or T-bone all work well here.
1-2 Tablespoons vegetable oil (or other high smoke point cooking oil)
Kosher salt and pepper (Why kosher salt? Find out here!)
Instructions
Preheat your oven to 400 degrees F.
Take your steak out of the refrigerator. Unwrap it and pat it dry with paper towels.
Season your steak with a generous amount of kosher salt and pepper.
Heat a heavy, oven-safe skillet on the stove. Cast iron works great, but any skillet that can go into the oven will do. Add vegetable oil to the skillet.
When the oil is smoking slightly, place your steak in the pan. It should sizzle very loudly. Be careful and watch for oil splatters!
Don't touch the steak for about 2 minutes. After 2 minutes, check to see if it is browned on the first side. If so, turn it over and cook for another 2 minutes on the other side. Aim for about 2-3 minutes of cooking on each side, until the steak is browned all over.
Carefully move the pan to the preheated oven and close the door. Cook the steak in the oven for 5-10 minutes. If you like your steak medium rare, check for doneness at 5 minutes. If you like it well done, check it at 8-10 minutes. See notes below for more guidance on finding the ideal doneness for your steak.
When the steak is cooked to your liking, remove the pan from the oven. Transfer the steak to a plate or cutting board and cover it loosely with foil. Let it rest for 5-10 minutes before cutting it.
Serve and enjoy!
Another method for cooking steak in the oven that we love is the reverse sear method.
Learn how to reverse sear a steak here.
Notes on Cooking Your Steak to the Right Doneness
How long it takes your steak to cook will depend on the size and thickness of your steak. Of course, it will also depend on how done you like your steak.

If your steak is thinner than 1.5", then it may take less time to cook in the oven. If it is very thin, it's possible that you won't need to put it into the oven at all (if you're looking for rare or medium rare). Check the steak earlier, and when it reaches 130 degrees, pull it off of the heat to rest.

If your steak is thicker than 1.5", then obviously it may take more time to cook in the oven. Use a meat thermometer to ensure that it is cooked to the desired internal temperature before pulling it off of the heat.
How to Cook Steak in the Oven Only
Some of you might like a simple method for cooking your steak in the oven without pan searing it first. We can help! This method works great with a cast iron skillet, but you can do it with any oven safe pan or your broiler pan (so it's great if you want to cook a steak in the oven without a cast iron skillet).
Place an oven rack in the top position in your oven, so it's about 4-6 inches below your broiler.
Place your oven safe skillet or broiler pan on the top rack.
Preheat your broiler (on high, if you have the option) for about 10 minutes.
Take your steak out of the refrigerator. Pat it dry and season it generously with kosher salt and pepper. If it's a lean cut of steak, brush it with a little bit of vegetable oil.
Once the pan and broiler have heated, carefully pull the pan out of the oven and add your steak. Use good oven mitts for this, and be careful!
Return the pan to the oven and close the oven door.
Broil the steak for 4-5 minutes on one side. Then carefully flip it using tongs and broil the other side for 4 minutes. See notes above for a guide on doneness.
Once your steak is cooked to its desired doneness (use a meat thermometer if you're not sure), turn off the broiler and remove the pan from the oven.
Transfer the steak to a plate or cutting  board and let it rest for 10 minutes before cutting.
Is this how you cook a steak in the oven? Do you have a different method? Let us know in the comments below!
Your Recently Viewed Recipes
Join our community of 5 million cooks!
Get free recipes, exclusive partner offers, and more.
Thank You for Signing Up!
There was an issue signing you up. Please check your email address, and try again.