Best Easy Egg Substitutes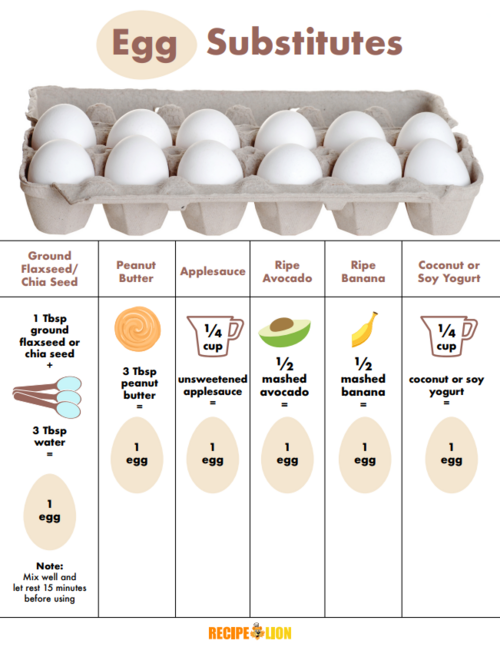 Whether you're attempting a new vegan diet or you're simply trying to save some money, these easy egg substitutions are a must-have for any home chef.

For chefs and bakers looking to cook without eggs, finding appropriate substitutes is probably the biggest challenge of all. It's tricky to get that right combination of texture and volume while also finding something that will behave in a similar way when it interacts with the other ingredients. When it comes down to it, there are no perfect substitutions for eggs, but here are a few that get the job done!

Download This Chart

Ground Flaxseed/Chia Seed and Water
If you've spent a lot of time trying your hand at vegan baking, you're probably familiar with the odd, gooey mixture of water and chia or flax seeds, often called "flegg" (a combination of flax and egg). Here's how to make it:
In a small bowl or container, mix together 3 tbsp water and 1 tbsp chia seeds or ground flaxseed.
Note: If you're using chia seeds, you might need to blend the mixture to avoid getting large clumps of seeds in your baked goods.
Mix the ingredients thoroughly.
Place the container in the refrigerator for about 15 minutes or until the mixture is thick and egg-like.
Add the mixture to your other ingredients, just like you would a normal egg.
Peanut Butter
We bet you already have a jar of this in your pantry! This trick is truly a game changer - use 3 tablespoons of peanut butter for every 1 egg in your recipe. Make sure to use the creamy version!
Applesauce
Egg substitutions don't get much simpler than applesauce. About 1/4 cup will replace one egg in your baked goods. Just remember that applesauce does have a sweetness to it and acidity that isn't present in regular eggs, so you may have to adjust other parts of the recipe you're using to account for this.
Ripe Avocado
The rich flavor and creamy texture of an avocado makes it an excellent substitute for eggs in baked goods. For this substititue, simply mashed the avocado until it's silky smooth and use 1/2 avocado to replace 1 egg.
Ripe Banana
The ratio for this substitue is 1/2 mashed banana to 1 egg. The fibrous nature of bananas makes them great binding agents for your baked goods, but the texture might be a little thicker than you're expecting. If you're having trouble getting the bananas to break up entirely when you mix them into your ingredients, consider mashing them up thoroughly before adding them to the rest of your ingredients.
Coconut or Soy Yogurt
Your preferred dairy free yogurt can also work well as an egg substitute. Use 1/4 cup of yogurt to replace 1 egg for each egg required in the recipe.
Your Recently Viewed Recipes
Join our community of 5 million cooks!
Get free recipes, exclusive partner offers, and more.
Thank You for Signing Up!
There was an issue signing you up. Please check your email address, and try again.