24 Oven Baked Chicken Recipes
From oven fried chicken to roasted chicken recipes, we can't get enough of easy baked chicken recipes. That's why we've put together this collection of the best 24 Oven Baked Chicken Recipes. You'll find chicken breasts, wings, thighs, even casseroles! There are so many varieties of baked chicken recipes, and it's always great when we stumble upon another easy and often budget-friendly version to share with our readers.

We've found this collection of baked chicken recipes to be some of the most in-demand in our newsletters, so we thought why not put them all in one place for you to enjoy. These recipes will especially come in handy if you're working on a strict budget, as chicken is a great money-saving ingredient. Plus next to ground beef, it's the most favorite meat to cook with according to our readers!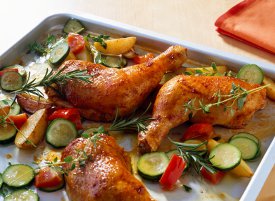 Table of Contents
Legs & Wings Baked Chicken Recipes
Are you a wing guy, do you prefer the legs ladies? With our list of baked chicken recipes below you'll find something for everyone's preference. But among these chicken recipes you will find one thing in common, they're all super easy to make!


Baked Chicken Drumsticks - Talk about budget-friendly and easy, you just can't go wrong with this go-to simple baked chicken recipe.

Hawaiian Rum Glazed Wings - Jazz up your chicken wings with flavor like no other, you won't be able to stop eating these wings.

Cheesy Chicken Wings - Get a load of these scrumptious, lip-smacking good wings, you'll never taste anything better!
Cheesy Parmesan Chicken Wings - These wings are a go-to at my house, simply one of the best baked chicken recipes I've found.

Savory Baked Chicken Legs - Make up these simple, savory chicken legs tonight; there is nothing simple about the flavor, it's the kind of chicken the whole family can enjoy.
Best Breaded Chicken Recipes
Shake and bake em'! There's nothing better than the crisp, crunchy taste of breaded baked chicken recipes. Who needs fried chicken anyway? When you have chicken recipes like these you'll forget the greasy non-sense of fried chicken and go straight for one of these flavorful must-make chicken recipes.


Best Crispy Lemon Chicken - This recipe was a huge hit in the newsletter and continues to be one of the most popular on Pinterest; it's that good!

Super Oven Fried Chicken - Super crispy and super easy, there's no excuses for not making this dish.

Crispy Herbed Chicken - The Italian herbs and spices are the key to making this chicken recipe irresistible.

No Fuss Baked Fried Chicken - No worries, no fuss, no problem; easy baked chicken recipes like this are what us busy moms rely on!

Beggars Oven Fried Chicken - Only minimal ingredients required in this super budget friendly chicken recipe. You can't have too many frugal recipes like this.

Baked and Battered Chicken - The secret ingredient to this chicken recipe is using pancake mix in combination with Italian spices; it's amazing!

Un Fried Chicken - You won't find a more flavor-packed and mouth-watering recipe for baked chicken than this! This is why you don't need fried chicken anymore.
Other Easy Baked Chicken Recipes
Now it's time to move on to all the other awesome ways you can bake chicken, from casserole recipes, to easy chicken breast recipes and more. Seriously with a collection like this, how can you ever have the question, what to make for dinner again?


Dayton Dumplings and Chicken Darlin' - Not only is this chicken and dumplings recipe baked, it's super easy and healthier too!

Crunchy Crunch Chicken - Dig in and enjoy the wonderful flavors of this unique chicken dish.

The Original Baked Chicken - The reason why we love the Shake n' Bake style baked chicken recipes.

Chicken Breasts With Bacon - Everything's better with bacon right? This proves once again why.

Easy Smothered Chicken - Another simple chicken recipe that shows why frugal recipes like this are a must-make.

Easy Cheesy Bacon Chicken - OK so cheese and bacon, well there's not much better than that! I promise you won't hear any objections to this dish at the dinner table.

Cheesy Chicken Rolls - A new and even more delicious way to make "stuffed" chicken.

Oven Baked Country Chicken - Bring that good old-fashioned country flavor to your dinner table.

Sweet Honey Baked Chicken - Breathe in the sweet succulent aroma of this dish, it'll be hard to stay out of the kitchen while this is cooking.

Too Simple Baked Chicken - Loaded with veggies and flavor, this is a whole meal in one.

The Best Baked Chicken - Many have said this is their favorite baked chicken recipe for chicken breasts, what do you think?

Baked Chicken with Orange Pineapple Juice - Go wild for this super flavorful and tropical chicken dish.
Bonus Recipes
Reader Favorite Oven Baked Chicken Recipes
No matter how many times we feature delicious oven baked chicken recipes in our newletters, you keep on asking for more. So, we've collected some of our most popular baked chicken recipes that you can't get enough of. Crunchy, easy and delicious, there is no reason not to make them. Enjoy these additional chicken recipes. When someone in your family asks you what's for dinner, tell them one thing, "Chicken!"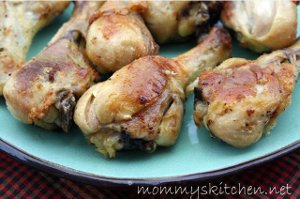 Easy Peasy Chicken Legs - It doesn't get any easier than this. Coming from Tina at Mommy's Kitchen is this fantastic chicken recipe that is perfect for a busy weeknight dinner. Seasoned with salt, pepper, olive oil, and a hint of garlic powder they are simply mouthwatering. Bake these Easy, Peasy Chicken Legs for your family tonight.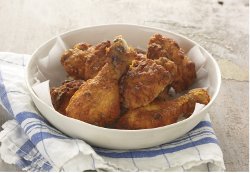 Best Oven Fried Chicken - This fabulous Best Oven Fried Chicken recipe from Chobani uses yogurt to create an amazing marinade that makes this chicken incredibly moist. It's also one of the best easy baked chicken recipes you'll find.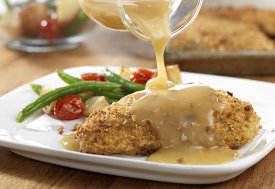 Crunchy Chicken and Gravy - Crushed dry stuffing mix makes this chicken really crunchy and flavorful, the perfect main dish the whole family will love. Aside from the great flavor and texture, this Crunchy Chicken and Gravy recipe takes just 45 minutes from start to finish. You can't beat quick, easy chicken recipes like this one from Campbell's Kitchen.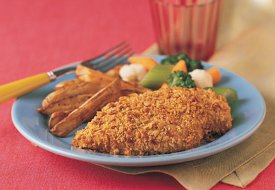 Crunchy No-Fry Chicken - This is one of the most delicious baked chicken recipes; coated with seasoned cereal crumbs is every bit as tasty as its fried counterpart...and it's ready in just 30 minutes! You will fall in love with this Crunchy No-Fry Chicken from Campbell's Kitchen.



Your Recently Viewed Recipes
Join our community of 5 million cooks!
Get free recipes, exclusive partner offers, and more.
Thank You for Signing Up!
There was an issue signing you up. Please check your email address, and try again.