Cream Cheese Apple Cake
Gooey cream cheese apple cake is the perfect holiday dessert.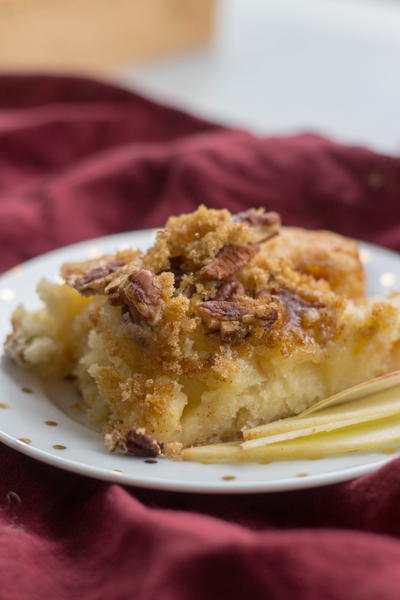 Cream Cheese Apple Cake
This cream cheese apple cake deserves a spot on your holiday table. Although it probably won't take long to disappear!

Crisp apples bake to soft, sugary perfection in this delicious apple cake recipe. Pillowy layers of vanilla spice cake pair beautifully with a ripple of sweet cream cheese. This is one of those cake recipes that becomes a classic the moment that you make it!

We love serving this easy cake recipe with a big mug of coffee or a steaming cup of tea. But if you're really feeling indulgent, it would probably taste pretty great with a small glass of frosty eggnog. 
Ingredients
3 large apples (choose a firm, crisp variety such as Cameo)
1 tablespoon lemon juice
1

3

/

4

cup white sugar

1

/

2

cup butter at room temperature
1 (8-ounce) package cream cheese
1 tablespoon vanilla extract
2 large eggs at room temperature
1

1

/

2

cup all purpose flour
2 teaspoons baking powder

1

/

4

teaspoon salt
For the Topping

1

/

3

cup light brown sugar
3 teaspoons cinnamon

1

/

2

cup chopped pecans
Cream Cheese Apple Cake Recipe
Instructions
Preheat oven to 350 degrees. Place baking rack in the middle of the oven. Grease a 13x9 inch baking pan with shortening.

Peel, core and chop 3 large firm crisp apples. Toss them in 1 tablespoon of lemon juice, set aside.

In a large bowl, using an electric mixer, beat the 1 3/4 cup of white sugar, butter, the cream cheese and vanilla until smooth. Add the eggs and beat until well combined and creamy.

Combine the flour, salt and baking powder in a small bowl, stir to combine. Add the flour mixture to the creamed mixture, beat with an electric mixer until just combined. Add the chopped apples and fold them into the batter.

Pour the apple batter into the prepared 13x9 inch baking pan. Leveling the batter out as needed.

In a small bowl combine the light brown sugar, cinnamon and chopped pecans. Sprinkle over the apple batter in pan.

Bake at 350 degrees for 50 -60 minutes or until the cake tests done with a toothpick.
Your Recently Viewed Recipes