3 Easy Potato Soup Recipes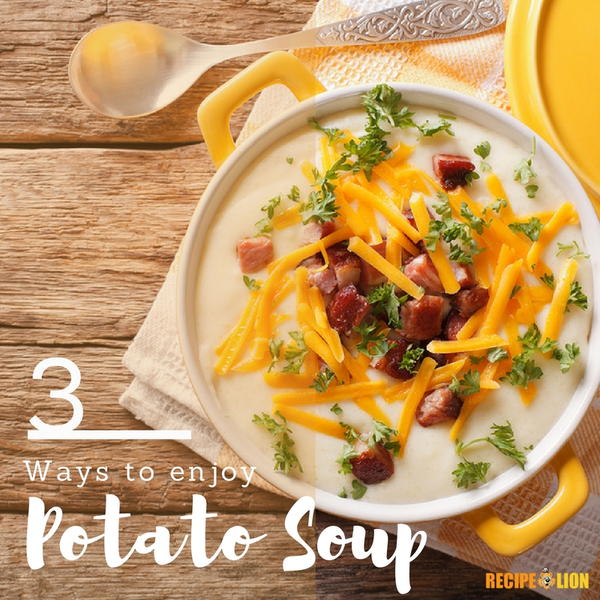 Sometimes there's really nothing more comforting than a delicious bowl of warm, creamy potato soup. With these 3 Easy Potato Soup Recipes, you'll have some options to keep you satisfied through the cold months of winter. Or, just whenever you're craving something cozy and mouth-wateringly good. Flavors like Spicy Loaded Potato Cheese and Old Fashioned Potato Leek bring something new to the table, and our Slow Cooker Potato Soup is an easy potato soup recipe you will love to make while you're out during the day. Come home to a kitchen that smells of the familiar comforts of potato with these 3 easy potato soup recipes.
3 Easy Potato Soup Recipes
This Old-Fashioned Potato Leek Soup is so creamy and delicious. If you're looking for the perfect recipe for potato soup, this is definitely it. The leeks and onion slightly caramelize in the cooking process to round out the flavor of this easy potato soup. Once the potatoes have boiled and softened, blend the ingredients together to reach your desired consistency.
This Spicy Loaded Potato Cheese Soup is for those who like a bit of kick in their foods. The red chili pepper flakes and the shredded pepper Jack cheese add just the right amount of heat to this potato cheese soup. However, the spice isn't overpowering, which makes this one of the best potato soup recipes you'll make. The flour and half and half help thicken this recipe to a perfect consistency.
This Super Easy Slow Cooker Potato Soup could feed a whole army of hungry people (or at least just your hungry family). Soups are almost always simple dishes to make, but this easy potato soup recipe makes things even more of a breeze. Simply toss the ingredients into a large slow cooker on LOW for 8 hours or on HIGH for 4 hours.
Your Recently Viewed Recipes