Pinoy Street Foods, Quail Eggs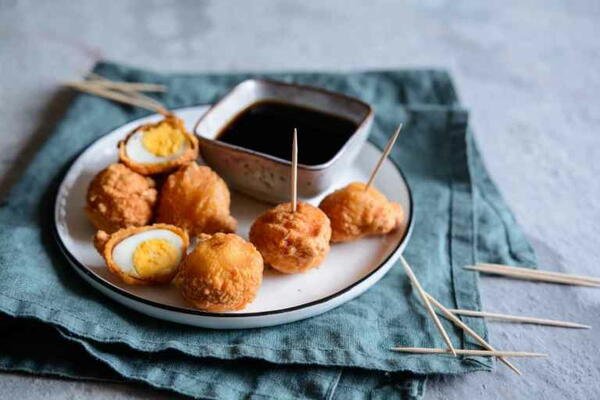 Pinoy Street Foods Quail Eggs
"Kwek-kwek is an all-time favorite when it comes to street food. Quail eggs with orange coating dipped in sweet-spicy sauce or vinegar is so mouth-watering, no wonder everyone loves kwek-kwek! But what makes it more special is the classic sauce and/or vinegar. The perfect kwek-kwek sauce is the key to the best kwek-kwek experience. But how do we make it? This recipe will show you how! Kwek-kwek, on the other hand, uses quail eggs, for a friendlier way of eating."
Serves10
Ingredients
20 pcs quail eggs, hard boiled (or chicken eggs)
1 cup all purpose flour
1 cup water (or less, as needed)
2 cups cooking oil
1 teaspoon salt
1 cup orange food color
2 cups water
3 tablespoons soy sauce
1 cup brown sugar
2 tablespoons cornstarch
2 tablespoon flour
1 pc onion, minced
3 clove garlic, minced
3 pcs siling labuyo, chopped (optional)
1/2 teaspoon salt
1/2 teaspoon ground pepper
Put the quail eggs into a pot with water. Bring into a boil until eggs are fully cooked (hard boiled). Peel off the egg skin and set aside.

In a bowl, mix flour, a pinch of food color, and salt with water. Make sure that you do not put too much water in the flour, as it will make the mixture too runny and it will not stick with the eggs.

Put the peeled eggs into the flour mixture and cover each egg with flour. Heat oil in a deep frying pan.

Using 2 spoons, carefully put each kwek-kwek into the hot oil. Make sure that the eggs are fully covered with flour mixture. Remove from cooking once kwek-kwek floats. Set aside.

In a saucepan, mix water, soy sauce, brown sugar, flour, and cornstarch. Stir well until flour, cornstarch, and sugar are dissolved.

Put over medium heat and bring into a boil. Stir constantly to avoid burning.

Once boiling, put onion, garlic, and siling labuyo. Let it boil until it thickens.

The sauce is ready when the mixture is thick. Transfer into a serving bowl. Skewer the kwek-kwek, dip it into the sauce and enjoy!
Your Recently Viewed Recipes
Join our community of 5 million cooks!
Get free recipes, exclusive partner offers, and more.
Thank You for Signing Up!
There was an issue signing you up. Please check your email address, and try again.