Brie, Ham, and Pear Panini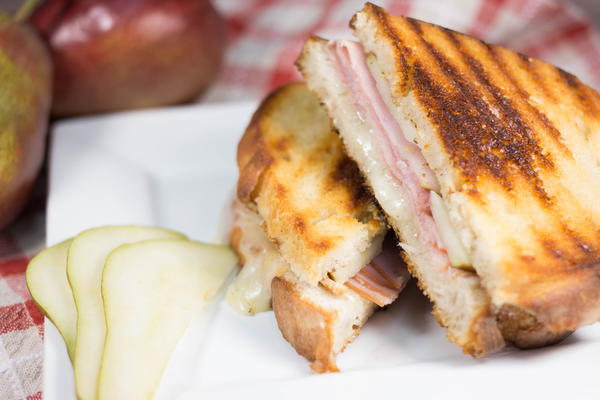 Brie Ham and Pear Panini
This Brie, Ham, and Pear Panini is the perfect fall or winter sandwich. These classic flavors combine to become your favorite comforting sandwich in no time. ​Layers of mustard, ham, pears, and Brie work together to make the ultimate bite packed with wonderful flavors. The pears give a little crunch while the cheese gets a little melted and keeps everything together.
Serves2 people

Ingredients
4 slices sourdough, whole wheat, or white bread
1 tablespoon Dijon mustard
2 ounces thinly sliced Black Forest ham
1 firm but ripe red Anjou USA Pear, peeled, halved lengthwise, cored, and each half cut lengthwise into 3 thick slices
freshly ground pepper, to taste
2 ounces Brie cheese, thinly sliced
2 tablespoons butter, softened
Instructions
Preheat a panini maker, grill pan, or griddle.

Butter bottom slices of bread. Spread mustard on opposite side of each piece of bread. Divide the ham between the 2 sandwiches. Add pear slices to each sandwich and top with cheese. Grind a bit of pepper on top. Butter the top slices of bread.

Place the sandwiches buttered side down on the hot grill. Grill until nicely browned on one side and then flip and grill the other side.

Cut each sandwich in half and serve immediately.
Your Recently Viewed Recipes