31 Secret Restaurant Copycat Recipes eCookbook
Make delicious restaurant-quality dishes at home with this help of this free copycat recipes eCookbook. Instead of paying money at a restaurant, stay at home and use free copycat recipes to make delicious food at home.

This eCookbook features 31 quick easy copycat restaurant recipes perfect for any occasion. These copycat recipes attempt to replicate recipes found in the most popular restaurants. This is a collection of copycat recipes of famous secret recipes that are almost as good as famous restaurant recipes. From Cracker Barrel copycat recipes like Old Country Store Fried Apples to McDonald's copycat recipes for Big Mac Sauce, these copycat restaurant recipes let you replicate that classic restaurant taste. Spice up your cooking with a copycat recipe. These copycat recipes are not exact replicas, but the copycat recipes are close to the originals.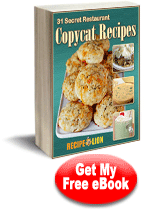 Download your free copy of 31 Secret Restaurant Copycat Recipes today!
31 Secret Restaurant Copycat Recipes eCookbook
Table of Contents
Included in this 51-page eCookbook: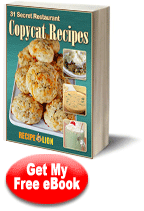 Download your free copy of 31 Secret Restaurant Copycat Recipes today!
Chicken Copycat Recipes
Chili's Boneless Buffalo Wings: Nothing brings a party together like a good plate of chicken wings. This Chili's copycat recipe will have everyone clamoring for more. Serve with dressing and celery to authenticate the true restaurant vibe. This is one of the best copycat recipes around. (Page 10)

Panda Express Orange Chicken: Panda Express copycat recipes are so good, you will swear the recipes were made by their top-notch chefs. Add a sweet and tangy kick to your cooking routine with this restaurant recipe. Use this copycat recipe to bring delicious Asian-style flavor to your dinner table. (Page 29)

The Cheesecake Factory's Santa Fe Chicken Salad: For some reason, salads always taste better at restaurants. Discover why the legendary salads at The Cheesecake Factory taste so good with this quick and easy copycat recipe. It is hard to go wrong with copycat restaurant recipes inspired by The Cheesecake Factory. (Page 37)

Tastefully Simple Copycat Recipes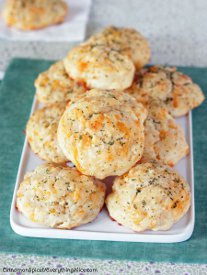 KFC's Coleslaw: Coleslaw is the perfect creamy addition to a fried chicken meal. This copycat recipe has so much flavor, you'll swear it came straight from the Colonel's own kitchen. (Page 12)

Cheesecake Factory Cajun Jambalaya Pasta: Of all the recipes served at the Cheesecake Factory, this might be one of the best. Make a classic meal for friends and family with this easy copycat recipe. Making delicious copycat recipes at home is easy with this superb recipe. (Page 16)

Cracker Barrel Old Country Store Hash Browns: Cracker Barrel has become a beacon to road travelers because of the quality of its food. Comfort your stomach in the morning with this easy baked copycat recipe. Learn how to make a delicious breakfast with copycat recipes for hash browns. (Page 20)

Homemade Red Lobster Cheddar Bay Biscuits (shown above): Red Lobster makes some of the fluffiest, tastiest biscuits around. This recipe for a homemade version allows you to make them any time the craving hits. Serve up these yummy homemade biscuits as a side for nearly any meal; they go great with everything! (Page 43)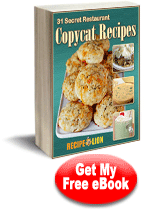 Download your free copy of 31 Secret Restaurant Copycat Recipes today!

Applebee's Copycat Recipes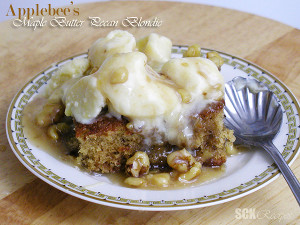 Applebee's Bourbon Steak: Copycat recipes expose the secrets of the pros. Making a mouth-watering steak is quick and easy with this awesome copycat recipe. Save yourself some money with Applebee's copycat recipes. (Page 9)

Applebee's Classic Patty Melt: Applebee's has become a national chain because of the quality of its menus. Applebee's makes one of the tastiest burgers around. Learn how professional cooks make such a delicious burger with this easy copycat recipe. (Page 41)

Applebee's Broiled Salmon With Garlic Butter: Cooking fish is a delicate procedure. This copycat recipe shows you how to cook the perfect salmon filet, Applebee's style. Applebee's copycat recipes are filling and loaded with lots of flavor. (Page 39)

Copycat Applebee's Maple Butter Pecan Blondie (shown above): For a completely crave-worthy dessert, try this easy copycat recipe for Applebee's famous Maple Butter Pecan Blondie. It's a sweet treat that you won't soon forget. It's one of those restaurant dessert recipes that we're so happy there's a knockoff version of that we can make at home. (Page 45)

T.G.I. Friday's Copycat Recipes
T.G.I. Friday's Sizzling Chicken and Cheese: Chicken with cheese is a classic culinary combination. This delicious copycat recipe is oozing with flavor. Make one of the tastiest copycat recipes around with this savory treat. (Page 38)

T.G.I. Friday's Hot Artichoke and Spinach Dip: Bring in your weekend with a bang with this tasty dip copycat recipe. With only seven ingredients, make one of the best copycat recipes for dip in just 20 minutes. This recipe will be the big hit at your next party. (Page 21)

T.G.I. Friday's Original Jack Daniel's Sauce: Add some saucy flavor to your next meat meal with this free copycat recipe for glaze. Make delicious copycat recipes inspired from T.G.I. Friday's restaurant for your next meal. (Page 35)
Newly Added Restaurant Copycat Recipes: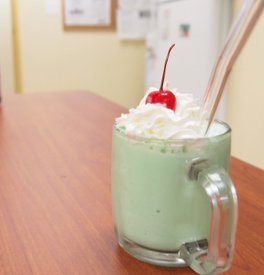 Panera Bread Broccoli Cheddar Soup: One of the most comforting soups you'll ever eat, this cheesy recipe is perfect to make on a cold fall or winter day. This recipe for copycat Panera Broccoli Cheddar Soup is easy to make and will save you the trip out to the actual restaurant. What could be better than that? (Page47)

Copycat McDonald's Shamrock Shake (shown above): A springtime classic, this fast food shake recipe is one that nearly everyone wants to have in their recipe box. Instead of having to wait for McDonald's to put this seasonal treat on their menu each year, why not just make a homemade version at home? This copycat Shamrock Shake recipe is soon to be a new favorite! (Page 49)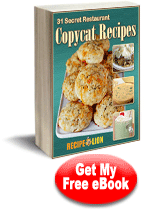 Download your free copy of 31 Secret Restaurant Copycat Recipes today!
We hope you enjoyed our collection of homemade versions of your favorite restaurant recipes. From T.G.I. Friday's to Applebee's and from Red Lobster to Cracker Barrel, there are so many awesome restaurants that we love dining at that we wish we could do it all the time. Since money doesn't grow on trees, however, that's where great restaurant copycat recipes like these come in. Keep this copycat collection handy for those times when you want the great flavor of dining out but don't want to burn a hole in your wallet.

Download this free eCookbook today and have 31 delicious restaurant copycat recipes at your disposal. Be inspired and make recipes that taste just like restaurant favorites. Copycat restaurant recipes are perfect to use for a special occasion or just to add tons of flavor to an everyday meal. Get these free copycat recipes now.
And as a friendly reminder, with your free copy of the 31 Secret Restaurant Copycat Recipes free eCookbook (as with all of our free downloadable eCookbooks) you can also subscribe to our free Quick and Easy Recipes newsletter to get free recipes delivered to your email inbox every week. Become a part of the RecipeLion community! By subscribing you will receive:

Six weekly emails with free recipes, tips, collection pages, videos and more + a weekly wrap-up.
Chances to win cookbooks and food products from our weekly giveaways and contests.
New recipes and eCookbooks made available to you throughout the year.
Access to our recipe large collection full of over 40,000 recipes, including budget friendly and quick and easy recipes
The opportunity to share ideas and help others in the recipe and cooking community.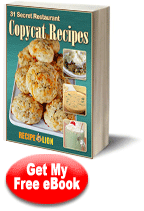 Download your free copy of 31 Secret Restaurant Copycat Recipes today!
For help downloading this eCookbook, please see our guide on How to Download our eCookbooks.
For more great copycat restaurant recipes, check out the Recipe Lion collection of The 10 Best Copycat Restaurant Recipes.
Be sure to check out our second volume of secret restaurant recipes, 31 Top Secret Restaurant Recipes Free eCookbook and our third volume 33 Top Secret Copycat Restaurant Recipes eCookbook.
RecipeLion.com does not hold any copyright or trademark, nor claim any ownership, to any copycat (restaurant or product clone) recipe listed in our eCookbook(s) or website(s). The recipes listed are not the original recipe unless specifically stated. They are considered to be acceptable "clones" to the original for the home cook to attempt to duplicate. Please also note that many nation-wide restaurant chains vary their menus and ingredients by region so the version provided may be different to what you may have tried before.
Trademarks are property of their respective holders. When used, trademarks are for the benefit of the trademark owner only. Any trademarked names are used only to identify the recipe and give the restaurant or product named in the recipe identification.
Your Recently Viewed Recipes
Join our community of 5 million cooks!
Get free recipes, exclusive partner offers, and more.
Thank You for Signing Up!
There was an issue signing you up. Please check your email address, and try again.