19 Scary Good Halloween Desserts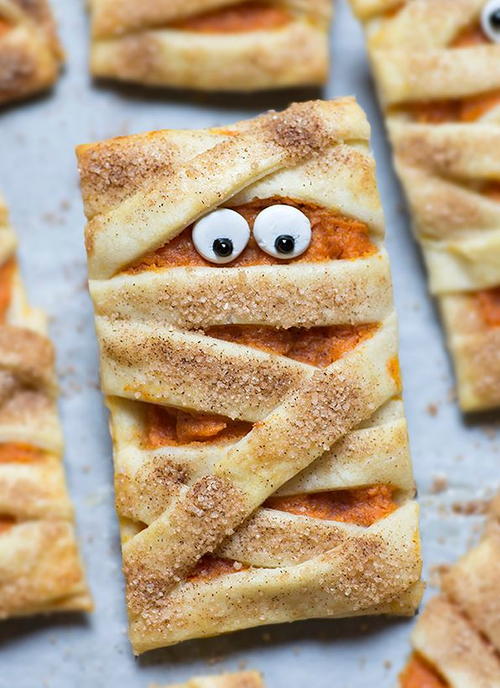 Halloween comes but once a year and with it, some of the most inventive and festive desserts imaginable. From ghosts and ghouls to witches and warlocks, there are many ways to incorporate the creatures of childhood lore into your Halloween desserts. Take a stab at these 19 Scary Good Halloween Desserts and you'll be glad you did. From cakes and cupcakes to cookies and other Halloween desserts, the treats below are frightfully delicious.
Treat your kids to a fun recipe you can all make and enjoy together, like these "Great Pumpkin" Cupcakes. If you're looking for a fun Halloween party activity, why not try having everyone make their very own Caramel Apple in a Jar? Hosting your own Halloween party can be stressful, but when your dessert table looks this good, all your hard work won't go unnoticed. Enjoy these sweet Halloween treats and have a safe celebration!
19 Scary Good Halloween Desserts
---
For more Halloween foodie fun, check out our complete Monstrous Menu!
---
Halloween Cakes and Cupcake Recipes
These Halloween cakes and cupcake recipes are so creative you'll be sad to take the first bite. But, we're pretty sure you'll get over it once you taste how delicious each of these easy recipes is. Create a new tradition with your family and frost cupcakes or decorate a festive cake as a pre-trick-or-treating ritual.
Candy Corn Chocolate Chip Cookie Cake
Candy Corn Layer Cake (shown)
The "Great Pumpkin" Cupcakes (shown)
Halloween Cookie Recipes
These tasty Halloween cookie recipes make for the perfect easy way to whip up a large batch of treats for a party! With two totally different types of mummy cookies and even a cookie pizza, you won't be at a loss for ideas!
Thick and Chewy Pumpkin Chocolate Chip Cookies
Mummy Milano Cookies (shown)
Pumpkin Spiced Spiderweb Cookie Pizza (shown)
Other Spooktacular Halloween Desserts
For other fun and festive Halloween dessert, look no further than the recipes below! These recipes didn't fit into the categories above, but they are as just as delectable and they scream "Halloween." Oh, and did we mention there are three different types of candy apples below? Try them all and see which is your favorite!

How to Make Cinnamon Candy Apples - with a video!
Harvest Ooey Gooey Bars (shown)
Caramel Apple in a Jar (shown)
4-Ingredient Candy Corn Truffle Bark
---
Can't get enough spooky Halloween dessert recipes? Download our free 23 Unforgettable Halloween Party Recipes eCookbook for even more awesome Halloween ideas.
---
Your Recently Viewed Recipes