Veronica's Treats Cake Pops Review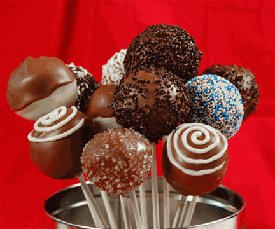 "There is no word in the English language, nor any language, that can completely describe how incredibly delicious these cake pops are; therefore, I dub these pops to be scrumpcilicious. Whereas other cake pops can be a bit much - too sweet, too much chocolate, too dry - these cake pops were as close to perfection as anything could be.
Wonderfully moist and covered in the perfect amount of smooth chocolate, my taste buds couldn't tell if I was eating a cake, a brownie, or some sort of devilish mix between the two. Clearly, something this scrumpcilicious must be other worldly. Either way, I highly recommend them for your next get-together, party or intense chocolate craving (whichever may come first)."


"Veronica's Treats' chocolate cake ball on a stick is a decadent treat for anyone who likes rich chocolate cake or chocolate brownies. The cake ball, filled with moist, rich, chocolate cake and wrapped In creamy chocolate frosting with sprinkles, is an unexpected ball of heaven. Cake has never tasted so moist and so good!"
"I didn't want to eat it all at once so I could savor the taste and have more for later. If you like brownies then you'll love these cake pops. They're like Christmas in your mouth; you can't help but smile."

"I'd always wanted to try a cake pop, but I'd never had the opportunity before. Veronica's Treats cake pops satisfied my curiosity and my appetite! The cake pops are adorable with sprinkles or swirls of icing, and every bite is filled with sugary goodness.

The sugar density was unbelievable--these cake pops are not for the novice sweet tooth! If you like the taste and texture of brownies and the novelty of eating confections on a stick, you'll love these cake pops from Veronica's Treats!"

"Veronica's Treats cake pops are so decadent, you'll swear you died and went to heaven! With an intense chocolate flavor and an unbelievably moist texture, these cake pops are the ultimate sweet treat. If you've never had a cake ball or a cake pop, I highly recommend you try the ones from Veronica's Treats. They are seriously the best cake pops I've ever had, and I've had my fair share. I love that they don't skimp on the size of these cake balls.
I also liked the ratio of chocolate coating to cake... sometimes on cake pops the layer of chocolate is so thick that it overwhelms the cake, but these cake pops achieve the perfect balance. I honestly don't think there is one thing I'd change about the cake pops from Veronica's Treats."

"A--Maaazing! That is the word I have for Veronica's Cake Pops. Rich, sweet, decadent and moist, these cake pops lean more towards a brownie pop than cake, but in a very sinfully delicious way. It's awesome that with these cake pops you get just enough cake to satisfy and aren't tempted for more (unless you have a dozen nearby that is) but honestly the richness only allows for me to tackle one. Love cake pops!"

"The only possible word that comes to mind is delectable. These cake pops have a incredibly moist and soft cake center and are covered in rich and creamy chocolate. They are the perfect little snack if you are trying to satisfy a sweet tooth without going overboard."

"One word: Amazing. Cake pops are a diet-friendly option for those of us who have an addiction to all things sweet. I tried the chocolate cake pop and it was so tasty. Each bite is packed with flavor - the sprinkles and chocolate chips are an awesome touch. And the best part is I didn't feel like I was breaking my diet because the portion is so small.
This treat was so tasty, I actually shrieked when the last third of it fell on the floor and had to be thrown away. I can't rave enough about these cake pops and, frankly, I want more!"

"These are awesome! I mean, what's not to love about cake on a stick? The concept is fabulous, as it gives you the perfect amount of cake without having to chow down on a whole slice [not that that's always a bad thing :)] As for the execution, Veronica's Treats has got this down pat.
The frosting shell hold everything in place, contrasting nicely with the soft moist chocolate cake ball underneath. The cake is moister than your average slice, which I happen to enjoy. These cake pops are the ideal way to have your cake and eat it too without feeling too much like a pig."
To learn more about Veronica's Treats Cake Pops and how you can win your own one dozen bouquet of them, go to the Veronica's Treats Cake Pops Giveaway.
Your Recently Viewed Recipes
Join our community of 5 million cooks!
Get free recipes, exclusive partner offers, and more.
Thank You for Signing Up!
There was an issue signing you up. Please check your email address, and try again.