SeaPak Popcorn Fish and Shrimp Review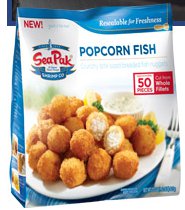 SeaPak Popcorn Fish is a wonderful addtion to their already fantastic line of easy to make frozen seafood. As usual, their frozen products continue to taste so fresh and delicious, you'd never think it came out of a bag or box. The popcorn fish couldn't get any easier to work with, just pop it in the oven and voila, in under 15 minutes you have crunchy, tasty fish bites.
The flakiness, combined with crunch is simply delicious. There are tons of things you could do with this popcorn fish, toss it over pasta, serve alongside some baked fries (as in fish and chips), or make some tasty fish tacos. The ideas for a quick and easy dinner are always endless with SeaPak products.
The SeaPak Popcorn Shrimp is some of the best baked shrimp you'll ever try. As I've always found with SeaPak products, they taste so fresh, hot out of the oven, you really can't believe it's a frozen product.
Popcorn shrimp makes an awesome appetizer for a party, or a quick snack during the day, you could even toss it in some pasta or over a salad. You really jazz up a salad by tossing some of this tasty popcorn shrimp on top. I highly recommend SeaPak fish and shrimp, as it continues to be a staple in my freezer.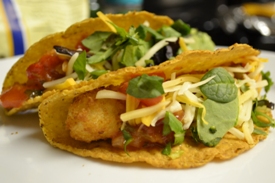 Be sure to check out RecipeLion Editor Sarah's exclusive recipe for Crazy Good Seafood Tacos, created special in honor of SeaPak's Poptoberfest event for the month of October, 2011.
"I tend to like shrimp in any form: shrimp bisque, shrimp cocktail, fried shrimp, etc. Before I continue on into Bubba-from-"Forrest Gump" fashion, let me just say that I've added SeaPak Popcorn Shrimp to my list of favorite ways to eat shrimp! The best part about these shrimp is that they're jumbo – you won't find any of the tiny shrimp usually associated with popcorn shrimp in this bag.
And of course, you still get a healthy dose of Omega-3s and Vitamin D from jumbo shrimp! SeaPak starts with whole large tail-off shrimp and coat them in a Japanese-style breading so they bake up to light, crispy amazingness. I served mine as an appetizer with cocktail sauce, but I am already thinking of new ways to eats this Popcorn Shrimp!"


"If you're bored with your usual chicken nuggets or chicken strips, try something fresh, fun and different this week with SeaPak Popcorn Fish! A far cry from old-school fish sticks, they're bite-sized, dippable and crispy delicious – I loved dunking mine in a mixture of sweet 'n' sour & peanut sauces, but the variety of sauce pairings is virtually endless.
Made from whole Pollock fillets and coated in tasty breadcrumbs, these fish bites are so easy to serve – just toss'em in the oven for about 10-14 minutes and they're baked to light, delicious perfection. They come in a resealable bag so you can use some for dinner, an after-school snack or even party appetizers. I love these SeaPak Popcorn Fish as a tasty alternative to chicken – they're simple to make and really yummy no matter how you serve them!"

Your Recently Viewed Recipes
Join our community of 5 million cooks!
Get free recipes, exclusive partner offers, and more.
Thank You for Signing Up!
There was an issue signing you up. Please check your email address, and try again.