Korin Togiharu Molybdenum Petty Knife Review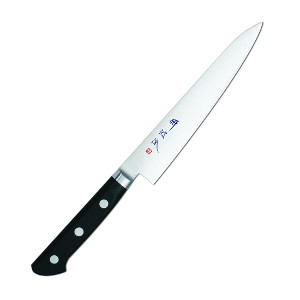 Korin Togiharu Molybdenum Petty Knife
Provided By Korin
korin.com
Reviewed by Jordan Sward
A really high quality knife is just one of those things every kitchen needs, and Korin knives are the kind that last forever. The Japanese company has been making chef's knives since 1982 out of their store in Manhattan, and professional chefs everywhere swear by the quality of their products. The Korin Togiharu Molybdenum Petty Knife is a 5.9-inch utility knife that's small enough for peeling but still large enough to handle bigger jobs. The blade on the petty knife is easy to sharpen and maintain, so it's perfect for those who are inexperienced with sharpening knives.
Anyone who cooks often using dull knives might be very surprised at how big of a difference a high quality, razor-sharp chef's knife can make. When using the knife, its incredibly smooth, clean cuts made such a difference in chopping. Japanese knives have significantly thinner blades than traditional western knives, so they require professional sharpening, but this model is a great choice because it's easy to sharpen and won't dull quickly. The thin blade makes chopping smooth and seamless, and the handle isn't too bulky so it feels perfect in my hand.
I also love the size of the petty knife, which is the Japanese version of a larger paring knife. It's the perfect width for everyday cutting of most foods and is lightweight without being flimsy.
Korin knives are known for their sleek and simple design, as with most Japanese knives. The weight of the Togiharu Molybdenum Petty Knife is perfectly balanced, which helps to create a fluid rhythm when cutting. Plus, having a sharp knife is much safer than cutting with stubborn, dull knives. Although the blade is much sharper, cutting is smooth so there's less chance of the knife slipping off food and cutting the user.
All in all, I could see myself using this knife every day for years to come. With a value of $62, this is Korin's most affordable line of knives, and in my opinion, worth every penny. No kitchen is complete without one really good knife, and some cooks may not realize it until they own one. Whether you're in the market for a new all-purpose, high quality knife, or are looking for a nice gift to give someone who likes to cook, I would recommend the Korin Togiharu Molybdenum Petty Knife. The knife can also be made left-handed for a small charge.
Enter to win a Korin Togiharu Molybdenum Petty Knife from 12/16/2013 through 12/29/2013.
Your Recently Viewed Recipes