J&D's "Everything Should Taste Like Bacon" Review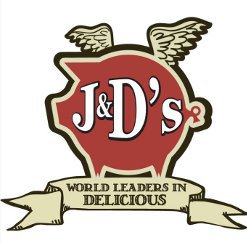 "I whipped up the J&D's Bacon Gravy the other night with some biscuits and bacon. The "safe for vegetarians" label on the back of the package means it is obviously baconless, but has a smoky flavor that makes you think you're indulging in bacon. I paired my biscuit and gravy with actual bacon -- I had a few bites with just the biscuit and gravy and then crumbled up some bacon to sprinkle on top and was happy with it both ways.
The peppery smoky flavor would also complement chicken-fried steak and would be yummy on top of a skillet breakfast as a flavorful accent. One thing to note, this 1.38 ounce package doesn't make a lot of gravy. You only add a cup of water, so it's not enough to feed a crowd for dinner, which is why I suggest it for dishes where you're using it more as a topping than a main course. Give it a try!"
"Bacon flavored popcorn has been a dream of mine for a while now, but J & D has turned my dream into reality! I absolutely love the taste of their bacon-flavored popcorn. It has just the right amount of smoky flavor to make me feel like I'm enjoying a delicious strip of bacon without being too overwhelming. Regular popcorn now seems boring by comparison. You'll love the perfect crunch of this popcorn, which pairs perfectly with the subtle hints of bacon flavor. It's a winning combination for sure."
"I thoroughly enjoyed the Baconnaise (or bacon mayonnaise) from J & D. Its smooth and slightly smoky taste had me drooling from the moment I unscrewed the cap on the jar. This bacon-flavored spread is the perfect way to enjoy the taste of a BLT without having to deal with cooking actual bacon."
"As a vegetarian who sometimes (okay, all the time) still craves bacon, J & D's Baconnaise is like a godsend. I can now enjoy one of my favorite flavors on my lunch-time sandwiches without feeling guilty about eating meat. I can't believe they found a way to make something that tastes so much like bacon without using any of the real thing. It's amazing!"
"This J&D's Bacon Salt may be one of the tastiest and most unique spice blends I have had the chance to try. It doesn't replicate the exact taste of bacon, but it does do a fabulous job at adding a smoky and salt taste to any dish. I added some to plain rice, and was bowled over by its flavor punch. The prominent flavor is a distinct smokiness, with spicy and salty flavors intermingling in the background. If you go hog wild over bacon, then you'll be a fan of the bacon salt."

"J&D's Bacon Lip Balm's slogan is "Everything should taste like bacon," and you'll certainly find that's true after applying their delectable lip balm. The fragrant lip balm has no taste, but smells like Sunday brunch! If you can't get enough of bacon and could eat it, day or night, you'll love this smoky lip balm. Men, in particular, are said to be attracted to the smell of bacon. If you're trying to lure a future husband or boyfriend, wear this creative lip balm out on a night on the town, and you'll be sure to snag a man who's 'hungry' for attention!"


"I was skeptical at first of J&D's Bacon Salt but after trying it out on some steaks we grilled over the weekend, I'm sold! I'm a huge bacon fan, I mean I love it. But I refused to believe you could possibly recreate that amazing smoky, salty flavor of bacon in anything that didn't actually contain bacon! But these guys at J&D's have managed to do it. This tasty bacon salt makes the perfect seasoning, I mean it adds the awesome smoky flavor of bacon without adding any of the calories, you can't beat that! Now I'm super curious about the rest of their bacon flavored products and would love to try them out."
"Ever introducing new foods to my family, I was intrigued by J&D's Bacon Croutons. My husband was impressed with their smoky flavor, said they had a nice texture and a slight "porky" taste to them. That would be the bacon flavor – YUM. At first, my 5 ¾-year-old son seemed underwhelmed, but then moved on to fan status:
[Crunch. Crunch. Eyebrows raised up when I told him they were bacon croutons.] "Tastes like regular croutons. Pretty much that's it." [Wait for it…] "I want another crouton." He then proceeded to eat them by the handful – pretty good testimonial from a little kid who first proclaimed them regular."
Your Recently Viewed Recipes
Join our community of 5 million cooks!
Get free recipes, exclusive partner offers, and more.
Thank You for Signing Up!
There was an issue signing you up. Please check your email address, and try again.