Byron's BBQ Review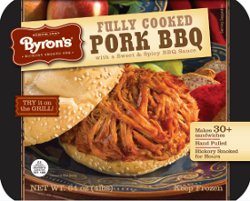 "If you love the rich, smoky taste of barbecue but hate waiting for the amazing slow-cooked texture and taste, then Byron's BBQ is right up your alley. This hand-pulled, hickory smoked pork is as flavorful as any you'd find at a Southern barbecue but it's so easy to make – just toss it in your oven or slow cooker and you'll have sweet & tangy pulled pork in no time! The meat has that unbelievably soft consistency and the barbecue sauce is the perfect mix of spicy and sweet.

It's not just for dinner either – cut up hamburgers buns and serve these as mini-sliders for an appetizer. Byron's takes the sweat and tears out of slow-cooking barbecue and makes it super-easy and delicious. This pork BBQ is a great restaurant-quality shortcut your family will love!"
"This was such a tasty meal! I loved every bite of my delicious pulled pork sandwich made by Byron's. The pulled pork was tender and sweet, and I could really taste the smoky flavor, as well. Using the slow cooker to prepare the pulled pork made it super easy, too!"
"Byron's BBQ Pulled Pork gives you that authentic smoked pork flavor without the hustle and bustle of firing up the grill. In fact, I never would have guessed this was pre-cooked! The perfect addition to any party, this entire tray could easily make two dozen sandwiches. How's that for simple, homemade party pleasers? I'm usually quite averse to spicy meat, but the sauce had a hint of sweetness that easily balanced out the hot, spicy sauce. If you're looking for an affordable way to satisfy all of your family and friends, Byron's Fully Cooked Pork BBQ is the best way to bring out the 'taste of summer.'"
"Tangy, spicy and not too sweet, Bryon's BBQ Pulled Pork is perfect for your next summer cook-out. While I'm not a huge fan of BBQ meat, Bryon's Pork combines smoked meat and spices in such a way that makes it irresistible. You won't believe how amazing this stuff smells as it's heating up!"
"The second I pulled the cover off of the slow cooker, I knew I was in for quite a lunchtime treat. I could see the pulled pork and spices simmering and crackling in the pot. It gave off an irresistible aroma. I scooped some pulled pork and eagerly took a bite. What I discovered was a dish with light and delicious barbecue flavor. The spices added a great kick without being overwhelming. This is a great dish to make anytime."
"Byron's BBQ Pulled Pork is absolutely delicious. It couldn't be easier to prepare, as it's already pre-made. You can just throw it in your slow cooker and let it cook. The pork is tender and juicy, and the sauce is tangy with a hint of spice. This pulled pork is great for a weeknight meal or for entertaining. Serve it up on a bun with coleslaw and you're set. I definitely will make this pork for my next summer gathering."
"Byron's BBQ Pulled pork is out of this world! It's juicy, tender and delicious! The BBQ sauce is perfection, with a sweet, tangy and slightly spicy taste. This pulled pork certainly takes the leg work out of making it from scratch. I drooled from the smell while it cooked in the slow cooker, but it was worth the wait!"
"The Byron's BBQ pulled pork is so juicy and tender it blew my mind. They aren't kidding when they say it's restaurant quality, it really does taste like something you could get at a good BBQ place. The sweet and savory BBQ sauce has just the right amount of kick and a delicious flavor. Having lived in the south myself I can be picky about the BBQ you get from the stores, but this Byron's really impressed me. It's so simple to make too, just heat it up! I'll definitely be making this at my next summer gathering."
"I am not normally a big barbeque person as it always has a mind of its own, but this pulled pork was actually pretty good. The barbeque wasn't overwhelming and the meat was nice and tender. It kind of reminded me of sloppy joe's so if you're a fan of that then you'll love this pork! For some reason it kept pulling (no pun intended) me in for another bite and another bite. I was very hungry at the time and this definitely hit the spot."
Your Recently Viewed Recipes
Join our community of 5 million cooks!
Get free recipes, exclusive partner offers, and more.
Thank You for Signing Up!
There was an issue signing you up. Please check your email address, and try again.