Should I Thaw Burgers Before Grilling?
Grilling frozen burgers is a convenient way to save time!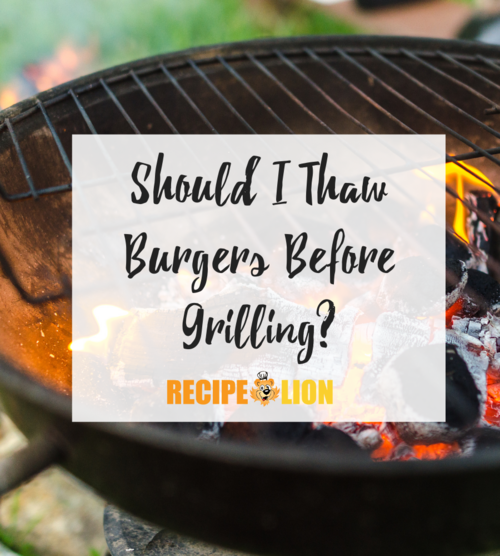 We've all been there--it's been hot all week but today is nice, and on the drive home you smell someone else cooking out and want to have a burger or hot dog yourself. But what to do about the burgers? They're sitting in your freezer and it's almost dinner time.

You ask yourself, "Should I thaw burgers before grilling them?" Maybe in the past you've thought that you couldn't and opted for something easier.

But the truth is that you can grill burgers without thawing them. However, there are a few things you need to think about first to see if it's the right move for you.

Read below about how to grill frozen burgers, the pros and cons, and some alternatives.
How to Grill Frozen Burgers
You can grill frozen hamburgers. You'll need your grill to be about 325°, or medium-low. Get the burger patties apart by any means necessary without breaking them; using a butter knife usually works. Then you can put your patties on the grill, flipping them every 5 minutes.

Grilling the hamburgers frozen will take more time, taking between 1.5-2 times more time than usual. Since they're spending more time on the grill, it's important that they not get too smoky, which will ruin the taste.

It's important to have a meat thermometer when grilling burgers frozen. The thermometer will help you tell if the inside of the burger is done, for taste and safety reasons. The correct internal temperature is 160°.

When grilling without thawing, uniform meat works the best, so storebought patties work great. If the patties are homemade, try and get them as even as possible.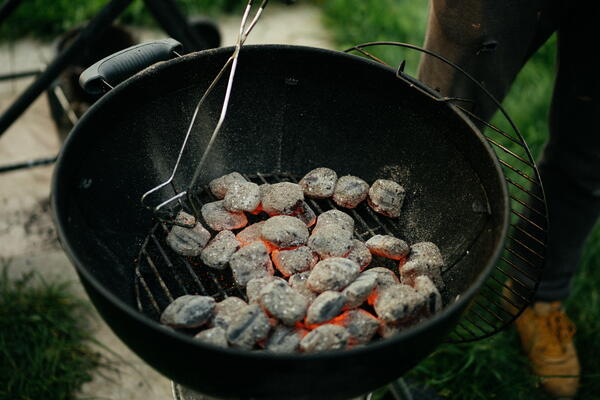 Pros and Cons of Grilling Frozen Burgers
Pros:
Much faster than thawing the burgers.
Convenient / great for spontaneous grilling.
   Cons:
Takes longer to cook.
More difficult to get the right taste, texture, and uniformity.
Can be difficult to get the frozen burgers apart.
Whether you should thaw burgers before grilling or not is dependent upon what's most important to you at the moment. If you'd rather have burgers and aren't particular about the taste, grilling them frozen is a great choice. But if you have some time to defrost them, that will get you a better burger.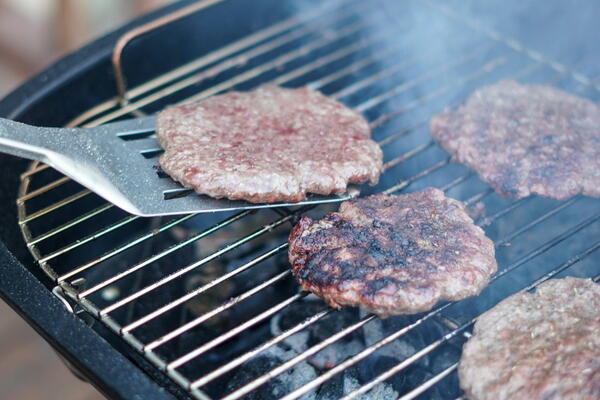 Frozen Burger Alternatives
If not thawing the burgers before you grill is convenient for you and you'll be doing it again, there's something you can do to make the process easier. Next time you get/make hamburger patties, put them into individual containers or resealable bags to make removal easier, instead of prying them apart.

And now, getting away from grilling them frozen, you can easily thaw however many you need in the microwave. If you microwave has a "defrost" setting, all you have to do is press the button. If it doesn't, put your microwave at 30%-50% power and microwave until no longer frozen, flipping the burgers every couple of minutes.

Grilling your burgers frozen may not add anything to the meal except convenience, but there may be some improvement in grilling your steaks frozen. It has the potential to help you not overcook the outside while getting the right reddish color inside, without an overcooked ring.

Click here to learn how to grill frozen steaks!
 
Our Most Popular Burgers
Garbage Plate Burgers
Breakfast Burger
Your Recently Viewed Recipes
Join our community of 5 million cooks!
Get free recipes, exclusive partner offers, and more.
Thank You for Signing Up!
There was an issue signing you up. Please check your email address, and try again.