Ground Chuck vs. Ground Beef
Ever wondered, "What is ground chuck, anyway?" Find out here.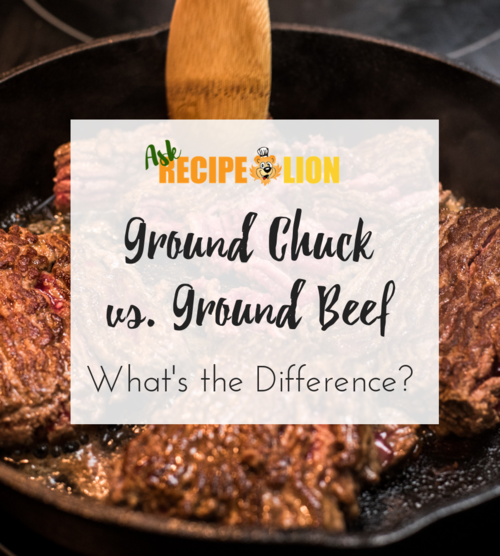 So you're standing at the grocery store trying to pick out meat for tonight's dinner. There are dozens of packages that all look the same, but they're labelled "ground beef," "ground round," "ground chuck," "ground sirloin"... who knew there were so many kinds of ground beef?

Maybe in the past you just picked up whichever one was cheapest and went about your business. But you don't have to do that anymore! The differences between these types of ground meat aren't actually that complicated, and we can help you figure it out.

Here's the scoop on ground chuck vs. ground beef, ground chuck vs. ground sirloin, and more (and why you should care).
Ground Chuck
The first thing to understand about different types of ground beef is: they're all named after the part of the cow they're made from.

Ground chuck is ground beef that's made only from the shoulder of the cow. In the chart below, you can see where exactly that is. You can also check out this fun interactive version from BroBBQ to learn even more!

Ground chuck is about 80% lean (i.e. it's only 20% fat), which means it's not too fatty and not too dry. It's a great all-purpose ground beef. Ground chuck makes good burgers, and it's also great for tacos or ground beef casseroles. You'll want to drain it after cooking for tacos or casseroles. Ground chuck is also one of the most affordable types of ground beef.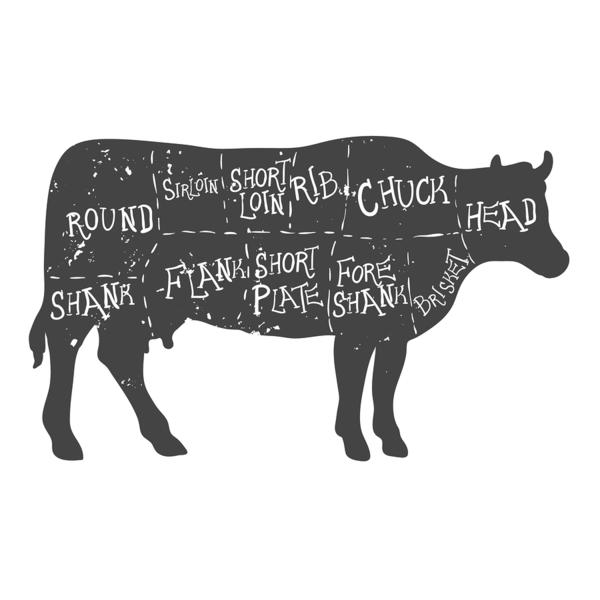 Ground Chuck vs. Ground Beef
Remember that different types of ground beef are named after where they come from on the cow? Well, ground beef gets its name because it can come from anywhere on the cow. Ground beef is often made from ground pieces of cheaper cuts, like brisket. However, you won't know exactly unless you're able to ask the butcher.

So, ground chuck is made of only the chuck, while ground beef is made from several different cuts of beef.

What does this mean for your cooking?

Start by checking the fat content on the ground beef that you buy. If your ground beef is 80% lean, then it is a good substitute for ground chuck. It's nice and juicy, and it's good for burgers, casseroles, tacos, and more. However, the flavor of the beef might be slightly different than ground chuck. Remember that it's not the same cut of meat (necessarily), so it might taste less "beefy" than ground chuck.

If your ground beef is less than 80% lean (i.e. it's fattier), then it will be greasier than ground chuck. If it's more than 80% lean, then it will be drier. It might more closely resemble ground sirloin or ground round.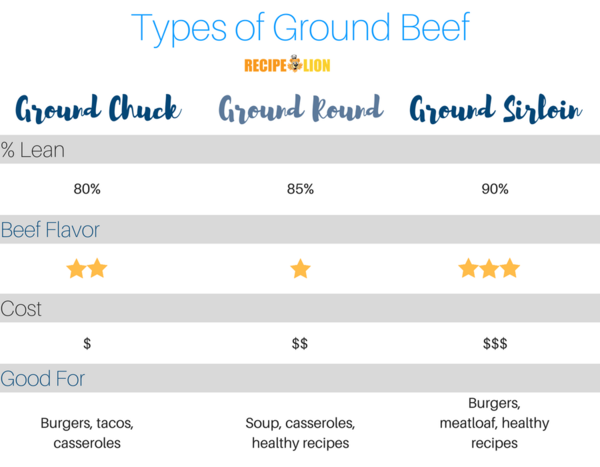 Ground Sirloin and Ground Round
Ground sirloin and ground round are higher quality portions of ground beef. Like ground chuck, they are made only from meat on a specific part of the cow (see the diagram above). When it comes to ground chuck vs. ground sirloin or ground round, though, there are a few differences.

Ground sirloin has terrific flavor and is one of the healthier ground beef choices, as it's usually 85%-90% lean. However, it is also one of the most expensive cuts. It can also make for a dry burger if you overcook it.

Ground round is more affordable, while still lean (about 88% lean). However its flavor isn't quite as good as ground sirloin. Ground round is best used in soups or other dishes where you don't want too much fat, but you also have plenty of other spices and veggies for added flavor.
Short on time? Make one of these easy and simple recipes. Our quick ground beef recipes are ideal for busy nights and last-minute meals. All of the recipes take 60 minutes or less to make!33 Quick Ground Beef Recipes
Our Favorite Ground Beef Recipes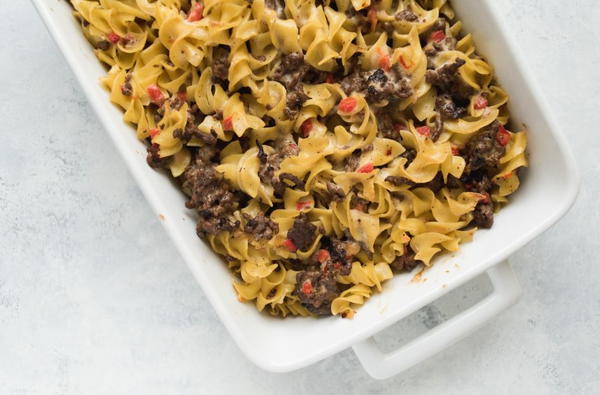 Your Recently Viewed Recipes
Join our community of 5 million cooks!
Get free recipes, exclusive partner offers, and more.
Thank You for Signing Up!
There was an issue signing you up. Please check your email address, and try again.
Cooking Tips
Here you'll find cooking tips, hints, and suggestions to make life easier in the kitchen. Check out the slow cooker tips and tricks that we've collected. Plus, you will find baking tips, in-depth how-to articles, and more!