How to Reheat Meatloaf
Get our tips for heating up and enjoying leftover meatloaf!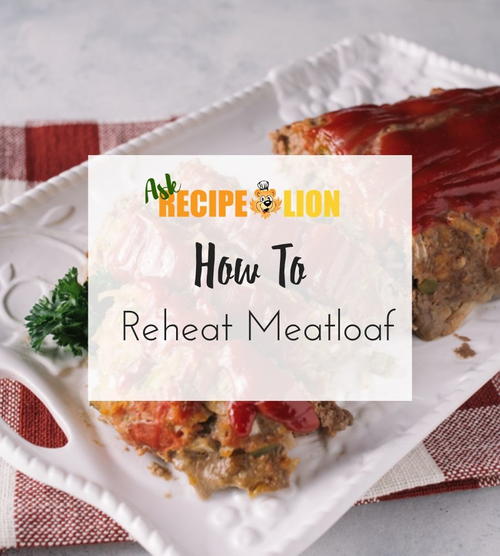 Meatloaf is one of those meals where you're almost guaranteed to have leftovers. Unless you are feeding a crowd, most recipes make way more servings than the average family can eat.

The good news is that leftover meatloaf is delicious! Whether you are warming it up for lunch the next day, or saving it for a no fuss dinner later in the week, you can be sure that reheated meatloaf will satisfy.

However, one common problem with reheating meatloaf is that it can turn out dry.

Meatloaf in general can turn out dry if you aren't careful. And warming it up again increases the chances that you'll end up noshing on something that tastes like cardboard.

The good news is that the best ways to reheat meatloaf fix this problem! It definitely is possible to serve piping hot leftover meatloaf that isn't dry. We can show you how. Read on for our favorite ways heat leftover meatloaf, plus some genius ideas from bloggers on how to enjoy meatloaf leftovers! You'll be so inspired, you might make extra meatloaf just to enjoy it the next day in an oh-so-good sandwich.
How to Reheat Meatloaf in the Oven
The oven is really our favorite way to reheat most foods. You have good control over the heat, food heats evenly, and you can cover or uncover food to control crispiness. All of these benefits factor in to this method for reheating meatloaf. You don't have to worry about hot and cold spots in the loaf, and you can easily prevent it becoming too crisp and dry. Here's how.
Heat your oven to 250 degrees F.
Place your meatloaf in an oven-safe baking dish, and add 1 Tbsp of beef broth or water. Cover dish with foil.
Heat for 25-30 minutes, or until meatloaf is hot all the way through.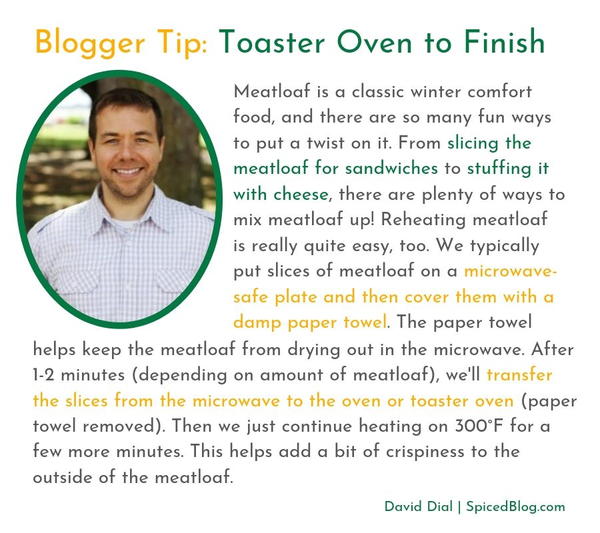 Loving this? Check out this Secret Ingredient Meatloaf!
Note: This recipe is from RecipeLion Cooking Club. Non-members can access 3 free recipes every month. Subscribe to the RecipeLion Cooking Club for unlimited access to their entire recipe archive, featuring hundreds of exclusive recipes!
 
How to Reheat Meatloaf by Steaming
When you're trying to prevent moisture loss in food, steaming can be a great way to go. Think about the difference between steamed dumplings and dough baked in the oven. The steamed buns retain a lot more moisture, and we can apply the same technique to reheating leftover meatloaf.
Place your meatloaf in a steamer basket over a pan with an inch or two of simmering water.
Cover the pan and steam the meatloaf until it is hot all the way through.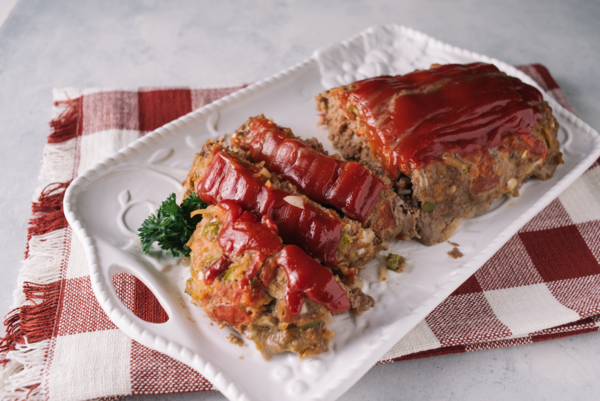 How to Reheat Meatloaf in a Skillet
This is a great way to heat up meatloaf if it's already been cut into slices, or if you only have a few slices to heat up. It's super easy to lay the meatloaf into the skillet, cover, and let it cook away until heated all the way through. The finished meal will be rich, full of flavor, and not dry at all.
Heat a little bit of oil in a large cast iron or nonstick skillet over medium low heat. 
Add slices of leftover meatloaf to the skillet.
Cover and cook for 3-4 minutes.
Flip slices to the other side. If the pan is looking dry, add a few tablespoons of beef broth.
Cover and cook for 3-4 minutes more or until the meatloaf is hot all the way through.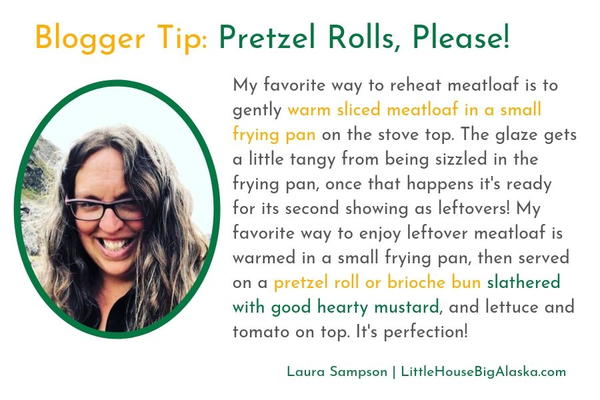 How to Reheat Meatloaf in the Microwave
This is obviously one of the most common way to warm up leftovers of any kind, including meatloaf. If you're trying to warm up your lunch at work, you're probably using a microwave. When you're warming up meatloaf in the microwave, there is definitely a right and a wrong way to do it. The wrong way is to leave it uncovered. If you leave it uncovered, then all of the moisture in the meat will cook out, leaving you with dry crumbly meatloaf. Try it this way instead. Or try using a paper towel to cover, as some of our bloggers have suggested!
Place your leftover meatloaf slices in a microwave safe container that has a lid.
Put the lid, slightly ajar, on top of the container.
Microwave for 1-2 minutes.
Carefully remove the container from the microwave and turn the meatloaf slices over.
Return to microwave and heat for 1-2 minutes more, until meatloaf is hot all the way through.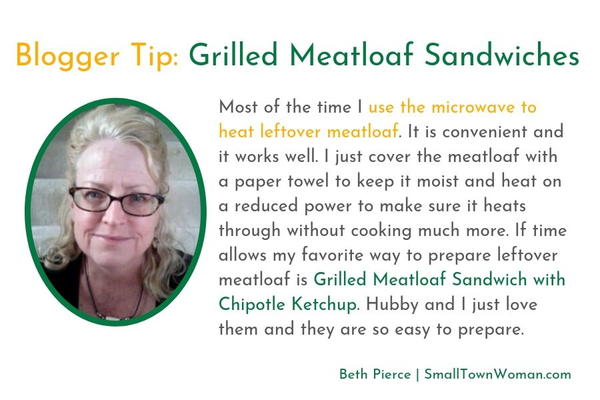 What's your favorite way to enjoy leftover meatloaf? Let us know in the comments below!
Your Recently Viewed Recipes
Join our community of 5 million cooks!
Get free recipes, exclusive partner offers, and more.
Thank You for Signing Up!
There was an issue signing you up. Please check your email address, and try again.