How to Freeze Broth or Stock
Prevent food waste with these clever ideas for freezing broth or stock.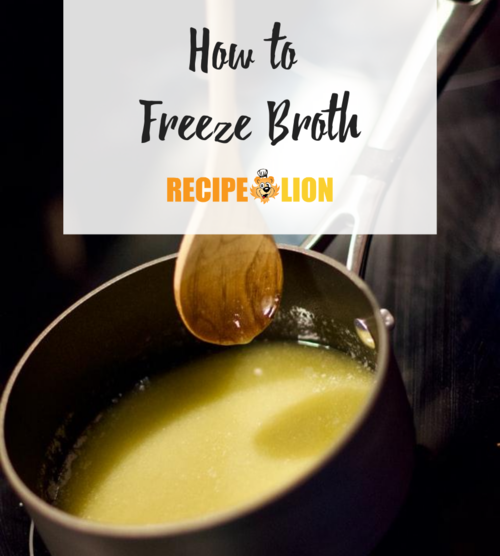 Having leftover stock or broth can be kind of a pain if you don't have a plan to use it right away.

Fortunately, freezing leftovers can be a great solution!

By freezing leftover broth or stock the right way, you can ensure that --
Prepping broth for the freezer only takes a few minutes
Frozen broth can be used easily in recipes down the road
Because there's nothing worse than freezing leftovers  and then forgetting what they are, not knowing 
how much
 is in the package, or having frozen leftovers in huge portions that are hard to defrost!
We've solved those issues with these 3 easy methods for freezing leftover broth or stock. We promise these ideas are totally user-friendly and easy to incorporate into recipes when you're ready. They work with chicken stock, beef stock, veggie stock, and more.
Let's get started!
How to Freeze Broth Method #1 -- Freezer Bags!
Using freezer bags is one of our favorite tricks. It's super simple, and you probably already have freezer bags on hand! Here's the method that works best for us.
Measure your cooled leftover broth. We like keeping it in 1 cup portions.
Label a small freezer bag with the type of broth, date, and amount of broth.
Lay the bag flat and freeze.
You can lay the bag of broth on a small baking sheet in the freezer in order to make sure it lies flat. 
Flattening the bag of broth makes it easier to stack in the freezer. You can keep all of your frozen leftovers in one handy container until you are ready to use them!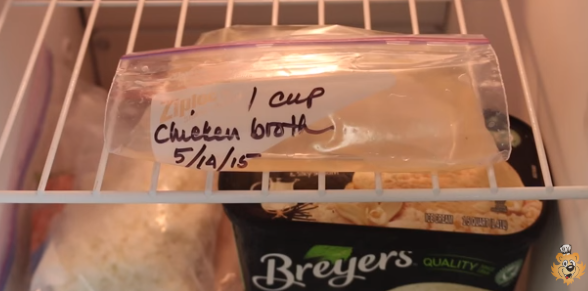 Watch Our Video on Freezing Chicken Broth!
Method #2 -- Ice Cube Trays
You might have heard of this method before. Freezing stock or broth in ice cube trays (or muffin tins) is a great way to preserve small portions. You can use a portion or two to deglaze a pan or thin out some gravy. Here's how to do it --
Measure out the cool broth into a clean ice cube tray -- Each well probably holds about 2 Tablespoons (1 oz), but go ahead and measure to be sure!
Freeze until solid
Remove frozen cubes from tray and place in a labelled freezer bag or other freezer-safe container
Return to the freezer
Measuring out the broth or stock makes it easier to use it in a recipe that calls for a specific amount. If you put 2 Tablespoons (a.k.a. 1 oz) in each ice cube tray, then you will need
8 cubes for 1 cup of broth
-- or
4 cubes for 1/2 cup.
Easy!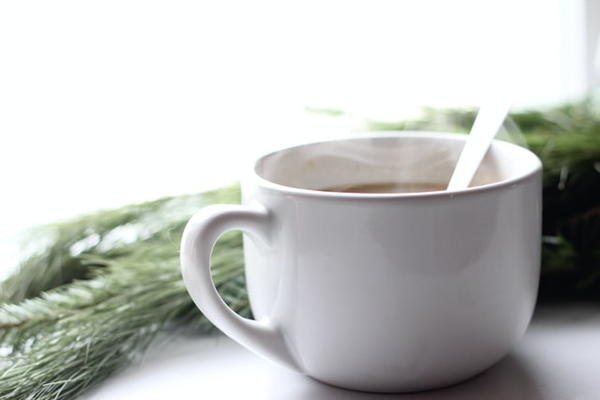 Method #3 -- Mason Jars or Glass Containers
This method is great if you're avoiding single-use plastics. It's also an easy way to store stock or broth that you know you will want to thaw all at once. Here's how to store broth in Mason jars or glass containers --
Pour the cool (and measured) broth into a clean Mason jar or other freezer-safe glass container
Leave at least two inches of room at the top of your Mason jar so the liquid can expand
Label the mason jar with the type of broth, amount of broth, and the date frozen
Put a lid on the jar and freeze
We definitely recommend
checking out this resource on freezing things in Mason jars
. It's so helpful! It's very important with this method to make sure the broth is cooled thoroughly before adding it to the Mason jar. Leaving enough room at the top for the liquid to expand is also crucial so that you don't end up with a cracked or broken jar.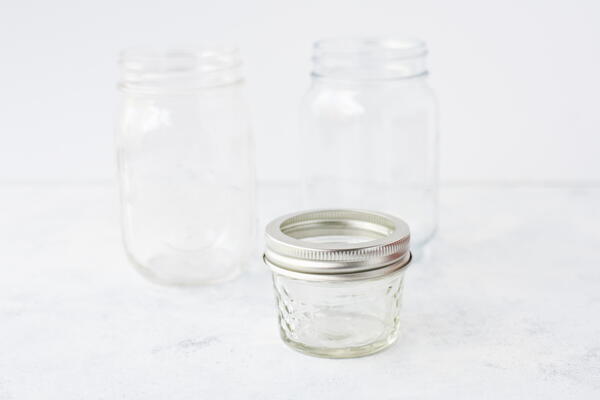 Your Recently Viewed Recipes
Join our community of 5 million cooks!
Get free recipes, exclusive partner offers, and more.
Thank You for Signing Up!
There was an issue signing you up. Please check your email address, and try again.