Cooking with Kids: Recipes, Tips, and More for Fun in the Kitchen
Experts share their tips on how to get cooking in the kitchen with your child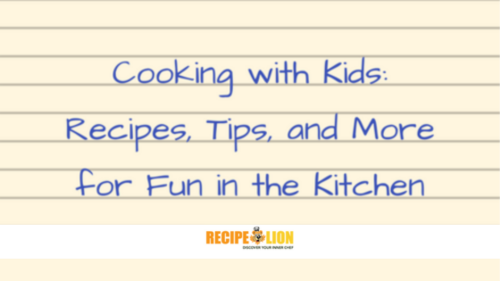 Are you for an activity to do with your child that incorporates skills for math, science, and language, provides a bonding experience for the entire family, and just might result in a plate of homemade cookies? Then get cooking! Cooking is an immersive and hands-on activity that is about more than just preparing a meal or trying a new snack recipe. Cooking is also about broadening your child's cooking skills, applying educational concepts, and bonding as a family through a shared experience.

Make your next meal preparation time a learning experience for everyone in your family when you take a look at Cooking with Kids: Recipes, Tips, and More for Fun in the Kitchen. Through expert tips and an assortment of kid-friendly recipes the entire family will love, you and your child will be ready to start cooking together in no time.
Why Parents Should Encourage Their Children to Cook
There's more to cooking with your children than rolling up your sleeves and getting to work on a recipe. Beth Van Meeteren, Ed.D. and Director and Assistant Professor of the Regents' Center for Early Developmental Education at the University of Northern Iowa in Cedar Falls, Iowa, pointed out several reasons why parents should encourage their children to start cooking. Cooking with children "increases the child's use of vocabulary, which drives success in reading," Van Meeteren noted in a phone interview. "By working with properties of food items, the child can make observations." In addition, she noted that children can also develop problem-solving skills while learning how to cook. 
Cooking Tasks for Children of All Ages
To keep kids interested and engaged while you cook, select age-appropriate tasks that your child can complete. According to Karen Cassady, Coordinator of Central Market Cooking School in Dallas, Texas, there are plenty of tasks that even young children can complete. "From what I've read, children who help with the meal take more interest in the food that they eat. So teaching a child to set the table and encouraging them to help with clean up after meals is a positive start," Cassady wrote in an email. "From our experience in teaching kids classes, we've seen that small children (ages 3 to 6) enjoy breaking eggs into a bowl, adding pre-measured ingredients to recipes and stirring. Older children can help assemble the ingredients needed for a recipe, can measure ingredients, and are usually great at incorporating ingredients," she wrote. Central Market Cooking Schools offers cooking classes for children and adults.
Make Kid-Friendly Recipes with Your Child
If you're ready to start cooking, then consider creating kid-friendly recipes your child already likes to eat, as they will be familiar with the final result. Families can also add some creativity to the menu when selecting new recipes to cook with their children. "Select recipes that include ingredients that your kids like to eat, suggesting that you as a team try to recreate a dish your child has really enjoyed at a local restaurant, taking inspiration from a child's favorite book or movies," Cassady wrote in an email. She also suggested that families can try to make a tea inspired by "Alice in Wonderland" or chocolate desserts inspired by "Charlie and the Chocolate Factory." Cassady also noted that children can be encouraged to make "an edible gift for a relative or friend are all ways to encourage interest in cooking and creating food that can be enjoyed with other family members."
What to Expect When You're Cooking with Kids
You're ready to teach your child how to make muffins or perhaps a pot of macaroni and cheese. "When cooking with kids, you should expect spills and messes!" Van Meeteren said. To make cleanup a bit easier, she suggested placing a jelly roll pan under a bowl to catch any spills, and to use squeeze bottles when pouring liquids. "You should use items that fit the child's hands, but don't use pretend items," she said. In addition, Van Meeteren advised that parents should follow a recipe and talk about what's happening to the ingredients throughout the cooking process. For example, you can point out that rice is getting softer as it is cooked. When you are cooking, Van Meeteren also cautioned against directing the child at every step of the process. Instead, she suggested keeping your child engaged with the cooking process by asking the child to predict the outcome of pouring ingredients or baking cookie dough in the oven.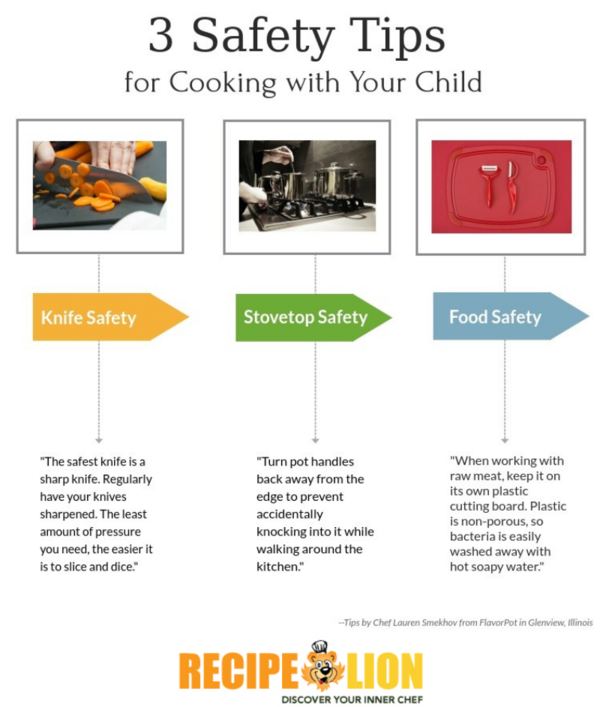 Remember Basic Safety Tips when Cooking with Kids
Cooking can involve the use of hot surfaces and sharp objects. How can you keep your child safe while cooking pancakes or grilled cheese together? In an email, Chef Lauren Smekhov from FlavorPot, a culinary studio based in Glenview, Illinois, noted there are a few safety tips to keep in mind. "The safest knife is a sharp knife. Make sure to regularly have your knives sharpened. The least amount of pressure you need, the easier it is to slice and dice," Smekhov wrote. She pointed out that parents should turn pot handles back away from the edge to prevent accidentally knocking into it while walking around the kitchen. There's more to food safety than staying away from hot surfaces, too. "When working with raw meat, keep it on its own plastic cutting board. Plastic is non-porous, so bacteria is easily washed away with hot soapy water," Smekhov wrote.
Integrate STEM and Language Skills in the Kitchen
If you're interested in learning how to bolster your child's skills in language as well as in science, technology, engineering, and math (STEM), then the kitchen just might be the best place to start. According to Van Meeteren, there are numerous opportunities to integrate STEM skills while cooking with kids. "There's the chemistry of cooking, and simple machines are involved to mix ingredients. You can see engineering in action when you change a recipe or adapt it. Math is also involved in cooking," she said. In addition, Van Meeteren pointed out that reading and understanding a recipe is a great way to expand vocabulary, as children will learn the multiple meanings of words. 
Be a Role Model for Your Child in the Kitchen
Van Meeteren noted that one thing parents can do is model good cooking practices for their children. "Many kids don't see their parents cook any more, and that is a loss," she noted. The lack of seeing a parent cooking in the kitchen can have long-term consequences; for instance, Van Meeteren noted "Kids come to college and they can't cook because they don't know how to cook." By setting up a time to cook with your child, you can instill cooking skills while also taking away the intimidation factor of preparing a dinner recipe or even a light dessert.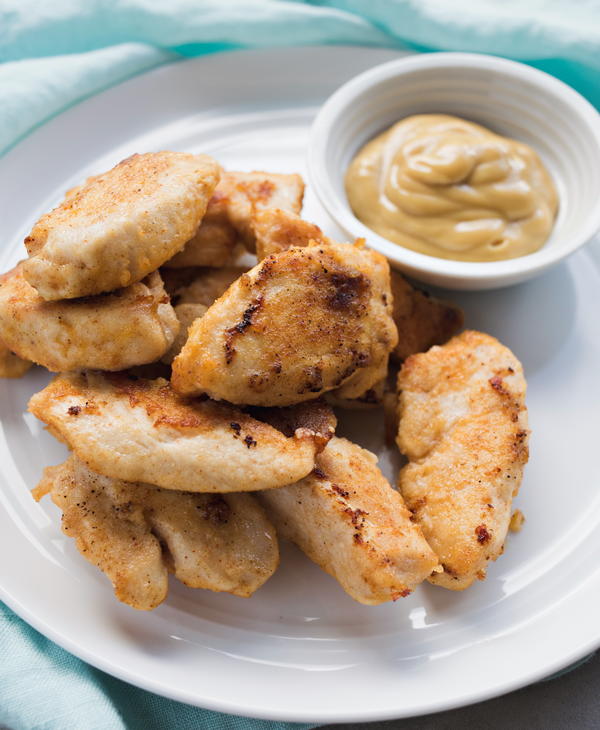 Make Recipes Your Child Will Love
It's time to start cooking! The following kid-friendly recipes are easy to make and taste delicious, too. Your child will have a sense of pride and accomplishment when serving food he or she helped prepare. When making any recipes with your child, follow best safety practices and supervise your child at all times. You and your child will love cooking and baking something together when you use the following recipes. These easy-to-make recipes also use ingredients you likely already have in your refrigerator or pantry, so you can get cooking right away!

Easy Baked Chicken Nuggets (pictured): What kid doesn't love chicken nuggets? This baked chicken recipe skips the deep frying but is tasty enough to entice your kids into eating their protein.

Cake Mix Brownies: You can't go wrong with baking this beloved classic!

Easy Fruit Salad: Light, refreshing, and easy to make, this fruit salad is the perfect way to show your child how to scoop, pour, and stir ingredients.

Mini Mac and Cheese Cups: This take on the kid-friendly recipe is baked in a muffin tin for a fun twist. Little hands will love reaching for a hand-held serving of their favorite pasta!

Blueberry Muffin Loaf: Rise and shine with this delightful twist on blueberry muffins!

The Greatest Grilled Cheese: The name says it all!
What is your favorite tip for cooking with kids?
Your Recently Viewed Recipes
Join our community of 5 million cooks!
Get free recipes, exclusive partner offers, and more.
Thank You for Signing Up!
There was an issue signing you up. Please check your email address, and try again.