How to Cook Prime Rib: A Perfect Prime Rib Recipe Made Simple
Tender prime rib is totally achievable at home! Just follow our easy step-by-step guide.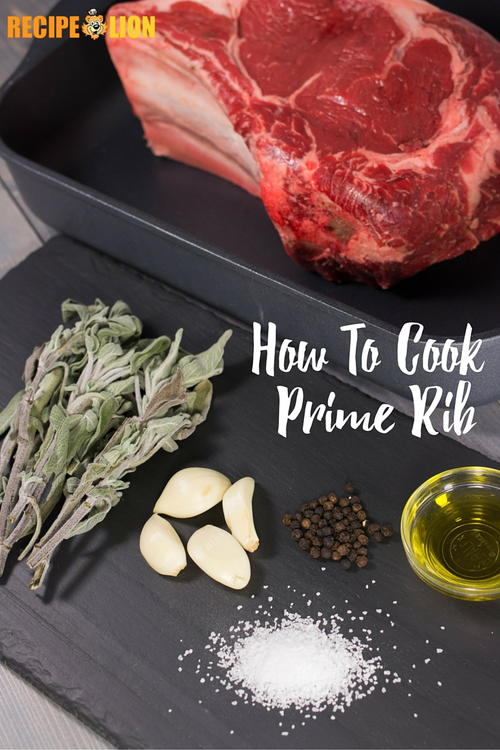 Our guide for preparing prime rib is perfect for the novice chef trying their hand at hosting a big meal like Easter or Christmas.

Below, you'll find a step-by-step prime rib recipe that will walk you through the cooking process, as well as shopping tips that will help you pick out the perfect cut. We've also included helpful hints for cooking prime rib just right.

Achieving a perfect inner temperature without burning the outside to a crisp is a daunting task whether you're a novice chef or a culinary master, so read on and help reduce your stress when the big day arrives.

How impressed will your family be when you place a gorgeously-cooked meal on the table? Following the simple directions below will ensure you make a fool-proof prime rib no matter the occasion. Step outside your comfort zone and prepare a meal that won't disappoint.  
What You'll Need
2-pound, bone-in, prime grade prime rib
4 tsp kosher salt
2 tsp pepper
1 bundle of sage
4 garlic cloves, peeled and smashed
4 ounces mixed greens tossed with olive oil, salt, pepper and red onion for garnish
A food thermometer (recommended)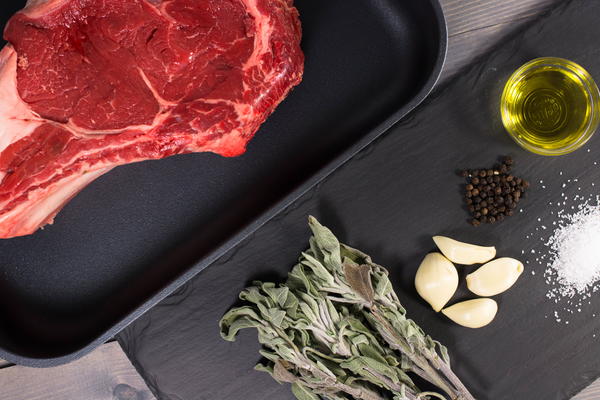 Facts, Recommendations & Shopping
Picking the Perfect Cut

Do you know what makes prime rib different from other cuts of meat? Let us enlighten you! Prime rib is the most tender and flavorful cut from the center of the rib section of the steer. This portion of the roast consists of seven full ribs with a large eye of meat running along the steers' backside. This is part of the loin muscle is also where NY strips and ribeyes come from. When shopping for the perfect cut of prime rib, you'll want to select a bone-in, prime grade (meaning, a cut that contains lots of marbling, or fat content, throughout) prime rib, dry-aged if available.
 
Dry-aging

This is a process by which large cuts of meat are held in a temperature and humidity-controlled room for several weeks. What's unique about this process, is that the meat loses moisture (concentrating the flavor), enzymes break down the muscle (making the meat more tender), and bacteria begins to consume the exterior of the meat in a kind of a controlled rot, which may sound gross, but adds an abundance of flavor to the meat on which you'd otherwise be missing. This outer layer is shaved off and thrown away before it is sold, making it the highest quality, clean, and tender cut of meat you can buy. Although not cheap, you'll be getting your money's worth in flavor.
 
Bone-In

While flavor plays no part in the equation, there is an advantage to roasting a rib with the bone intact, and that is insulation. Bones have a higher thermal resistance than meat, meaning the meat around the bones will cook slower than the rest of the roast. The end result? Extra-tender and juicy bits of heaven.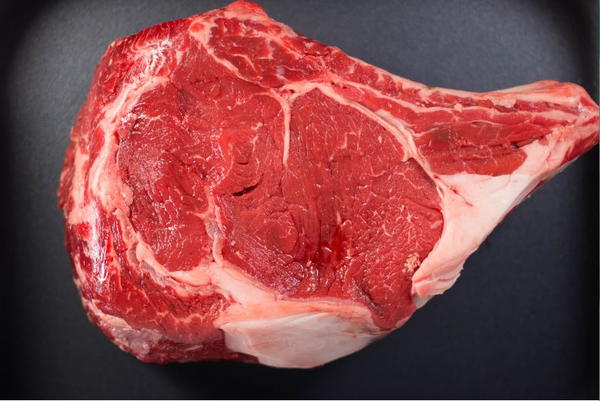 Seasoning 

We recommend that you season your prime rib with salt and pepper for at least four hours (overnight if you have the time) before you begin to prepare it for a meal. This will ensure flavor quality as the salt will seep into the meat dissolving some of the proteins, loosening the structure, and allowing the salty juices to be reabsorbed into the meat. If you do choose to season overnight, leave your meat in the refrigerator uncovered.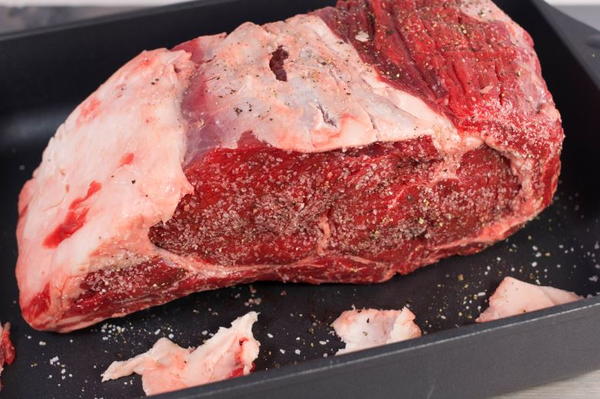 How to Cook Prime Rib
1. Season prime rib with salt and some pepper. Refrigerate overnight.

 2. An hour before cooking, remove the roast from the refrigerator to allow it to come to room temperature.

 3. Heat oven to 400 degrees F.

 4. Place the prime rib in a roasting pan, bone side down. Scatter any fat and meat trimmings in the pan around the bones. Roast the bones and trimmings for about 30 minutes, or until the fat starts to render.

 5. Remove the pan from the oven and place sage on top of the meat.

 6. Place smashed garlic in the bottom of the pan with the trimmings. Baste prime rib with the fat drippings and return the pan to the oven.

 7. Cook for 30 more minutes, cooking until meat is medium-rare (an internal temperature of 125 degrees F to 130 degrees F. You should have a thermometer handy to check). Reminder: When you remove your roast from the oven, it will carry-over cook a bit. Keep this in mind when determining how cooked you'd like your meat to be at the end.

 8. Remove roast from the oven and put it on a cutting board to rest, uncovered, for 20 minutes. Slice prime rib to the desired thickness and garnish with mixed salad greens.


Pro Tip: 20-30 minutes is exactly how long a rib roast needs to rest, so if you first cook it at a low temperature (200°F or lower), take it out of the oven, allow it to rest while you heat the oven to its highest temperature (500 to 550°F), then pop it back in just long enough to achieve a crust, you'll have a perfectly cooked prime rib.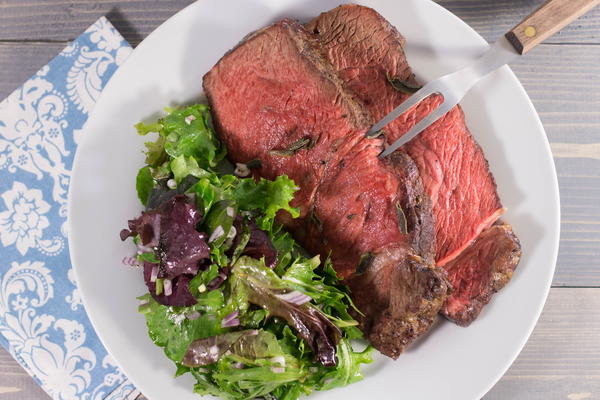 Your Recently Viewed Recipes
Join our community of 5 million cooks!
Get free recipes, exclusive partner offers, and more.
Thank You for Signing Up!
There was an issue signing you up. Please check your email address, and try again.