17 Excellent Recipes with Eggnog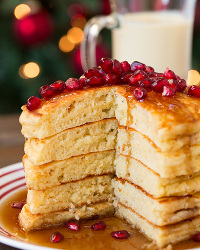 Eggnog is a creamy and cozy holiday drink we've all come to expect during the Christmas season. Eggnog is a special drink because it only comes out for one or two months of the year. That's why we want to make the most out of it while we can. In this collection of 17 Excellent Recipes with Eggnog, you'll learn how to make a homemade eggnog recipe, as well as how to incorporate this classic drink into desserts and breakfast recipes.
The eggnog recipes for dessert listed below are so full of the holiday spirit, you'll have a hard time resisting them, and you'll certainly miss them long after Christmas is over. And when you add eggnog to a breakfast dish, like french toast or muffins, you'll discover a special touch that makes them that much more special and addicting. Enjoy these festive holiday recipes with eggnog, and make sure to share a few with your friends and family.
---
If you need help planning your Christmas dinner, we can help with our free eCookbook, 12 Wonderful Christmas Dinner Menu Ideas.
---
17 Excellent Recipes with Eggnog
Table of Contents
Eggnog is easier to make than you ever thought possible! This creamy holiday drink is virtually everyone's favorite holiday beverage. Your friends and family will love drinking a glass of homemade eggnog during the Christmas season. You can use the following recipes (or store-bought eggnog if you're running short on time) to make an assortment of eggnog dishes such as French toast or cookies.
Homemade Holiday Eggnog (shown)
Making homemade eggnog is more fun and rewarding than buying a jug from the store. Impress your family this holiday season by serving them up a glass of homemade eggnog.
10-Minute Homemade Eggnog (shown)
Your guests will never guess how quickly you made this decadent eggnog!
If you haven't yet delved into the realm of baking with eggnog, you definitely need to try it! This wintertime beverage adds a rich, creamy flavor to every dish. It pairs perfectly with nutmeg, chocolate, and all of the other classic holiday flavors. You can use it in recipes for snickerdoodles, pies, candies, and cakes. The possibilities are endless!
Eggnog Snickerdoodles (shown)
This delicious Christmas cookie recipe gets its festive eggnog flavor from nutmeg and rum extract. Make sure to bring it to all of your holiday parties, cookie exchanges, and especially Christmas dinner!
Eggnog Pie (shown)
This pie doesn't have to bake - just chill it in your fridge overnight and enjoy it the next day! With only six ingredients in the filling, this easy no bake dessert recipe will have you jumping for joy at how much extra time you will have to enjoy the holiday season.
If you love festive holiday recipes, you'll come back to this easy cake recipe time and time again because of the white chocolate pudding and eggnog mixture.
Melt-In-Your-Mouth Eggnog Cookies
Just like their name says, they are so soft that they just melt in your mouth. The cookies themselves and the frosting are made with eggnog, which means you get a double helping of your favorite holiday drink!
This easy Christmas cookie recipe contains bite-sized bursts of delicious eggnog ganache.
This entirely from-scratch recipe will have you craving more in no time after just one bite! The vanilla-cookie crust is the base for a light, eggnog-flavored cheesecake that's topped with a thick, heavy cream frosting.
No-Bake Eggnog Truffle Candies
The holidays just aren't complete without two things: homemade candy and eggnog. This recipe for No-Bake Eggnog Truffle Candies combines those two things into delicious Oreo truffles that are easy to make.
In this holiday treat, homemade eggnog ice cream is placed in between two soft and moist cake mix whoopie pies.

---
If you enjoyed these eggnog desserts, then you'll also like these 42 Christmas Dessert Ideas. They're too sweet to pass up!
---
Contrary to popular belief, eggnog recipes aren't just for dessert. Bring the spirit of the holidays to your breakfast table by making one of these easy recipes. There is something for everyone here from pancakes to donuts to muffins. Enjoy one (or all) of these delicious eggnog breakfast recipes this holiday season.
Eggnog French Toast Recipe (shown)
This Eggnog French Toast Recipe serves as the perfect holiday breakfast. The eggnog flavored recipe tops other french toast recipes because of its rich flavor, while still only having five ingredients!
Eggnog Doughnut Muffins (shown)
You'll love munching down on one of these nutmeg-spiced and glazed muffins that seem to carry the Christmas season in them!
Glazed Eggnog Overnight French Toast Casserole
Christmas breakfast recipes don't have to be difficult to make. This French toast casserole is the perfect breakfast recipe for Christmas morning because it has rich notes of eggnog, and is such an easy recipe to make.
These rich and fluffy eggnog pancakes are so good, you will want to make them all year long!
Start your day off right with a helping of holiday spirit by making these eggnog-infused breakfast buns!
This may be your favorite Christmas breakfast recipe you ever make! These donuts can be made in no time at all, and they will easily feed your whole family.
Eggnog French Toast with Cranberry-Apple Syrup
Make this indulgent French toast recipe for your family on a quiet weekend this holiday season.
Your Recently Viewed Recipes
Join our community of 5 million cooks!
Get free recipes, exclusive partner offers, and more.
Thank You for Signing Up!
There was an issue signing you up. Please check your email address, and try again.