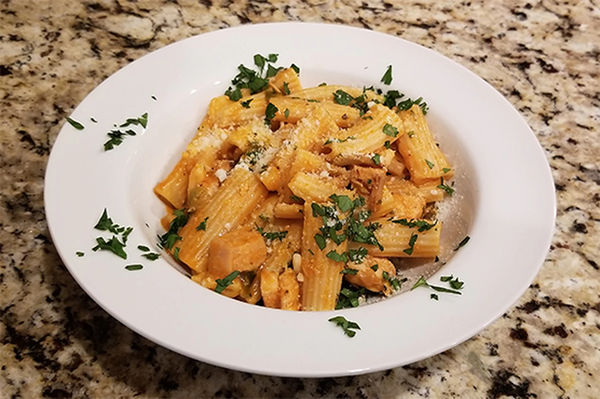 Chicken Riggies
If you've never heard of this dish, Chicken Riggies is a traditional comfort food from Upstate New York. Anyone who does know this dish also knows that the creamy tomato sauce is the true star. The delicious and buttery sauce has a vibrant orange color from the tomatoes and paprika. This dish is easy to make, especially if you prepare your ingredients ahead of time. One of the best things about this dish is how easy it is to make your own variation. This recipe is made with chicken but try it with shrimp for a new flavor profile!


PLUS Enter to win the Swiss Diamond XD Nonstick Saute Pan With Lid Giveaway as part of our 12 Days of Christmas in July giveaways as well as our 12 Days Grand Prize!


Serves8

Ingredients
4 tablespoons butter
1 pound chicken breast cut into small piece
8 ounces sliced mushrooms
1 diced green bell pepper
6 diced cherry peppers
1 medium diced onion
2 cups chicken stock
1 cup tomato sauce
1 cup heavy cream
1 teaspoon paprika

1

/

4

teaspoon salt

1

/

4

teaspoon pepper

1

/

4

cup chopped Italian parsley
2 tablespoons cornstarch
1 tablespoon water

1

/

2

cup sliced black olives
1 pound rigatoni
Pecorino Romano Cheese
Instructions
Fill a large Swiss Diamond stock pot with water and bring to a boil.

Melt butter in a large Swiss Diamond nonstick sauteuse.

Add chicken and cook until chicken is no longer pink.

Add sliced mushrooms and cook for 5 minutes.

Add diced green pepper, diced cherry peppers, and diced onion.  Cook for 7 minutes.

Add chicken stock, tomato sauce, cream, paprika, salt, pepper and parsley.

Put your uncooked rigatoni in your boiling water at this time. (You may need to start this later.  It all depends on the size rigatoni you buy.  Follow the cooking time on your rigatoni's package).

Bring the chicken mixture to a boil, then reduce heat and allow to simmer covered for 20 minutes.

Make a slurry of cornstarch and water and water in a small bowl.

Uncover your chicken mixture and stir in your cornstarch slurry and allow to cook for another 5 minutes to thicken.

Add sliced olives to your chicken mixture and allow to cook another 5 minutes.

Add your cooked rigatoni to your chicken mixture and stir.

Serve with a sprinkle of parsley and grated pecorino romano cheese.
Your Recently Viewed Recipes