Mama's Pizza Casserole
This easy pepperoni pasta casserole makes a fantastic weeknight dinner!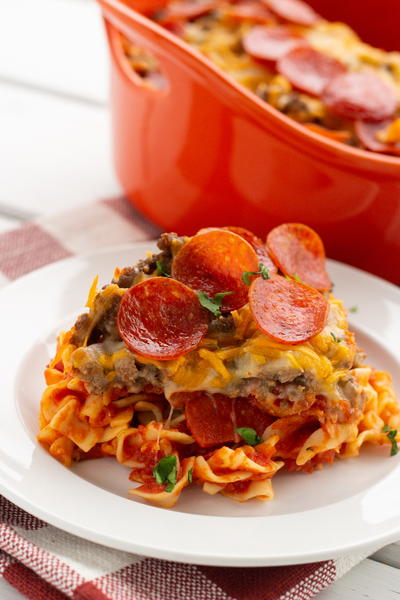 Pizza Casserole
For an easy dinner recipe that will please the whole family, try Mama's Pizza Casserole! This pepperoni casserole recipe can be customized to include your favorite pizza toppings or you can follow it as is for a fool-proof casserole recipe everyone will drool over. 

You can't go wrong with a tasty pizza casserole because it's hard to find someone who doesn't love a cheesy, oven-baked pizza waiting on the table when they're ready to eat. When you want to fix an easy casserole recipe that you know will be a hit, give this dish a try. Mama knows best, which is why this bake makes our "best of the best" list.

Pizza Casserole: A Midwest Favorite

Turning pizza into a casserole might seem a little strange. But if you're familiar with Midwestern cuisine, you'll realize that it fits right in with some of the region's other favorite foods.

According to Google Trends, pizza casserole is most popular in Midwestern states like Iowa, Nebraska, and Wisconsin. These states are known for their cold winters, where a hearty meal like this casserole is the perfect thing to keep you warm. This recipe also has plenty of cheese, which is also a bonus in the hearts (and stomachs) of Midwesterners. Dairy farming is a big industry in these states, and so good cheese is a must for many regional dishes!

Midwestern cuisine is also closely tied to comfort food. Midwesterners are friendly and social, so the best regional foods are crowd pleasers, with bonus points if the meal travels well. Other regional favorites like hot dishes, Michigan pasties, toasted ravioli, and puppy chow all fit the bill. Learn more about must-try Midwestern foods here!
Ingredients
1 (10-ounce) bag of egg noodles
1 jar of tomato sauce (I use Ragu spaghetti sauce)
3 cups Mozzarella cheese, shredded
1

1

/

2

pound hamburger meat
1 package of pepperoni
Instructions
Brown the meat and drain the grease.

Boil Noodles until soft.  Drain the water.

Preheat oven to 350 degrees F.

In a 9x13-inch casserole dish, start layering by first spreading half of the noodles on the bottom.

Second layer half the cheese over the noodles.  Then half the pasta sauce, meat, and the rest of the noodles.

Next layer the rest of the sauce and then the rest of the cheese.

Lastly, top with pepperonis. 

Cover with foil and bake for 30 minutes.  After 30 minutes remove foil and bake for another 15 minutes. 

Once it is done baking, take it out and let if sit for 10 to 15 minutes.  Enjoy.
Note from the Editor
Pizza casseroles are becoming increasingly popular and it's no surprise why. All of the deliciousness of pizza with minimal work? Sounds like the ideal dinner! It sounded so good in fact, that I decided to attempt making one once.

I was really craving some pizza one night, but didn't want to go through the hassle of ordering a pizza or driving to pick one up. Instead, I had all of the ingredients for a similar casserole to this one, except using biscuit dough as the base instead of egg noodles. After reading all of the instructions, I layered my ingredients and popped it in the oven. I waited patiently for the next hour to devour my delicious and cheesy handiwork. After pulling my casserole dish out of the oven and scooping a heaping portion onto my plate, I took a big bite...and the biscuit dough was still raw! 

Needless to say, I learned my lesson with that one: pizza casseroles are better with a noodle base, just like Mama's!
Your Recently Viewed Recipes