Lamb Casserole with Couscous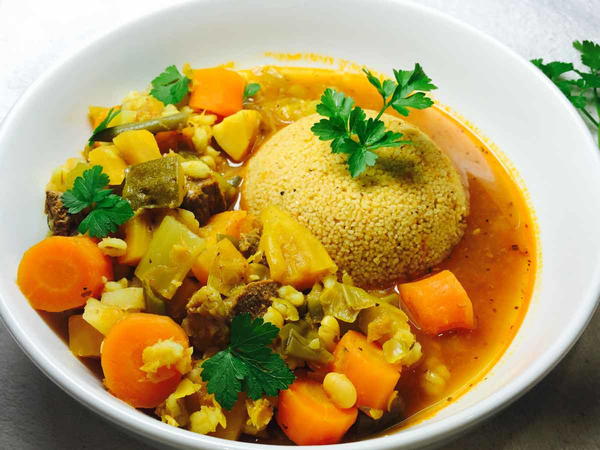 Lamb Casserole with Couscous
"I don't really know if you do but I love casseroles. They are one of those comfort foods that I would eat and eat and eat again. I make this quite often and whenever I make it I use a pressure cooker that I bought few years ago. Best buy I could make as I cook at least 3 times a week in it. All my soups, casseroles, stews are made in this magic pot."
Notes* mixed lentils can be found in pack that contains a blend of lentils used for soups or winter stews. They normally contain pearl barley, red split lentils, green and yellow split peas, brown rice, haricot beans, marrowfat peas. These make such a difference to this dish! Chickpeas are wonderful too.

** I buy this in shops that have all those Moroccan, or exotic mixed spices.

*** Please do read carefully the instructions as a pressure cooker can be pretty dangerous if not used as it should.

Bon appétit!!
Serves4
Ingredients
350 g couscous
400 g lamb meat (ideally on the bone)
1/4 butternut squash
4 sticks celery
150 g lentils (or canned chickpeas)
4 carrots
2 courgettes (zucchini)
1 parsnip
150 g beans (green)
1 small leek
Instruction
Wash cut and cook the meat with some salt and spices for 30-40 minutes covered in a standard pot.

Wash and chop all veggies and set aside.

Cook the couscous as per pack instructions. Ideally is to steam it but for quickness I put the desired couscous in a bowl, mix it with some salt and pepper and pour boiling water over to cover it about two fingers above the level of the dry couscous. Cover with a plate and set aside for at least 20 minutes.

Add the chickpeas or the lentils to the meat along with the vegetables. Add some salt pepper and the spices. Cook for another 10 min and then add the tomato paste and the chopped tomatoes and cook for 20-30 minutes more. If you are using a pressure cooker to make this dish, put everything in at once (meat, lentils/chickpeas and veggies cover and cook for 30 minutes, depends really on the meat cut but lamb is tender so 30' should be suffice. If it is mutton or beef which can also be used, you can cook into two sessions, first cook meat alone and then the rest. I would not cook the veggies for longer than 30 min as they would just get murdered.

Chop some parsley or coriander and add at the end.
Your Recently Viewed Recipes