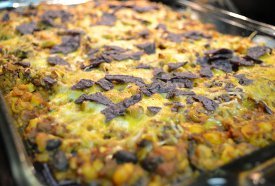 Make dinner a fiesta fun night with awesome Mexican casserole recipes, like this one! This Crazy Nacho Casserole is fully loaded with cheesy, crunchy awesome flavor; it's hard to stop eating once you start! Serve this dish topped with some chopped lettuce, salsa and more cheese.
Serves6
Ingredients
1 pound lean ground beef
1 packet of taco seasoning
1 can (8-ounce) tomato sauce
1 bag of tortilla chips (I used blue corn organic tortilla chips)

1

/

2

teaspoon salt, or to taste
1 teaspoon chili powder
pepper, to taste

1

/

2

cup salsa
1 can (15-ounce) black beans
2 cups cooked rice
1 cup corn

1

/

2

cup red bell pepper, chopped
1 cup shredded cheddar cheese (or Mexican blend)

1

/

2

cup onion, chopped
--For topping/garnish:
1 small bunch of fresh cilantro, chopped (optional)
1 small tomato, chopped (optional)
1 cup chopped lettuce (optional)

1

/

2

cup black olives, chopped (optional)
1 cup shredded cheddar cheese
Salsa, as needed
Instructions
Preheat oven to 375 degrees F.
 
In a large pan cook ground beef in pan as directed on taco seasoning package. Add chopped onion and bell pepper.
 
Once taco meat is cooked and ready, add tomato sauce, chili powder, salt and pepper and let simmer 5 minutes.
 
Mix beans, corn, salsa and rice in with beef mixture, heat for 5 more minutes. Keep stirring.
 
Turn heat off and mix in the 1/2 cup of shredded cheese.
 
In a 3-quart greased casserole dish crumble up tortilla chips to line the bottom of the dish. Just enough to cover bottom and don't crumble chips too small.
 
Pour half of the meat and bean mixture over the top of the chips in casserole dish. Sprinkle with more chips and cheese. Add the remaining amount of beef mixture and top with more cheese and some chips.
 
Bake for 25 minutes or until hot and cheese is fully melted.
 
Serve nacho casserole with chopped lettuce, cilantro, tomatoes, olives and cheese, and more chips if desired.
Your Recently Viewed Recipes