14 Quick and Easy Bisquick Recipes for Biscuits
There is not a cook in the world that does not love a good basic biscuit recipe, and not a person who does not enjoy eating quality biscuit recipes. Biscuits can be difficult to make well, but these Bisquick recipes make biscuits quick and tasty.
These quick biscuit recipes are all tasty and all super easy to make. Homemade Bisquick recipes are a great way to incorporate old style taste without the hassle. Recipes using Bisquick are tasty and easy, and easy on your budget too. These ten recipes work perfectly as Bisquick brunch recipes, dinner side dishes, breakfast recipes or just whenever you want to experience the flaky goodness of Bisquick biscuits. Learn how to make biscuits, from Bisquick cheddar biscuits to Bisquick buttermilk biscuits, that are simple and flavorful with these 14 Quick and Easy Bisquick Recipes for Biscuits.
---
---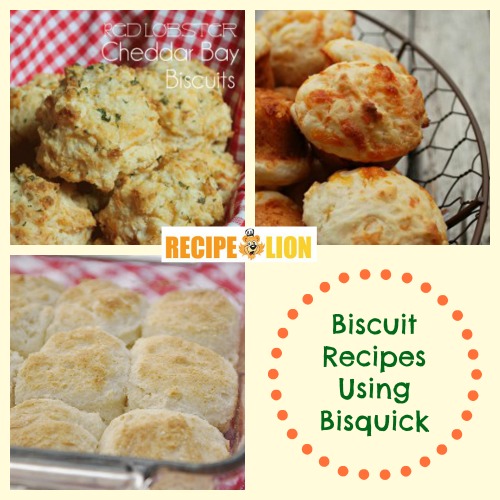 Quick and Easy Bisquick Recipes for Biscuits
Table of Contents:
Cheesy Biscuit Recipes
A simple biscuit recipe is already tasty and wonderful, but a little cheese can add heaps of flavor and make Bisquick recipes that much more flavorful. Quick biscuit recipes with cheese are always crowd favorites. Bisquick Cheddar biscuits, or any Bisquick recipes with cheese, are some of the tastiest biscuits around. Give one of these recipes with Bisquick a try today.
Super Cheesy Biscuits — A basic biscuit recipe with Bisquick.
Garlic Cheese Biscuits — These Bisquick Cheddar biscuits are legendary.
Cheese Biscuits — These biscuits will have everyone asking for seconds.
Red Lobster's Famous Biscuits at Home (shown above in collage) — Just like the restaurant version!
No Knead Muffin Tin Cheesy Biscuits (shown above in collage) — They use only four ingredients!

Easy Biscuit Recipes
Traditional, old fashioned biscuits are incredibly tasty, but also incredibly time consuming. For those who do not have hours to spend in the kitchen, these quick biscuit recipes are ideal. Get an old fashioned taste without spending hours in the kitchen. Homemade Bisquick recipes are easy, delicious, and waiting for you to try them.
Quick and Easy Biscuits — Quick biscuit recipes can be easy, too.
Super Simple Biscuits — This basic biscuit recipe is full of flavor and easy to make.
Easy Bisquick Biscuits — Three simple ingredients; eight delicious biscuits.
Mom's 7-Up Biscuits (shown above in collage) — Just four ingredients are all you need!

Unique Biscuit Recipes
A solid, traditional biscuit is always a great food choice, but sometimes it is also great to add some variety to everyday biscuit recipes. These Bisquick recipes are a simple way to add a unique twist to your biscuits. Recipes using Bisquick can be anything but bland and ordinary, and these recipes stand as proof of that.
Muffin Biscuits — Combine the goodness of Bisquick biscuits with muffins.
Fufu — A Bisquick side dish that is delicious and a breeze to make.
Cornbread Cakes — It's a basic biscuit recipe with a twist.
Bisquick Apple Drop Biscuits — A touch of apple makes these biscuits anything but boring.
---
---
Use this recipe to learn how to make buttermilk biscuits that are flavorful and incredibly simple to make. This basic biscuit recipe tastes like it could take hours to make, but it could not be more simple. Friends and family will love the flaky flavor of this Bisquick recipe. This is one of the tastiest Bisquick brunch recipes around.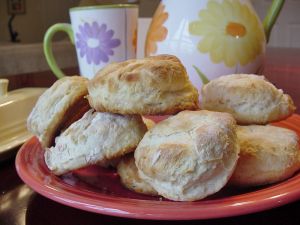 Serves: 18

Ingredients:
1/2 cup butter
2 1/2 tablespoon sugar
1 egg, beaten
3/4 cup buttermilk
1/4 cup club soda
1 teaspoon salt
5 cup Bisquick biscuit mix
Instructions
1. Preheat oven to 450 degrees F.

2. Combine butter, sugar, egg, buttermilk, club soda, salt and Bisquick. Knead the dough by hand until smooth.

3. Flour your hands. Pat the dough flat to 3/4-inch thick on waxed paper. Cut out biscuits.

4. Bake for 12 minutes or until golden brown.

Bisquick Baking Tips
For best results when measuring Bisquick, spoon it into a dry-ingredient measuring cup without sifting, and level the top with a straight-edged utensil or the edge of a knife. Do not tap or pack Bisquick into the cup.

Bisquick will keep best if stored in a plastic bag or other airtight container on your pantry shelf or other cool, dry area. For longer storage, put it in the refrigerator or freezer. If frozen, make sure to bring it to room temperature before using it.

If the weather is humid, you may find that batters and doughs are more soft, wet, or sticky. You can add small amounts of Bisquick to make it easier to work with.
Your Recently Viewed Recipes
Join our community of 5 million cooks!
Get free recipes, exclusive partner offers, and more.
Thank You for Signing Up!
There was an issue signing you up. Please check your email address, and try again.