Sauteed Bitter Melon Recipe (ginisang Ampalaya)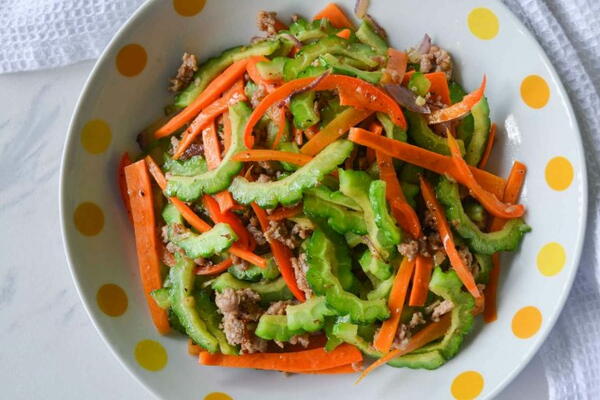 Sauteed Bitter Melon Recipe ginisang Ampalaya
"Stir-fried Bitter Melon with ground pork, bell pepper, and carrots. Sauteed Bitter Melon recipe is made more flavorful because of the different herbs and spices used, and the proper handling of Bitter Melon. Not many people love Bitter Melon because of its bitter taste. However, did you know that Bitter Melon can actually boost your immune system, give you a more glowing skin and lustrous hair, and also aids in weight loss? This nutritious power vegetable is actually very versatile, aside from its affordability, and can be mixed with a lot of other vegetables and proteins to make it more enjoyable. "
Serves5
Ingredients
1 medium size ampalaya
1 cup carrot strips
1 cup red bell pepper strips
1 large red onion diced
2 cloves of garlic minced
Salt
Ground black pepper
1 cup diced red tomatoes
1 teaspoon brown sugar
1 teaspoon Worcestershire sauce
200 grams lean ground pork
Spanish paprika
Dried oregano/ rosemary
Cooking oil
1 tablespoon sesame oil
Instructions
Prepare the ampalaya. Cut into half lengthwise, and remove the white part at the center using a spoon. Make sure you remove almost all of the white part. Prepare a bowl of water about 750 ml and dissolve 2 tbsp of salt. Once the ampalaya is clean, using a sharp kitchen knife, slice the ampalaya as thin as you possibly can. You can also use a cutter for this. Once sliced, submerge into the salt water for at least 5 minutes. After 5 minutes, you will notice that the water will turn to a greenish color. Drain the water and wash the sliced ampalaya. This is the main step to a less or no bitter taste of ampalaya at all.

Cook the ampalaya. Heat up your pan or wok on medium heat, add the cooking oil and let it heat up nicely. Add the onions and garlic. Cook until onion is translucent, and the garlic almost golden. Add the diced tomatoes, then add salt and pepper. Cook the tomatoes until you see some of the juice coming out, and the tomatoes are shrinked into a smaller size, and a darker red or orange color. Add the ground pork, Worcestershire sauce, salt, pepper, and dried rosemary/ oregano. Let it cook until there is no more red part on the meat. Add the carrot strips, and cook for a minute or two. Mix well with the meat. Add the drained ampalaya, add brown sugar, salt, ground pepper, Spanish paprika, and stir fry on medium high heat. Make sure to not over stir or to overcook. Stir only about 5-8 times, just enough for the ingredients to mix well. Taste and add salt or sugar as needed. Add the red bell pepper strips and sesame oil.

Serve! Transfer into a serving plate, and serve while hot! You can also take pictures of it and tag us on social media!
Your Recently Viewed Recipes
Join our community of 5 million cooks!
Get free recipes, exclusive partner offers, and more.
Thank You for Signing Up!
There was an issue signing you up. Please check your email address, and try again.