Apple Scotch Eggs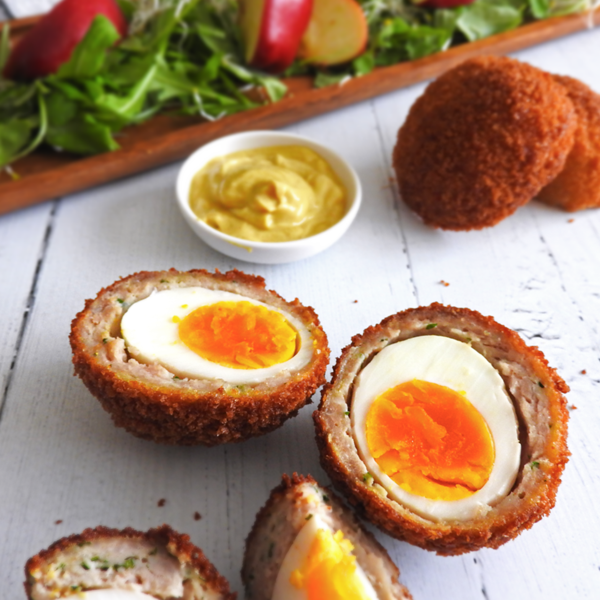 Apple Scotch Eggs
"A beautiful upgrade to the British classic snack food – these homemade apple scotch eggs are absolutely beautiful – with tender apple flavoured sausage meat and a soft egg, encased in crispy panko breadcrumbs. Scotch eggs are a classic combination of a soft (or hard) boiled egg wrapped in sausage meat and then bread crumbed and fried. They are very popular across the UK. In Britain these typically eaten cold as a picnic food. If you go to most of the supermarkets you'll find them in the chilled food isle. A lot of pubs sell them too."
Serves2 Person
Ingredients
500 milliliters vegetable oil
3 medium eggs
125 grams sausage meat
2 sprigs parsley, finely chopped
1 teaspoon dijon mustard
20 grams apple
10 grams plain flour
60 grams panko breadcrumbs
Add the vegetable oil into a small saucepan over a medium heat. Bring the temperature to 150C / 300F.

Place two of the eggs in a bowl of cold water. Bring to the boil and cook for 4 minutes. Plunge immediately after into a bowl of ice water and leave to cool. Set up 3 bowls – one with the flour, one with the breadcrumbs and one with the additional egg, beaten. Mix the sausage with the mustard and parsley. finely slice the apple and then mush using the side of a knife. Slowly add the apple mixture to the sausage, mixing with each addition – make sure the mixture doesn't go to slushy and can still hold it's shape.

Once the eggs have cooled, peel them. Take half the sausage meat and use your hands to make into a flat circle. Wrap it around one of the eggs, molding it to the egg with your hands until it is evenly covered. pinch the ends together to seal. Repeat with the other egg.

Add the sausage covered eggs to the bowl of flour. Roll to cover and then add to the bowl of egg and cover in the beaten egg. Finally add to the breadcrumbs and ensure it's coated. Repeat the steps with the egg and breadcrumbs for a second time.

Place the eggs into the saucepan of oil and cook for 8-10 minutes, turning to make sure they are cooked evenly all the way round. Remove and place on kitchen towel to absorb the remaining oil. I suggest again using a kitchen thermometer to check the temperature of the sausage meat (so don't push it right to the middle). It should have reached 65C / 150F.

Eat while still hot (the best!) or cool, cover and store in the fridge for up to 3 days
Your Recently Viewed Recipes
Join our community of 5 million cooks!
Get free recipes, exclusive partner offers, and more.
Thank You for Signing Up!
There was an issue signing you up. Please check your email address, and try again.