How to Make Homemade Tomato Sauce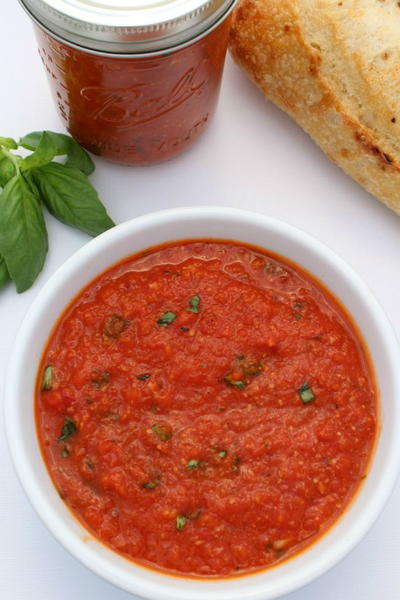 How to Make Homemade Tomato Sauce
"In the middle of winter, nothing tastes better than fresh produce! Canned tomatoes can be used for this recipe, but while farmers' markets are still offering their bounty, now is a good time to fill up your pantry or freezer. Here's a recipe for homemade tomato sauce that should satisfy taste buds now and later! This sauce is so delicious and makes an excellent canning sauce. You can use this on pizza, chicken Parmesan, lasagna and any other dish that requires a nice red sauce."
NotesFOR CANNING

Fill quart or pint jars with the spaghetti sauce. Wipe down the top of the jar before putting on the lid and ring.

Slowly lower jars into hot water canning bath and allow to boil for 40 minutes.

Using jar lifters, carefully raise jars out of the bath and allow them to cool on the counter overnight. As lids seal, you will hear a slight popping sound. Store up to one year.

If you are using fresh tomatoes you will need to remove the skins. A simple method is to score skins with a sharp knife, boil for about one minute and then plunge in cold water. You will want to do this in batches. Once tomatoes have cooled, skins should peel off easily. Chop and blend in a food processor.

If you're not into canning, you can still preserve your extra tomato sauce in the freezer. Use airtight freezer bags or containers. Let the sauce cool before you fill up your containers.
Serves4
Ingredients
4 cans crushed tomatoes 28 ounce sized cans OR 12-15 fresh tomatoes
4 cloves garlic
6 tablespoons fresh basil or 1-2 tablespoons dried basil (ratio is 3:1 for fresh vs dried)
1 teaspoon black pepper
1 tablespoon sugar (optional)
2 tablespoons olive oil
1 cup grated Parmesan or Romano cheese
Heat olive oil in a 5+ quart pot over medium heat; add chopped or pressed garlic.

Heat for one to two minutes, making sure not to burn garlic.

Add tomatoes, black pepper, basil and sugar. Stirring often, bring to a low boil.

Reduce heat to low and simmer for 2-3 hours, stirring often.

For first half of simmer time leave pot uncovered; cover for last half.

Stir in cheese and simmer for an additional 5 minutes or so.
Your Recently Viewed Recipes