Organic Red Quinoa with Beets, Olives, Red Onion and Feta Salad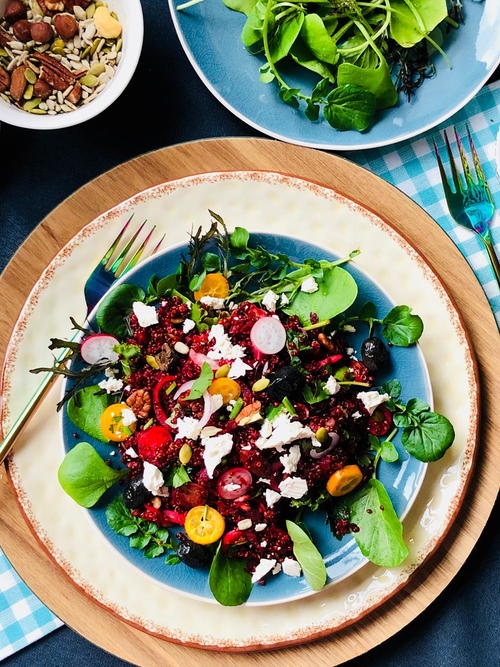 Organic Red Quinoa with Beets Olives Red Onion and Feta Salad
"Quinoa is known as the mother of grains by the ancient Peruvians, it's actually very good for weight loss as it keeps you full for much longer due to its high protein content and the carbs contained are released slowly into the body so there is no rush of energy after eating it. It is what you may already know as low GI food, superb for regulating the sugars in the blood having a low glycemic index as opposed to pasta or even rice. This organic red quinoa with beets, olives, red onion and feta cheese is an absolutely irresistible salad super high in protein. A gorgeous lunch but also makes a healthy n' filling dinner. A colorful and total blast of nutritious ingredients, all on one plate."
NotesI have used a really nice winter salad mix consisting of mustard red and green frills, Claytonia and American Land cress only because this salad is in season at the moment and to support local produce. You could choose absolutely any salad you like like watercress, rocket salad, iceberg.
* I did put a * next to the olives as I do prefer to pit those before adding them to the salad. There is such a mixture of textures in this beautiful salad that you'd just want to enjoy it without worrying that you may bite into those having to mind the pips so, take my tip, remove the pip.
Why kumquats in my salad.....
Adding kumquats to my salad is because I love adding some fruit to this, they are a seasonal fruit right now. Again, go for any fruit you like including strawberries, apples, pears, grapes, cherries, apricots, whatever you fancy or have or like.
I will always recommend and say that using and eating seasonal fruits and vegetables is always the best as it gives you the best and the benefits are endless, not to mention of course about going organic produce too whenever possible.
* Regarding the salt of course if you don't add the feta cheese then you could add a couple of pinches of salt when boiling the quinoa but since I've added the salty cheese I've cut the salt amount added when cooking.
Serves2 People
Ingredients
150 g red quinoa rinsed
60 g feta cheese
1 small beetroot
60 g Mixed winter salad*
8 black olives *
10 radishes
1 red onion
4 kumquats
1 handful pecan nuts
1 pinch Himalayan salt
Instruction
Put the quinoa in a saucepan with 200 ml of water and a pinch of salt. Bring it to the boiling point and then turn the heat right down allowing it to gently simmer for about 12 to 15 minutes or until all the water has been nicely absorbed. If the heat is on high it will burn so it really is important that the heat is set on lowest once the water starts to boil.

Once the quinoa has been cooked and it's all ready drain any water if any left (there shouldn't be any) and set aside. I do cook my quinoa in advance so that it's nice and cold when I use it for this type of salad, however you can choose to use it in warm salads especially when adding poached eggs or meats.

Into a bowl, mix the quinoa with the grated beetroot, chopped radishes and onion, chopped parsley, the olives.

Serve on a bed of mixed salad leaves and sprinkle over some chia seeds, crumbled Feta cheese pumpkin seeds and nuts for some extra omega-3 goodness.

Serve with a nice drizzle of cider or balsamic vinegar.
Your Recently Viewed Recipes
Join our community of 5 million cooks!
Get free recipes, exclusive partner offers, and more.
Thank You for Signing Up!
There was an issue signing you up. Please check your email address, and try again.