2-Ingredient Nutella Fried "Pies"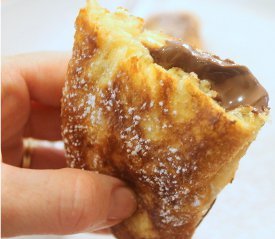 Everything about this recipe for 2-Ingredient Nutella Fried "Pies" is tempting. From the easy preparation to the ooey, gooey delicious end result, it's hard not to be drawn in by these perfectly fried desserts. Best of all, this is one of those easy dessert recipes that's made even easier because of the fact that it's made with refrigerated biscuit dough. So for anyone who needs a quick fix dessert, this simple as can be recipe using Nutella is the perfect thing. Once you give it a taste, you won't be able to stop yourself from making this recipe again and again.
Ingredients
1 can Grands Flaky Layer biscuits
1 jar Nutella
powdered sugar, optional
Instructions
Roll out biscuit dough until it is very flat.

Place about a tablespoon of Nutella on one side. Spread out the Nutella.

Fold over the biscuit dough to form a half circle shaped "pocket." Seal all around the edges with a fork.

Pop it in a skillet turned to medium high heat coated with about an inch of your favorite oil.

Turn it over when it is getting golden brown. This only takes a few minutes total so don't leave your fried pies while they are cooking. When both sides are gorgeous, put it on some paper towels to drain.

Place it on a plate and dust with some powdered sugar if you want it to look fancy.
Your Recently Viewed Recipes