Spinach and Eggplant Lasagna with Goat Cheese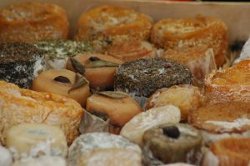 If you're trying to figure out how to prepare eggplant, here is a wonderful recipe to try! It's a fantastic take on typical lasagna, and is well worth the time involved. As eggplant recipes go, this one is the best!
Notes


If using won-ton skins expect some waste. Be prepared to patch skins in baking dish to make solid layer.




Double or triple thicknesses are no problem in finished dish..


Ingredients
9 lasagna noodles or 8 ounces won-ton skins
spinach filling (recipe below)
eggplant filling (recipe below)
1 6-ounce package sliced part-skim mozzarella cheese
4 ounces soft, mild goat cheese
1 cup spaghetti sauce

1

/

4

cup grated parmesan cheese
2 tablespoons fresh basil, julienned
Instructions
Cook lasagna noodles according to package instructions.

If using won-ton skins, bring large pot of salted water to boil and have ready tongs with smooth, rounded edges and large bowl of cold water.

Drop skins 1 by 1 into rapidly boiling salted water.

As soon as water boils up again after adding last skin, quickly remove skins with tongs and place in cold water.

Grease shallow 7-8 cup rectangular or oval baking dish.

If using won-ton skins, lift gently from water by centers — not edges, which tear easily — with hands and set on paper towels to drain.

Divide noodles or won-ton skins into 3 equal parts.

Divide spinach filling, eggplant filling, mozzarella and goat cheese in half.

Cover bottom of baking dish with 1 part lasagna noodles or skins, patching together as necessary.

Spread with 1/2 spinach filling.

Cover with 1/2 mozzarella slices and press them gently in place.

Spread 1/2 eggplant filling over mozzarella.

Dot with 1/2 goat cheese, pinched off in small pieces.

Cover with second part noodles or skins, and repeat layers, ending with third part noodles or skins. Press gently into place.

Top with spaghetti sauce as needed to cover top layer.

Sprinkle with Parmesan cheese.

Place dish on baking sheet. Bake on center rack of oven at 375F degrees until bubbling and browned on edges, about 1 hour.

Let rest 10 minutes at room temperature before serving.

Garnish with basil. Cut into servings. Use metal spatula to transfer lasagna to serving dish. Makes 4 to 6 servings.
Spinach Filling
2 (10-ounce) packages frozen minced spinach, thawed

1 large clove garlic, minced

2 large egg whites

1/4 teaspoon salt

1/4 teaspoon freshly ground nutmeg

1/4 teaspoon black pepper

Wring spinach in cloth towel to remove most of liquid; place in mixing bowl.

Toss in garlic, egg whites, salt, nutmeg and pepper.
Eggplant Filling
1 Tablespoon olive oil

1 large red onion, minced

1 (1-pound) large eggplant, peeled, cut into 3/4 inch cubes

1/4 teaspoon sugar

1/4 teaspoon salt

1/4 teaspoon crushed hot red pepper

1 cup homemade or bottled spaghetti sauce

2 tablespoons julienned fresh basil

Heat oil in 12-inch non-stick skillet over medium high heat.

Add onion, eggplant, sugar, salt and crushed hot red pepper.

Cook, uncovered until eggplant starts to become tender but still has texture, about 4 minutes, stirring frequently.

Add sauce. Heat through.

Remove from heat. Stir in basil.

Adjust seasonings to taste.
Your Recently Viewed Recipes
Join our community of 5 million cooks!
Get free recipes, exclusive partner offers, and more.
Thank You for Signing Up!
There was an issue signing you up. Please check your email address, and try again.