Joseph Joseph Scoop Colander and Chopping Board Review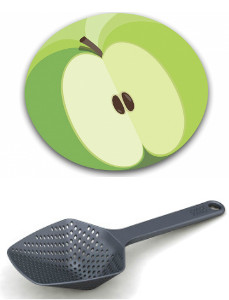 Joseph Joseph Scoop Colander and Chopping Board
Provided by Joseph Joseph
Reviewed by Jordan Sward
I'm a fan of pretty much any kitchen product that makes my life easier, and the Joseph Joseph Scoop Colander is definitely one of those products. The slotted spoon makes it easy to scoop and drain food out of a heavy stock pot or roaster pan. Especially for deep-frying food or making delicate ravioli or other pasta, the Scoop Colander comes in handy so the whole pot doesn't need to be dumped down the drain. Besides, a pot filled with water or oil can be heavy and hard to pour with the risk of hot water splashing. All of these problems are solved with this handy kitchen essential.
The times I've tried to make deep-fried food in a pot of oil, I've struggled getting the food out when it was ready. If I dump it into a colander, I risk the food falling apart or getting burned. Or, if I try to scoop out the food with a spoon, but spoons are seldom large enough or don't drain very well. This product is the perfect solution because it's a cross between a colander and a spoon. It's easy to use the spoon to retrieve food out of boiling water, no matter what's cooking.
Not only is the Scoop Colander perfect for draining deep-fried food, it's also versatile enough to double as a serving spoon. The scoop would be perfect for serving vegetables and potatoes out of a roaster pan, and it's nice because it's bigger than most other serving spoons. You can easily get a large portion of any dish with just one dip of the scoop.
To accompany the Scoop Colander, the Joseph Joseph Apple Slice Chopping Board is an adorable addition to any kitchen. These fun cutting boards come in a variety of colors and designs like Apple Slice, Orange Slice, Watermelon Slice, and many more. With all the options available, there's something to fit any taste and kitchen. They're made out of toughened glass and have non-slip rubber feet, so they'd be suitable to stay displayed on a kitchen counter. Although the chopping boards are glass, they're guaranteed against breakage. Plus, they're odor- and stain-resistant, and won't accumulate as many marks and scratches as a wooden cutting board might.
The multi-function chopping boards, as well as the Scoop Colander, are dishwasher-safe so you can just throw them in the washer to clean. Even if you don't have a dish washer, the Scoop is much easier to clean than a colander bowl. This combination of Joseph Joseph products not only makes preparing meals much easier, it also makes it more attractive and fun!
Enter to win a Joseph Joseph Scoop Colander and Chopping Board from 9/9/13 through 9/22/13.
Your Recently Viewed Recipes
Join our community of 5 million cooks!
Get free recipes, exclusive partner offers, and more.
Thank You for Signing Up!
There was an issue signing you up. Please check your email address, and try again.