Our Famous Ambrosia Salad Recipe
This ambrosia salad with cool whip is one of our favorite vintage desserts.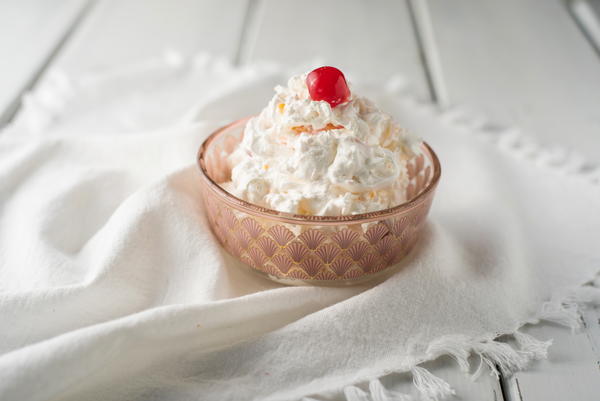 Our Famous Ambrosia Salad Recipe
Our Famous Ambrosia Salad Recipe is one for the ages. This old-fashioned dessert salad recipe is creamy, delicious and something different from all the cakes and pies at the dessert table. This is a great dessert recipe to bring to a potluck. Made with canned fruit and Cool Whip, this creamy dessert is easy to whip up in a matter of minutes. Just throw it in the fridge for a few hours so that everything sets up, and then take it out and serve. This fruity treat will remind you of the good old days at Grandma's house.
 

Ingredients
1 (10-ounce) can mandarin oranges, drained
1 (10-ounce) can pineapple tidbits, drained
1 (5-ounce) can maraschino cherries, drained
1 cup miniature marshmallows
1 cup shredded sweetened coconut
1 container whipped topping
Ambrosia Salad Recipe
Instructions
In a large bowl, combine all ingredients.

Cover and chill for at least 2 hours before serving.
History of Ambrosia Salad
Ambrosia salad has had an interesting journey to becoming the Southern classic that it is today. Early versions of "ambrosia salad" are simply a combination of coconut, sugar, and other tropical fruits. Marshmallows weren't introduced to the dessert until the 1920s, when a company that made marshmallow whip published a version of ambrosia salad that included their product. Whipped topping and pudding followed soon after in some versions, creating the creamy concoction that we know and love today. Learn more here!
Your Recently Viewed Recipes