How to Make the Best Amish Pie, Plus 18 More Free Amish Recipes
Anybody who's on a budget or appreciates the simple things in life should gather as many free Amish recipes as they can for keeping. Amish recipes for desserts are especially appealing, with the easy to follow directions and timeless traditions surrounding them, like Amazing Amish Friendship Bread and Bread Starter Recipe. There are a lot of recipes out there for Amish friendship bread and even more stories surrounding its tradition and fun memories created with friends. So keep these free Amish recipes safe and be sure to pass them on to your kids for more wonderful cooking memories.

Below we've decided to highlight Classic Amish Apple Pie and show you just how easy it can be to make it. This Amish apple pie is not only easy it has the added bonus of being fairly budget friendly; which makes this a classic among free Amish recipes as well.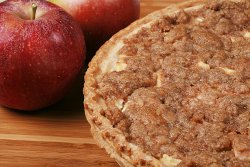 Classic Amish Apple Pie
Serves: 10
Ingredients:
1 1/3 cups granulated sugar
1/4 cup brown sugar
1/2 cup plus 5 tablespoon flour
1 1/2 teaspoons ground cinnamon
1 teaspoon grated nutmeg
1 pinch salt
1/2 cup (1 stick) butter, cold
1/2 cup walnuts, coarsely chopped
4 large apples, McIntosh or Granny Smith (4 cups)
1 unbaked 10 inch pie shell
1 egg
1 cup heavy whipping cream
1 teaspoon vanilla extract

Instructions:
1. In a food processor bowl, mix the streusel ingredients, 1/3 cup sugar, brown sugar, 1/4 cup plus 2 tablespoon flour, 1 teaspoon cinnamon, nutmeg and salt.

2. Add the butter and process until the mixture is crumbly; it should still have a dry look to it -- don't over process. Add the nuts then set aside.

3. Preheat oven to 350 degrees F.

4. Peel, core and thinly slice apples; there should be 4 cups. Place apples in the pie shell.

5. In a small bowl, mix the remaining sugar, flour, and cinnamon. Beat the egg in a medium bowl, and add the cream and vanilla.

6. Add the sugar mixture to the egg mixture and blend. Pour over the apples.

7. Bake for 1 hour in the lower one-third of the oven. After 20 minutes, sprinkle streusel over the top and continue baking approximately 40 minutes longer, or until the top puffs and is golden brown.
More Free Amish Recipes for Dessert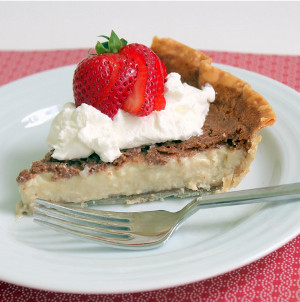 Bob Andy Pie (shown above) - As the story goes, this pie is as good as Bob and Andy, two prize winning plow horses owned by an Amish farmer. Bob Andy Pie is an Amish pie recipe that is perfect for any time you want a sweet treat. Cinnamon custard is poured into an unbaked pie shell and baked to perfection.

Amish Dutch Apple Pie - Dutch apple pie is a deep dish apple pie with added ingredients like lemon juice, spices, nuts, or raisins. Try Amish Dutch Apple Pie for a rustic apple pie recipe chock full of apples flavored with nutmeg and walnuts.

Amish Friendship Cake - My German grandmother always bakes apple cake made from scratch, and it's like nothing else I've ever had! The Amish also bake this traditional German apple cake recipe, but here in the U.S. it's called Amish Friendship Cake.

Amish Sugar Pie - This is one of the most easy pie Amish recipes you can find and it tastes great too. Go old fashioned and simple with this Amish Sugar Pie, it's cheap to make but not cheap on flavor.

Amish Sugar Cookies - Keep it simple with this recipe for Amish sugar cookies. This is the recipe for best softest sugar cookies. These easy to make cookies are sweet popular treats that work great as Easter cookies, Christmas cookies or simple everyday cookies.

Addictive Amish Applesauce Cake - Bursting with fruit and spice flavor, this applesauce cake recipe is one that you'll make again and again. Its sweet flavor and rich texture make this dessert a true classic.

Best Shoo Fly Pie - There isn't anything more classic than Shoo Fly Pie recipe. You'll adore this easy recipe and be sure to add it to your collection of free Amish recipes.

Classic Bread Pudding - For a Classic Bread Pudding that many will love, you must make this recipe. Whether you're trying to create authentic Amish recipes or easy dessert recipes, this pudding will please.

Amish Whoopie Pie - Do you love whoopie pie recipes? What about easy free Amish recipes? Well I've got the best of both then with this Amish Whoopie Pie, it's inspired by the simplicity and natural ingredients the Amish are known for.
Quick Amish Cinnamon Bread (shown above, left) - An age-old favorite, this quick bread recipe always turns out moist and delicious. If there's one thing that Amish cooking recipes always get right, it's the bread, and this cinnamon version is the best of the best.

Old-Fashioned Amish Lemon Sponge Pie (shown above, right) - A refreshing lemon pie recipe served chilled is a classic Amish dessert. If you're looking for a tried-and-true old-fashioned pie recipe, this goodie from our treasure chest of free Amish recipes is a surefire winner.

Amish-Style Strawberry Pie - This is one of the best fast and easy pie recipes, not does it have an Amish-inspired flair to it, it's very budget friendly. Make some Amish-Style Strawberry Pie for dessert tonight.

Amish Cinnamon Rolls with Caramel Frosting - Breakfast couldn't get yummier than caramel topped cinnamon rolls! To make cinnamon rolls healthier and a lot tastier, this recipe for Amish Pumpkin Cinnamon Rolls with Caramel Frosting adds canned pumpkin (or fresh cooked pumpkin) to the batter.

Amish Sugar Cream Pie - I love making pie recipes from scratch and this Amish Sugar Cream Pie was so easy to make. I'm a huge fan of free Amish recipes and this one really sealed the deal for me, with its creamy texture and delicious taste.

Perfect Amish-Style Apple Pie - This incredibly easy apple pie recipe draws inspiration from Amish cooking, which is simple yet delicious. Try Amish Style Apple Pie for the best apple pie recipe you can put together in no time with just a few common ingredients!

Amish Vanilla Pie - Amish Vanilla Pie is a traditional shoo fly pie recipe using sugar and molasses. However, you can substitute corn syrup in this sugar pie recipe if you don't like the strong flavor of molasses. Enjoy the vanilla twist in this sugar pie!

Creamy Shoo Fly Pie - If you like Amish food, try this classic sugar pie recipe for a decadent dessert. This sugar pie recipe is unique among shoo fly pie recipes because it's topped with billowy clouds of whipped cream for a special touch!
Craving even more Amish cooking? We have more free Amish recipes in our free, printable eCookbook. Download your copy of Top Rated Amish Recipes: 26 Classic, Old-Fashioned Recipes today!
Your Recently Viewed Recipes
Join our community of 5 million cooks!
Get free recipes, exclusive partner offers, and more.
Thank You for Signing Up!
There was an issue signing you up. Please check your email address, and try again.