How to Make White Chocolate Oreo Bark
To make Barbara Becker's Crowd Pleasing White Chocolate Oreo Bark, you will need:
One package of Oreo Chocolate Sandwich Cookies
One package of Vanilla Flavored Almond Bark
Large Bowl
Wooden Spoon
Parchment Paper
Jellyroll Pan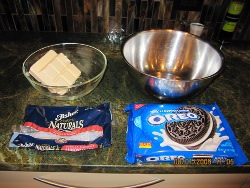 Directions:
1. In a large bowl, crush the Oreos into little pieces. This can easily be done by hand.
2. In a microwaveable bowl, melt the vanilla bark. Stir often until smooth.
3. Pour the melted vanilla bark over the crushed Oreos. Stir evenly.
4. Line a jelly roll pan with parchment paper.
5. Spread the Oreo mix onto the parchment paper.
6. Refrigerate until solid.
7. Break the bark into small pieces.
Easy and foolproof!
Your Recently Viewed Recipes