Magical Holiday Cookie Recipes: 12 Easy Christmas Cookies Free eCookbook
Magical Holiday Cookie Recipes:
12 Easy Christmas Cookies
Free eCookbook
Get the best Christmas cookie recipes for your cookie exchanges, holiday parties and more!
When the holiday season rolls around, you want to be well stocked with the best Christmas cookie recipes, so we've gathered a collection of delicious holiday cookie recipes from the recipe boxes of some of our favorite bloggers. In this free Christmas cookie recipe collection you'll find everything from traditional favorites to some unexpected yet totally delicious surprises. One thing's for sure: every single one of these twelve Christmas cookie recipes is sure to make your holiday season truly magical, so get out your baking ingredients and enjoy!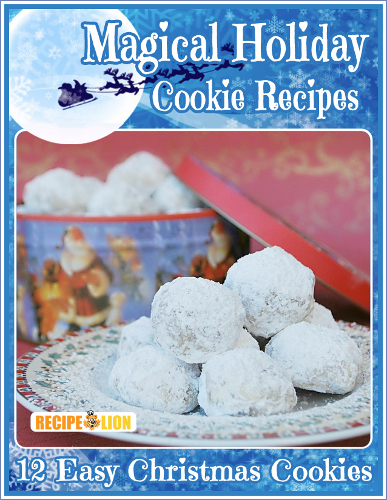 ---

---
Magical Holiday Cookie Recipes: Table of Contents

Note From The Editor
Let's be honest: Christmas is the one time of year when you can never have enough sweet treats. When December rolls around, you're constantly attending holiday parties, Christmas cookie exchanges, potlucks and other festive gatherings and the one thing everyone always seems to be munching on is cookies. From classic sugar cookie recipes to fun snowball cookie recipes to indulgent chocolate crinkle cookie recipes and a whole host of other delicious sweets, there are so many varieties of Christmas cookie recipes that we don't think we could ever get tired of baking during the holiday season!

Since we know Christmas is one of the busiest baking times of the year, we've compiled this collection of some of our all-time favorite recipes for Christmas cookies. These easy Christmas cookies are perfect to whip up anytime in December, whether it's for your family to enjoy at home or to bring along to a holiday party or Christmas cookie exchange. None of these Christmas cookie recipes is difficult to prepare because we know the last thing you need during the holidays is extra stress. These quick-prep, effortless cookie recipes are the kind of easy baking recipe that you'll enjoy making just as much as you'll enjoy eating!

We hope you like this roundup of festive and magical holiday cookie recipes as much as we do. We had a lot of fun collecting these Christmas cookie recipes and we hope you and your family will enjoy baking them and eating them this holiday season!

Happy Baking!


Editor of RecipeLion.com

What's Inside This Free eCookbook
Classic Christmas Cookie Recipes
Festive Iced Sugar Cookies (pg. 6) - This recipe for sugar cookies will put your favorite cookie cutters to good use. Make festive shaped treats of all kinds to display on your holiday table! Best of all, this easy cookie recipe also includes instructions for how to make royal icing to decorate your sugar cookies.

So Easy Snowball Cookies (pg. 7) - Snowball cookies are perhaps some of the most popular of all Christmas cookie recipes. Perfectly white and fluffy for the winter season, these walnut-infused dough balls will look great stored in your Christmas cookie tin, so pile 'em high and give them as gifts for friends and family this holiday season!

Cinnamon Chip Shortbread Christmas Cookies (pg. 16) - With their red and green sprinkle decorations and their cinnamon chip infused flavor, these shortbread cookies are the perfect Christmas dessert recipe. Use festive shaped cookie cutters to make your holiday cookie recipe even more special!

Classic Gingersnaps (pg. 17) - An old-fashioned favorite, gingersnaps are one of those Christmas cookie recipes you can't not make during the holiday season. You'll love the chewy texture and slightly spicy flavor of these gingersnap Christmas cookies.

Bonus:

Holiday Baking Made Easier: How to Melt Chocolate
Best Cookie Exchange Recipes
Peppermint Fudgy Brownie Cookies (pg. 18) - Peppermint instantly makes people think of Christmas, so when you serve up these delicious brownie cookies at your next holiday party, you're sure to get more than a few compliments! This rich, indulgent Christmas cookie recipe may quickly become a new favorite in your household once your family gets a taste of the minty-chocolatey combination!

Snickercake Cookies (pg. 9) - If you've never heard of these cookies before, you're missing out. One bite of these fluffy and pillow-y Christmas cookies will have you hooked and making this easy Christmas cookie recipe for years to come. A generous dusting of cinnamon and sugar on top makes this holiday cookie recipe one to remember!

Classic Pecan Tassies (pg. 14) - Use your muffin tin to make this easy Christmas cookie recipe that's like a cross between a cookie and a miniature pie. This pecan tassies recipe will soon become one of your new favorites because it's creamy and nutty at the same time... the best of both worlds!

Fudge Walnut Cake Mix Cookies (pg. 13) - Who doesn't love cake mix? If you're looking to make easy Christmas cookies but don't have a lot of time on your hands, these chocolatey treats are for you! The addition of walnuts makes these holiday cookies stand out from the pack.

---
---
Unique Christmas Cookie Ideas
Lemon Crinkle Cookies (pg. 8) - Crinkle cookies are classic Christmas treats that everyone loves. These citrus-flavored treats are a nice break from all of the other Christmas cookies you'll be enjoying this holiday season that are dense and rich. These light and bright holiday cookies are sure to make your mouth water with their awesome lemon flavor.


Red Velvet Brownie Cookies (pg .12) - Any fan of red velvet will go crazy for these brownie cookies that would be great to serve at any Christmas party. The red coloring of these Christmas cookies is perfectly festive for the season, making this one of the most magical holiday cookie recipes you'll find.


Magic Christmas Bars (pg. 19) - Bar cookie recipes are a nice change from classic Christmas cookie recipes, so make these treats the next time you want something a bit different. Filled with chocolate chips, M&Ms, pecans, two kinds of chocolate chips and more, these Christmas bars are some kind of wonderful!


Surprise Stuffed Chocolate Crinkle Cookies (pg. 10) - With a caramel candy pressed inside the center of each of these delicious Christmas cookies, you get some ooey gooey goodness with each and every bite. If all holiday cookie recipes were this addictive, we'd be in big trouble!



Ingredients You'll Need
Every Christmas cookie recipe is unique, but these are the ingredients you are most likely to need for baking up the holiday sweets included in this Christmas cookie eCookbook:
Flour
Granulated sugar
Brown sugar
Powdered sugar
Butter
Eggs
Vanilla extract
Baking powder
Baking soda
Salt
Cocoa powder
Chocolate chips
Cinnamon

Need Help Downloading This Free eCookbook?
RecipeLion eCookbooks are free, downloadable recipe collections organized around a theme, such as dinner casserole recipes, holiday baking recipes, vegetable side dish recipes, restaurant copycat recipes, and more. These eCookbooks are PDF documents that can be downloaded off our website, saved to your computer, and/or printed out for easy reference while cooking and baking.
If you are having trouble downloading our free eCookbooks, visit our FAQ page here: How to Download Our eCookbooks?

Don't Miss Our Other Free eCookbooks!
If you enjoyed this free eCookbook, you won't want to miss any of our other downloadable recipe collections. You can browse our entire library of free eCoobooks here. We also have a collection of holiday-specific eCookbooks available for free download, so don't forget to check those out too!

Sign Up For Our Free Newsletter
With your free copy of Magical Holiday Cookie Recipes: 12 Easy Christmas Cookies (as with all of our free downloadable eCookbooks) you can also subscribe to our free Quick and Easy Recipes newsletter to get free recipes delivered to your email inbox every week. Become a part of the RecipeLion community! By subscribing you will receive:
Six weekly emails with free recipes, tips, collection pages, videos and more + a weekly wrap-up.
Chances to win cookbooks and food products from our weekly giveaways and contests.
New recipes and eCookbooks made available to you throughout the year.
Access to our recipe large collection full of over 40,000 recipes, including budget friendly and quick and easy recipes
The opportunity to share ideas and help others in the recipe and cooking community.

Your Recently Viewed Recipes
Join our community of 5 million cooks!
Get free recipes, exclusive partner offers, and more.
Thank You for Signing Up!
There was an issue signing you up. Please check your email address, and try again.