100 Favorite Christmas Cookie Recipes: Santa's Wishlist

100 Favorite Christmas Cookie Recipes: Santa's Wishlist
Table of Contents:
'Tis the season… to be hungry! This spectacular collection of 100 Christmas cookie recipes includes all of Santa's favorite Christmas cookie recipes and dozens of brand new unique Christmas cookie recipes. Bake a batch (or two, or ten) for your next holiday party or gathering, or fill up tins for thoughtful and inexpensive gifts.

We all know that Santa and his elves work hard all year long to make gifts and toys for all good girls and boys, but who makes gifts for them? Fortunately, you can help Santa Claus get all the way around the world with his favorite Christmas cookie recipes! The big man himself sent RecipeLion a special list of all his favorite cookies, and we're sharing these great recipes to enjoy for yourself. This is a Christmas cookie extravaganza! Take this collection of all-new holiday cookie recipes as gifts for everyone on your list, or additions to your next holiday event. Just don't forget to leave a plate for Santa Claus!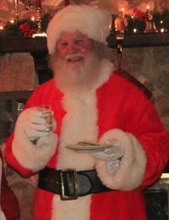 This collection of recipes includes every imaginable type of Christmas cookie recipes, from pumpkin spice cookies to cut out cookies for decorating to old favorites like chocolate chip cookies. No matter what type of cookies you prefer, you'll find your old favorite Christmas cookie recipes as well as some unique and creative Christmas cookie recipes. Try one or two, or stun your friends and family with an extensive display of all 100!
In a difficult economy, homemade gifts are often a good, inexpensive option for Christmas. These cookies are a thoughtful and creative way to show your family that you care, even if massive, expensive gifts are out of your price range. These holiday cookie recipes also make good decorative additions to Chrismas parties, and they perfect choice if you give out Christmas cookie tins every year. Besides, Santa Claus will be particularly happy if your cookies are both delicious and festive!



Christmas cut out cookies are so much fun for adults and children alike. These easy Christmas cookie recipes are a great way to personalize gifts, and they are an exciting activity during the holiday season. Try decorating with royal icing, spinkles, glazes, candy and more!
Featured Recipe:
Gingerbread Cut Out Cookies for Christmas - No matter whether you want to make a gingerbread friend or delicious gingerbread people for snacking, you should use this recipe for Gingerbread Cut Out Cookies for Christmas! These gingerbread cookies are festive, tasty and fun to decorate!
You may not have heard of all of these types of cookies, but they look and taste like so much fun, you'll want to make a new Christmas tradition! All of these cookies are themed, and many of them look cute and festive, so they make great gifts and lovely holiday displays.
Featured Recipe:
Prancer's Perfect Peppermint Cookies - Prancer's Perfect Peppermint Cookies are a flying reindeer's favorite snack! These peppermint candy cookies make ideal gifts for your Christmas winter wonderland! Try these soft and chewy peppermint cookies at your next holiday celebration!
Have an international taste of Christmas! These Christmas cookies from around the world include German Christmas cookies, Russian tea cookies and more! The spritz cookies make especially great holiday gifts, stocking stuffers and additions to cookie tins.
Featured Recipe:
German Chocolate Sandwich Cookies - Containing a full cup of cocoa, these cookies are deliciously chocolatey, and pecan and coconut add a sweet crunch. Try German Chocolate Sandwich Cookies if you're hankering for a summer taste during the colder months.
Refrigerator cookies are the easiest cookies in the world for Christmas gifts and snacks. You simply make the dough, roll it into a log, throw it into the freezer, and voila! Instant slice and bake cookies whenever you need them. Fill tins for gifts, make ice cream sandwiches, or just snack on cookies all season!
Featured Recipe:
Yuletide Refrigerator Cookies - Yuletide Refrigerator Cookies are a simple way to share the Christmas spirit. Make the dough, roll up the Yule log and slice these ice box cookies for a quick treat.
If you don't usually set out cookie for Santa, or even if you don't celebrate Christmas, this collection of cookies is perfect for any winter party or get-together. After all, our favorite holiday memories often revolve around Christmas cookie recipes. I can recall sitting under my grandmother's kitchen table as all of our family members came over for Christmas dinner. Once everyone had arrived, I clambered out from beneath the table to find that every visitor has placed at least one tin, brimming with their favorite Christmas cookie recipes, upon the table until the surface was completely obscured and the antique wood groaned beneath the weight. Each household in my extended family had their own unique Christmas cookie recipes, and everyone brought enough to share. These recipes, in addition to my grandmother's Christmas cookie recipes, meant that we never ran out of our favorite Christmas cookies until long after the turn of the New Year.

My grandmother taught me that the most important ingredient in any Christmas cookie recipes is love. No matter what, if you don't care about the finished product, your cookies will never live up to their full potential. However, if you think of all the things you love about your family and friends while you're making these cookies, they will be unforgettable in every way.
Featured Recipe:
Grandpa's Favorite Molasses Cookies - Gingerbread man cookies are fun, but nothing tastes so good as these chewy molasses cookies. Grandpa's Favorite Molasses Cookies taste like good old fashioned gingerbread recipes, with a soft cookie texture in a crunchy sugar coating.
This list includes Santa's favorite cookie recipes of all time, from classic chocolate chip cookies, to oatmeal raisin cookies, to Christmas sugar cookies and more! These favorites have stood the test of time and become instant family favorites. These chewy, tasty classic Christmas cookie recipes may not be decorative, but if they're made right, they are hands-down the most delicious cookies you will ever make. Be sure to save Santa one or two of these!
Featured Recipe:
Kathy's Incredible Snickerdoodles - Kathy's Incredible Snickerdoodles set the standard by which all other snickerdoodle recipes are judged. This incredible cinnamon sugar cookie recipe will quickly become your go-to cookie recipe because you'll never want storebought snickerdoodles again!
The best part about bar cookies is that they are so easy! Instead of rolling out individual cookies, you can throw everything into a pan, bake them, and cut them out in no time. Even if your holiday season is hectic, you will have time to stop and join in the merriment if you make these bar cookies. Plus, these dessert squares are all so chewy and delicious, everyone will be asking for your recipe.
Featured Recipe:
Snowdrop Cranberry Bars - Make Snowdrop Cranberry Bars in holiday red and white as festive dessert bars or snack this holiday season. The sweet white chocolate tastes so smooth, and the cranberries in these dessert bars look like little reindeer tracks in the snow!
As a member of Chocoholics Anonymous, I find that chocolate Christmas cookie recipes are my absolute favorite. Try making one of these recipes for the chocolate enthusiasts in your family, and they won't be able to stop themselves from caroling all season long.
Featured Recipe:
Double Chocolate Coal Cookies - Don't forget the folks on the naughty list! Double Chocolate Coal Cookies look just like lumps of coal, but they are extremely chocolatey. These double chocolate chip cookies are a tasty way to play a Christmas prank on your friends and family!
Have fun making these wonderful cookies and sharing them with your family and friends. But remember, leave a plate of treats out for Santa too! Have a happy holiday!


Your Recently Viewed Recipes
Join our community of 5 million cooks!
Get free recipes, exclusive partner offers, and more.
Thank You for Signing Up!
There was an issue signing you up. Please check your email address, and try again.