Outrageous Cashew Chicken
Enjoy this homemade version of the takeout classic - cashew chicken! This slow cooker recipe is sure to impress.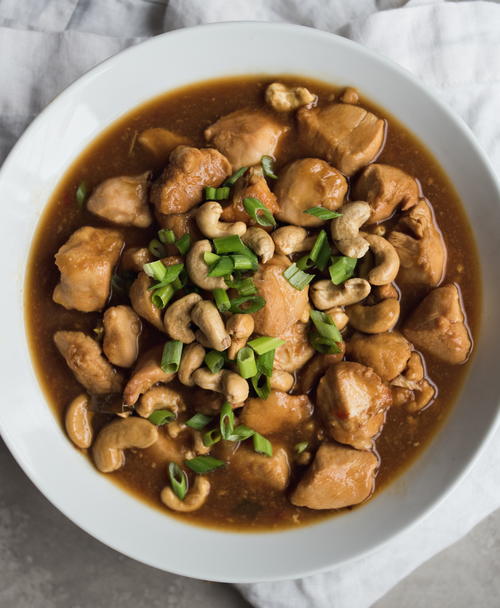 Combine the tasty treat of takeout with homemade happiness when you explore this slow cooker recipe.  Addie's take on this takeout classic is just as yummy and even better for you. This recipe uses a blend of chili sauce, sesame oil, soy sauce, and more to ensure that it tastes authentic and flavorful. 

From the Chef: Add a little crunch to your dinner with a nutty chicken recipe. This takeout specialty blends together all your favorite flavors like soy sauce, sweet chili sauce, and ginger.
- Addie Gundry

This recipe is from RecipeLion's 103 Cookbook series, Easy Chicken Recipes: 103 Inventive Soups, Salads, Casseroles, and Dinners Everyone Will Love.
Serves6
Ingredients
1

/

2

cup soy sauce
2 tablespoons rice vinegar
3 tablespoons sweet chili sauce
1 teaspoon sesame oil

1

/

4

teaspoon red pepper flakes
1

1

/

2

pound boneless, skinless chicken thighs, cut into 1 1/2-inch cubes
2 tablespoons cornstarch

1

/

2

teaspoon freshly ground white pepper
1 tablespoon peanut oil
1

1

/

2

teaspoon finely minced ginger
3 green onions, sliced into 1-inch pieces, plus 2 tablespoons thinly sliced green onion tops, for garnish
1 cup roasted cashews
Instructions:
Coat a 6-quart slow cooker insert with cooking spray and set aside.

For the sauce: In a small bowl, combine the soy sauce, rice vinegar, sweet chili sauce, sesame oil, and red pepper flakes and set near the stove.

For the chicken: In a large bowl, combine the chicken cubes, cornstarch, and white pepper, tossing with a fork or your hands to be sure the chicken is well coated.

In a wok or large skillet, heat the peanut oil over high heat until the oil shimmers. Add the garlic, ginger, and green onions and constantly toss and stir until fragrant, about 30 seconds. Add the chicken and continue to toss and stir until the chicken is lightly browned, about 1 minute. The chicken does not have to be completely cooked at this point.

Add the prepared sauce to the pan and stir until it bubbles. Pour the chicken and sauce into the prepared slow cooker, cover, and cook for 3 hours on Low.

Just before serving, add the roasted cashews and stir. Garnish with the sliced onion tops and serve.
Your Recently Viewed Recipes