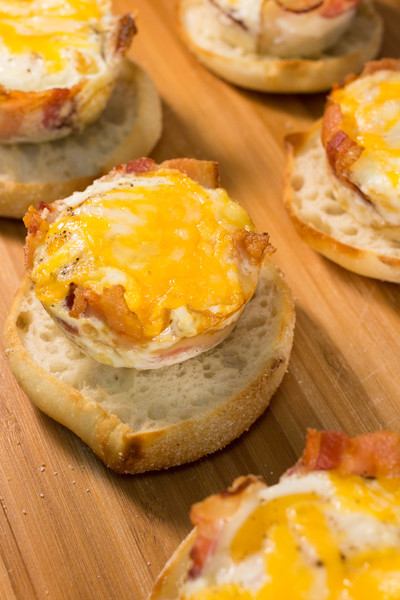 Easy Muffin Tin Egg Cups
Sometimes you don't have enough time to make breakfast and eat it too, but with this Easy Muffin Tin Egg Cups recipe you can do just that. This is the perfect easy breakfast recipe to take on the go, making it ideal for busy mornings. Bacon cups hold a perfectly baked egg sprinkled with salt, pepper, and shredded cheese. Toast up some English muffins and place this tiny breakfast wonder on top for an all-in-one meal that is perfect for heading out the door with. This is also a great breakfast option for kids because they can take them in the car and eat them on the way to school. Boom. That's how you do breakfast!
Notes


This recipe is so easy to make and it can be multiplied or decreased to serve the number of eggs you need.  Kids love helping to assemble this dish!


Remember that every muffin tin and oven is different, so check them at 10 minutes and then add time as necessary to achieve the type of egg you prefer. We'd recommend a longer bake time if you're planning to take these egg cups on the go -- you don't want to have to clean up runny yolk out of your backseat! 


Makes6 Egg Cups
Cooking Vessel Size6 cup, non-stick muffin tin
Ingredients
6 strips bacon
6 eggs
6 tablespoons cream, half and half, or milk
Salt and fresh ground pepper
3 tablespoons shredded cheese
3 English muffins, toasted
Instructions
Preheat oven to 425 degrees F. Spray 6 cups of a non-stick muffin tin with cooking spray and set aside.
 
Place bacon strips between layers of paper towel on a plate and microwave for 2 minutes or until bacon is about half-cooked but is still pliable. Cut each strip in half crosswise and place two pieces into each muffin cup by crisis-crossing them; the ends should come just above the top of the muffin cups.
 
Break one egg into each cup; sprinkle with salt and pepper and then spoon 1 tablespoon of cream over the yolk. Sprinkle each with ½ tablespoon of the cheese.
 
Bake for 10 minutes; egg whites should be completely set but the yolk still slightly runny in the center, like a poached egg. If you like your eggs more well cooked, extend the bake time by one-minute intervals until they are the way you like them, remembering that they will continue to cook a bit more when they come out of the oven.
 
Carefully remove each from the muffin tin and set on top of an English muffin half to serve.  
---
Step-by-Step Photos:
 
Gather your ingredients and assemble bacon "cups" in muffin tin: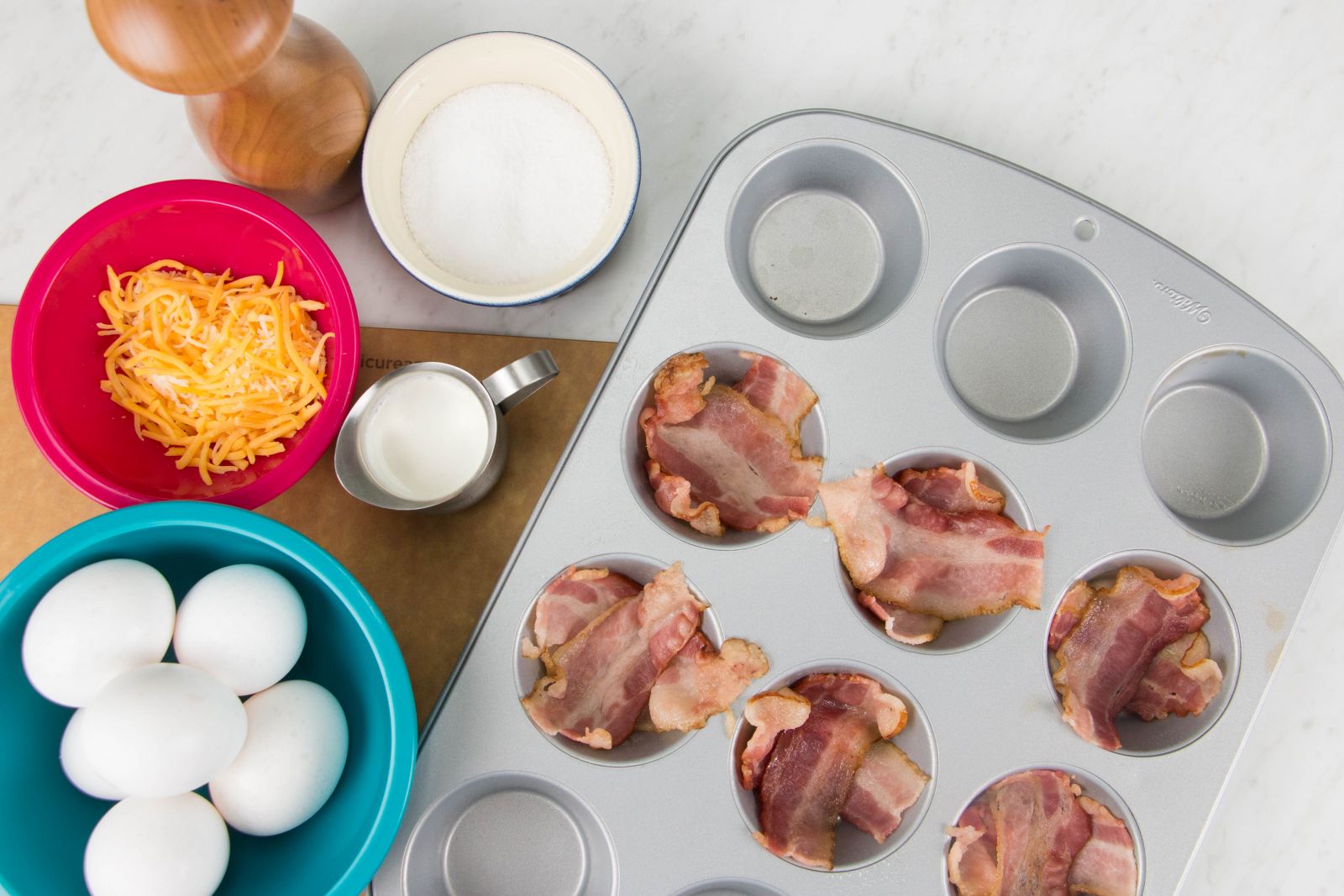 Crack open each egg into bacon "cup":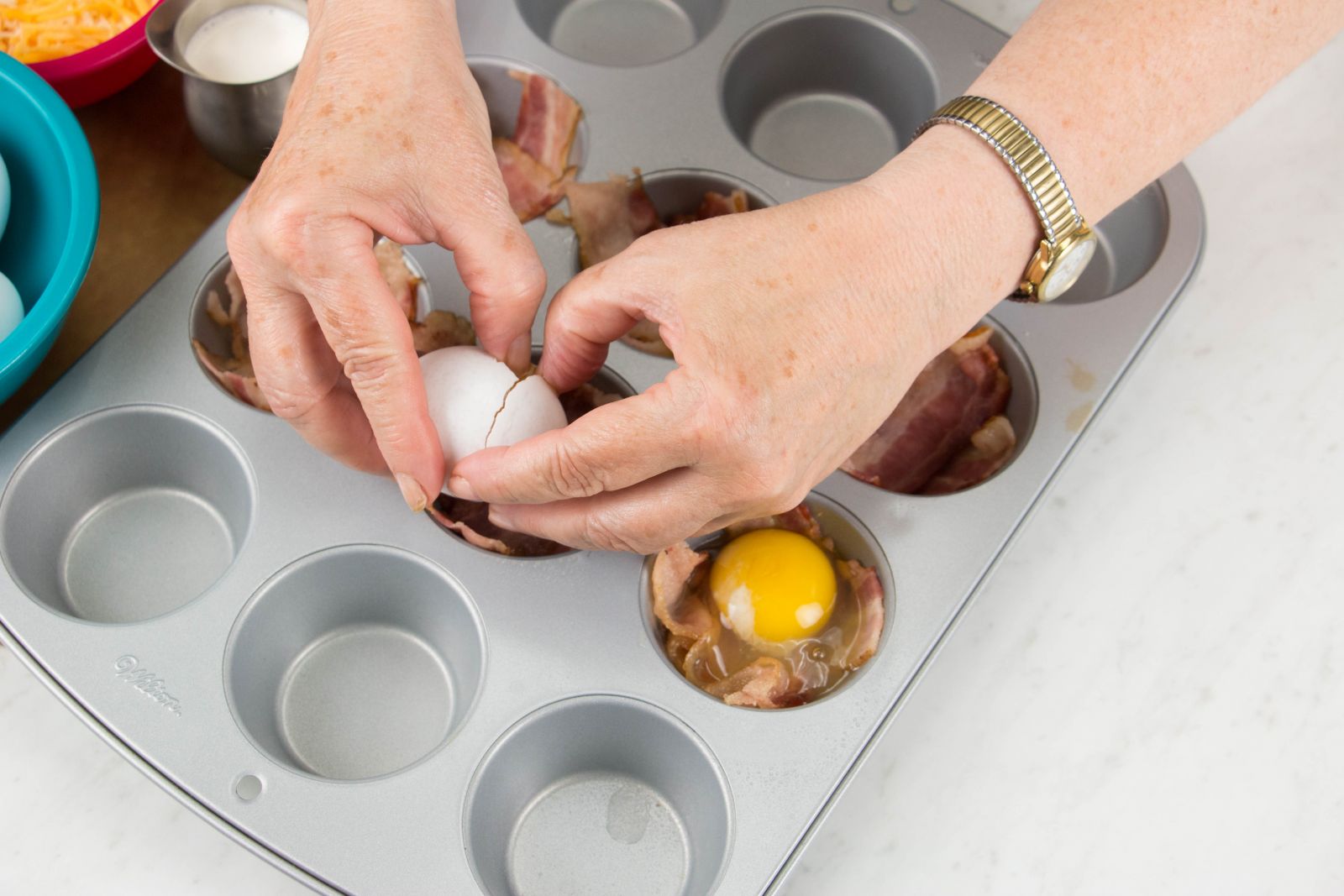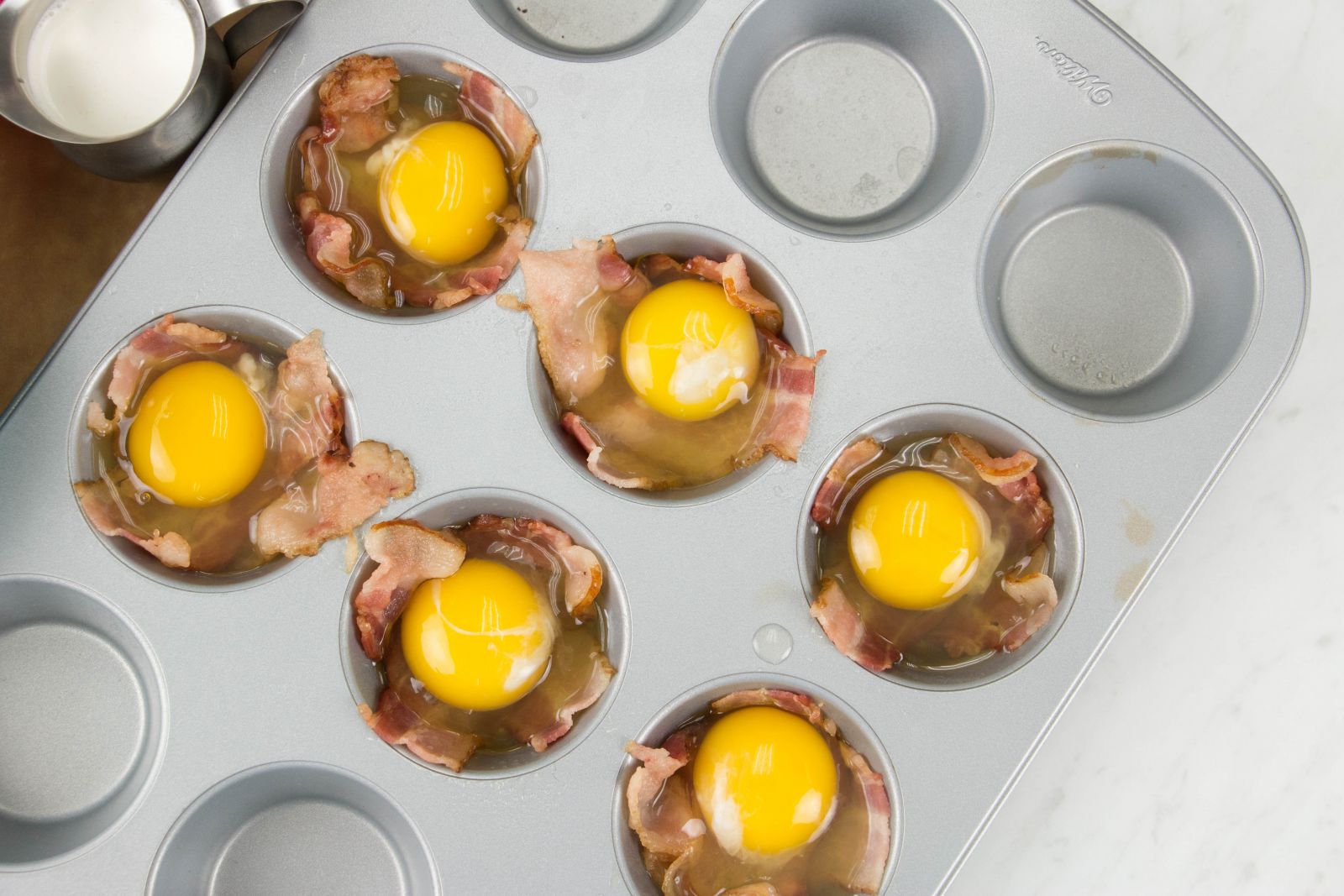 Spinkle salt and pepper over each egg cup: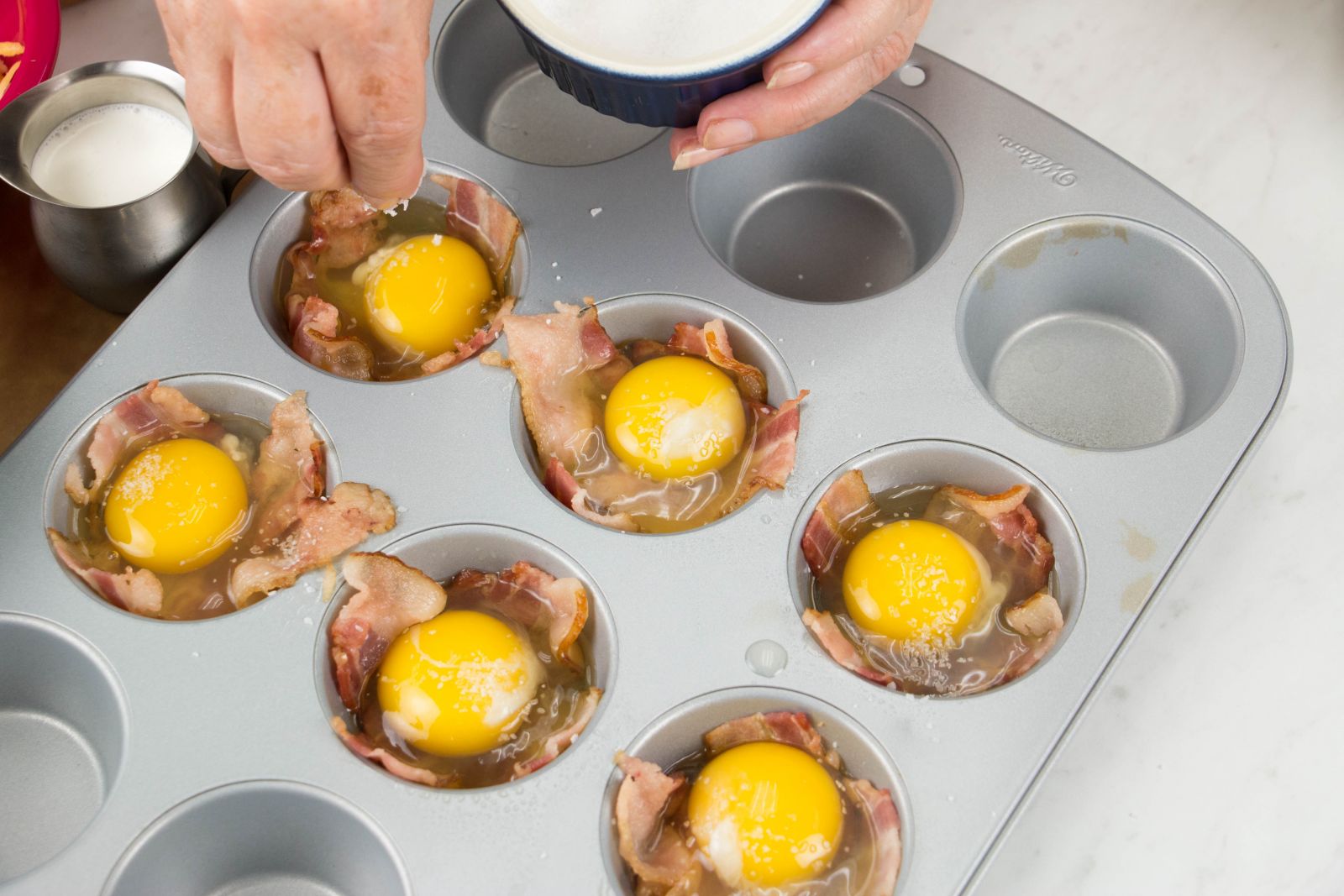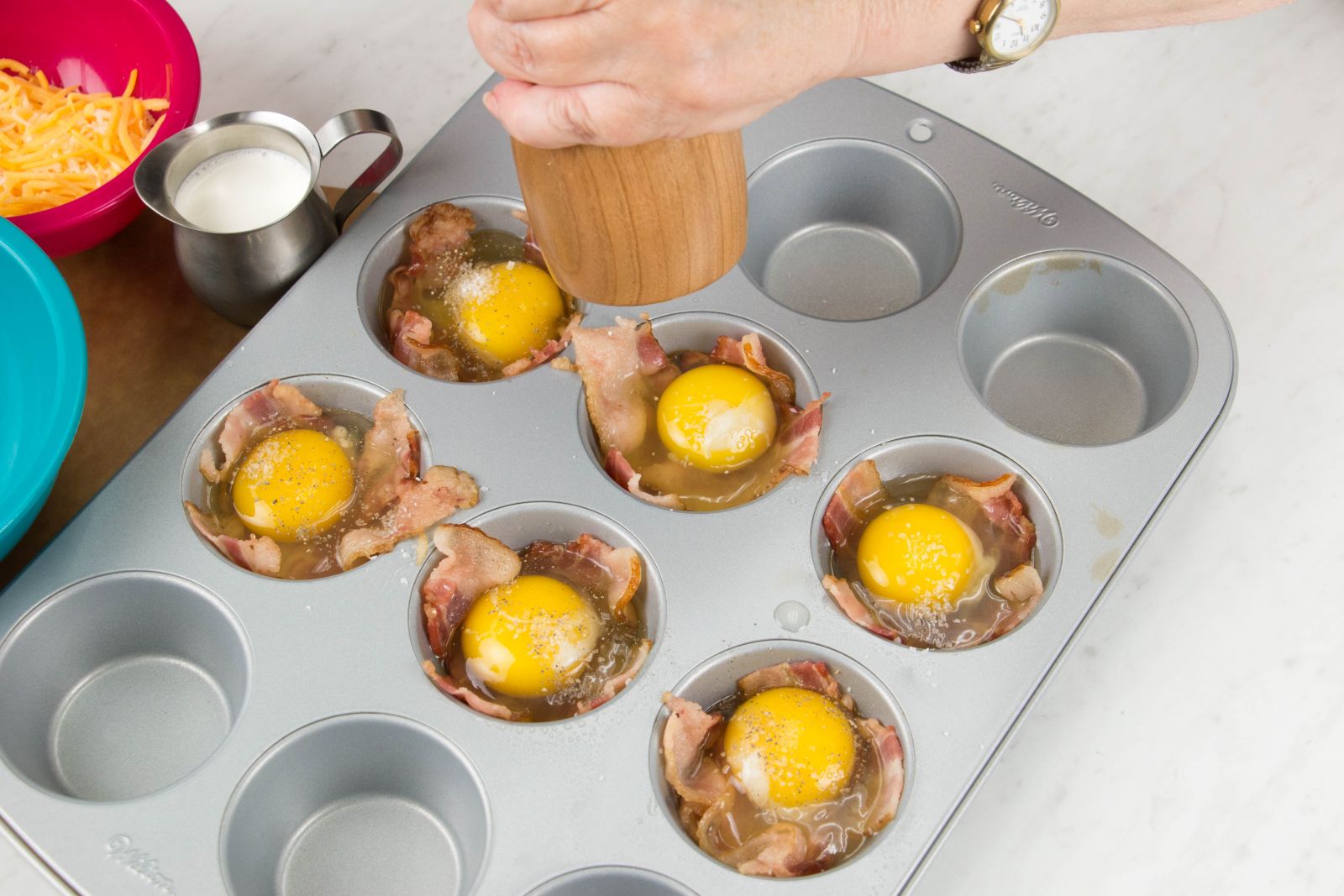 Spoon half and half over each egg cup: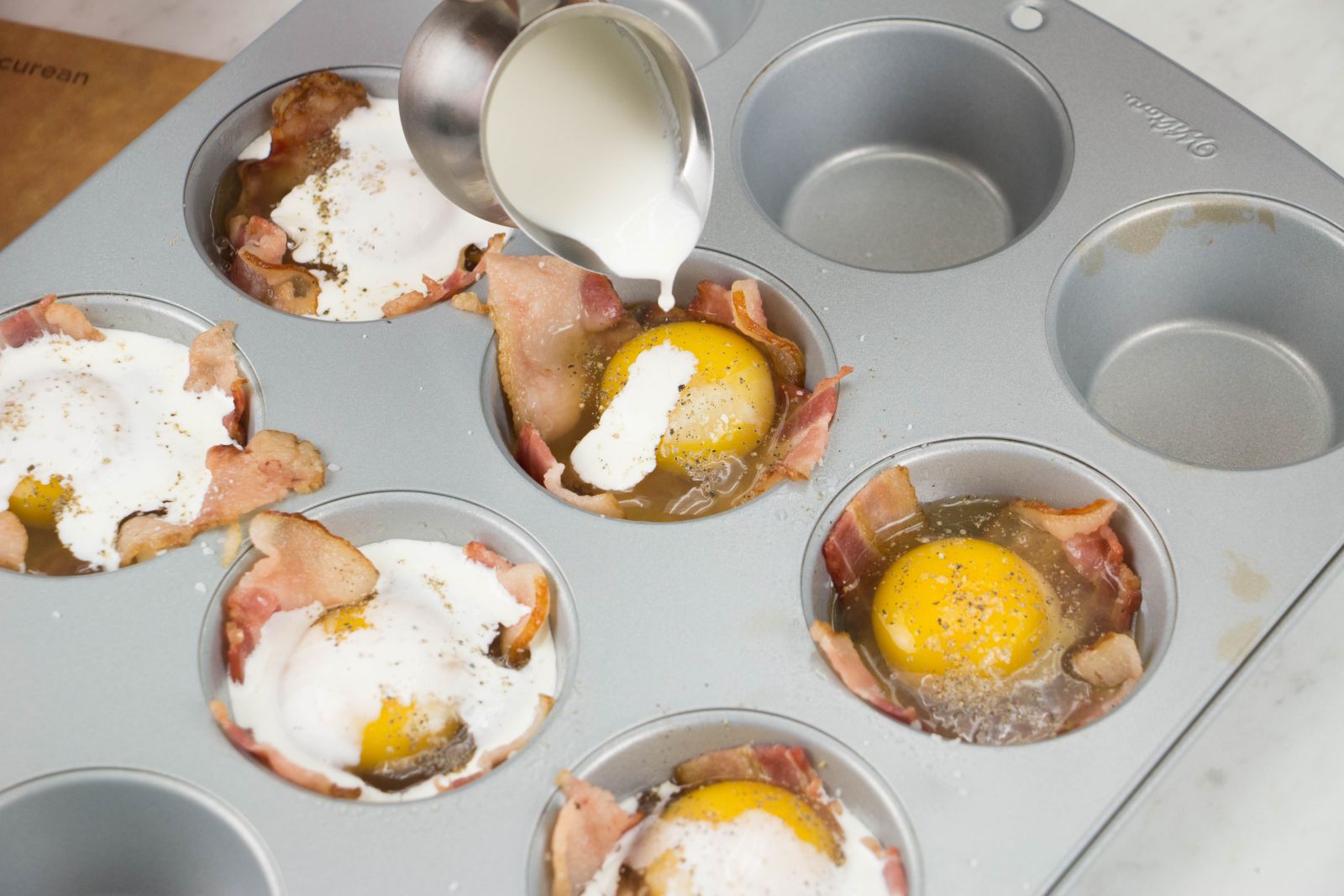 Sprinkle shredded cheese over each egg cup:
Bake at 425 degrees F until desires hardness of yolk is achieved.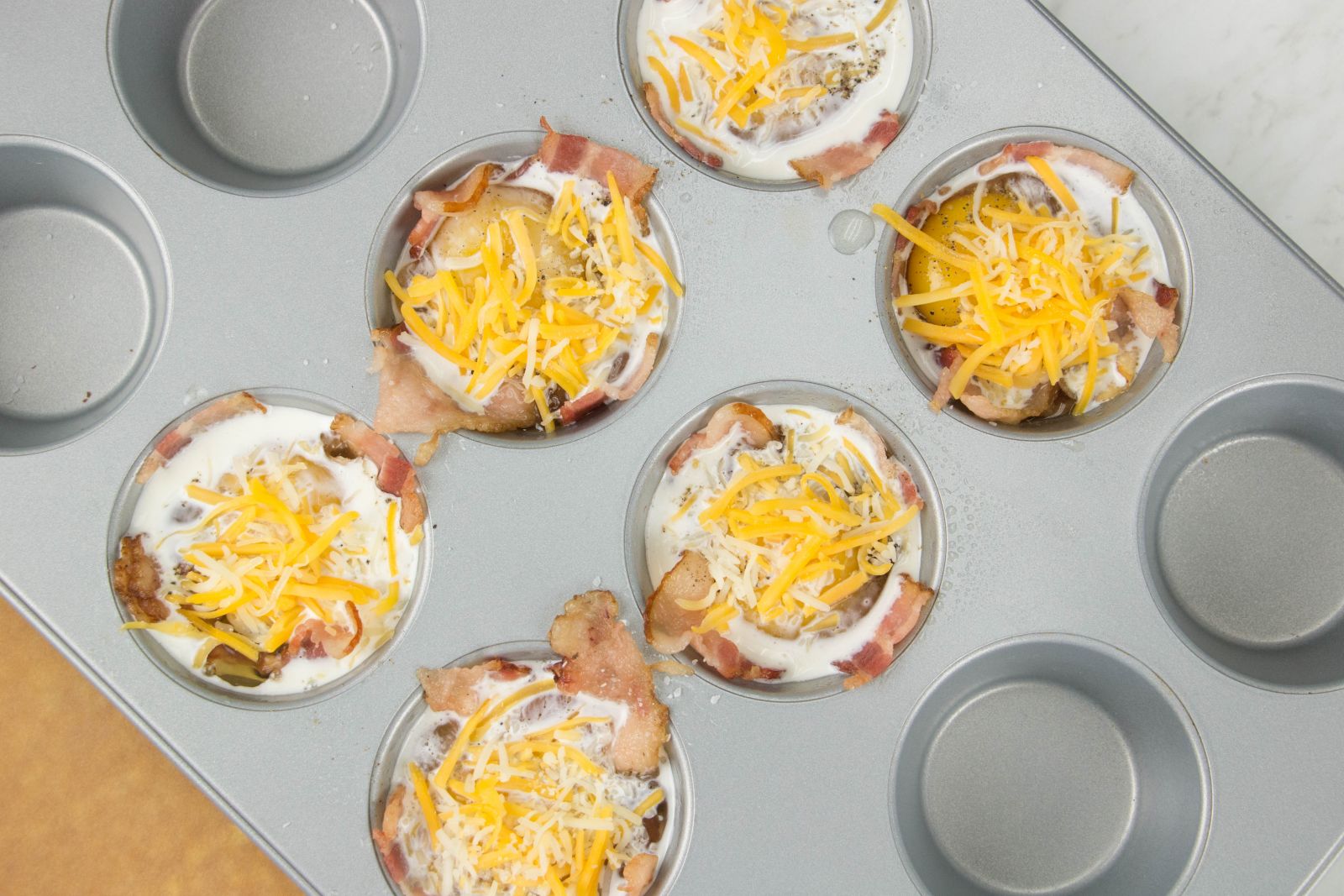 Your Recently Viewed Recipes