Spicy Beef with Broccoli Ramen Noodles Recipe {Gluten-Free}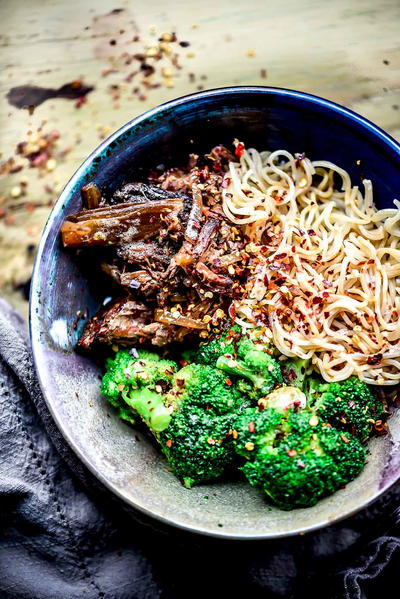 Spicy Beef with Broccoli Ramen Noodles Recipe Gluten-Free
"Coming at you on this cold day with a ramen noodles recipe that has spicy beef with broccoli and all sorts of good stuff! So warm and cozy for a comfort food, cold night! This take on beef with broccoli is one of a kind. It doesn't require flank steak, but flank is fantastic with this recipe. It doesn't require oyster sauce, as I can't eat oyster sauce! So, here's a take on this classic recipe using rump roast and gluten-free soy sauce with some other goodie ingredients!"
NotesRemember: Soy sauce is not gluten-free! You'll need to search for a gluten-free sauce that is labeled. I mentioned this in the recipe for you!
Serves6 Bowl
Ingredients
3 (1-1/2-pound) pounds rolled rump roast rump roasts are hard to find now. Flank is the next best thing.
1 tablespoon Canola oil
2 tablespoons California olive oil(Gluten free)
pinch Salt to taste
1 cup ground peppercorn
2 cups vegetable, turkey, or beef broth
2 slices sliced yellow onion
2 cloves garlic
4 tablespoons Worcestershire sauce Lea & Perrins is labeled gluten-free
1 cup white wine vinegar
Bring rump roast to room temperature, add a thin layer of canola oil (add remaining oil into slow cooker later) to roast and salt and pepper.

Sear both sides of roast in skillet for about 2 minutes on each side.

When finished, add meat to slow cooker set to low.

Add all ingredients to crockpot, except ramen, broccoli.

Cover slow cooker with lid, then let cook on low for approximately 6-8 hours. Be mindful not to let the meat dry out. My rump roast was tender and finished at 6 hours, as my crockpot gets really hot. 8 hours was not needed for me at all, but each crock pot heats differently.

When meat is ready to serve, place broccoli florets in a large skillet with 1 tablespoon of olive oil on medium heat. Stir and coat broccoli, and add a pinch of salt and pepper. Cook for approximately 3-4 minutes, until broccoli is a beautiful green.
Your Recently Viewed Recipes