Chunky Chicken Wonton Cups
Chicken wonton cup appetizers are the easy party recipe you'll keep forever.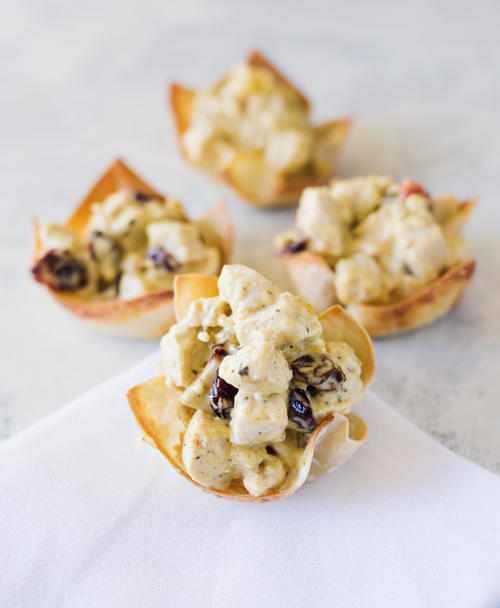 Chunky Chicken Wonton Cups
If you haven't incorporated baked wonton appetizers into your entertaining routine yet, this recipe will be the one to change that. These tasty chicken wonton cups are everything you could want in an appetizer. They're crispy, creamy, and full of flavor. They're also easy to eat while you're mingling with friends, and they're a snap to make! It really doesn't get any better than this. Check out Chef Addie Gundry's classic recipe for chicken salad below, and you'll see that it's just what you want to be snacking on at your next party. You could even make the chicken salad ahead if you're short on time. Then all you have to do is bake up the wonton wrappers, and you're ready to party.

From the Chef: Wonton cups, made with those thin wrappers you usually use when making egg rolls, are a must-have anytime you're expecting guests. You can put just about any kind of salad or dessert in them, and you've got an instantly sophisticated snack that guests can carry around easily while mingling. Experiment with different deli salad recipes to mix things up!
- Addie Gundry

This recipe is from RecipeLion's 103 Cookbook series, Easy Chicken Recipes: 103 Inventive Soups, Salads, Casseroles, and Dinners Everyone Will Love.
Serves12
Ingredients
12 wonton wrappers
2 boneless, skinless chicken breasts, cooked and chopped (about 2 cups)
1 cup mayonnaise
3 tablespoons Major Grey's or other mango chutney
3 teaspoons curry powder
1 cup currants or dried cranberries
1 teaspoon minced onion
Pinch of kosher salt
Pinch of freshly ground black pepper
Chicken Wonton Cups Recipe
Instructions:
Preheat the oven to 350°F. Coat a 12-cup muffin pan with cooking spray.

Place a wonton wrapper into each muffin cup, forming it against the bottom and sides of the cup, and bake for 7–8 minutes, until lightly browned. Allow cups to cool.

In a medium bowl, combine the chicken, mayonnaise, chutney, curry powder, currants, onion, salt, and pepper. Mix well.

Fill the wonton cups with the chicken salad. Serve.
Notes:
To cook the chicken, place the breasts on a baking sheet and bake at 350°F for 30 minutes.
Your Recently Viewed Recipes